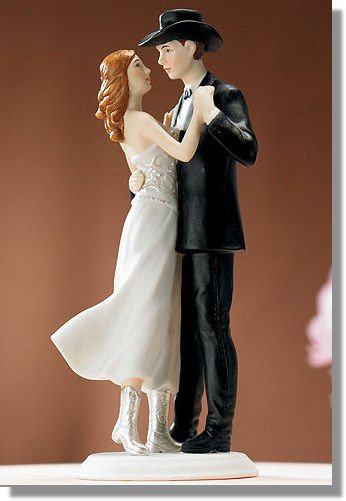 The best thing about weddings is the cake.
Don't get me wrong – getting dressed up is nice. Watching someone I love get married to someone they love is nice. Having a good meal and the chance to dance with Teacher is very nice.
But the best thing about weddings is the cake – especially if it's got lots of buttercream frosting on it. Don't give me any of that nasty fondant stuff. Yuck!
When we started planning Cowboy and Princess's wedding I decided that one way to save money would be to bake the cake ourselves. Cake is easy, and I make a fantastic buttercream frosting.
The kids didn't want anything fancy, just three heart-shaped cakes: a white one for Cowboy who can't stand too much chocolate, a chocolate one for Princess who can't get enough chocolate, and a marbled one to symbolize their joining together as one.
I planned to buy a heart-shaped cake pan and make extra 9×13 cakes to make sure we'd have enough. My decorating skills are rudimentary at best, but since neither one likes frosting all they wanted was a nice border to set off fresh flowers and the special cake topper Princess ordered.
However, Teacher had some concerns. "I just don't think it's wise to add any more stress to the week of the wedding."
"But it's crazy to spend two hundred dollars for a cake! Especially since it'll end up in the sewer eventually anyhow!" Gross? Yup. Graphic? Yup. True? Undeniably.
"I'll gladly pay two hundred dollars for a cake if it means less stress for you." He hugged me. Who can argue with a man as wonderful as Teacher? Not me!
So the hunt for a cake began.
Still reluctant to spend so much on a cake, I began looking for a private baker who worked out of the home. Cowboy's mom suggested "the Cake Lady" – they got cakes from her for all their family events. Unfortunately the Cake Lady was having surgery around the time of our wedding.
Next I asked everyone I knew for suggestions, and even posted on FaceBook and Twitter. We got a ton of responses but before we could check them out we discovered that our reception hall would only accept cakes from licensed bakeries.
Back to step one.
By this time I was sick and tired of thinking about cake, cake, and more cake. I was beginning to wonder if we really had to have a cake. No one would notice if we didn't, would they?
Yeah, I know. They would.
Sick of looking, I narrowed it down to two bakeries: VandeWalles – recommended by Cowboy, and Manderfields – where Teacher and I got our wedding cake. Princess called for appointments.
The cake tasting scene in The Wedding Singer is the closest I've gotten to a cake tasting, so I expected our appointments to include a table covered with cake samples. I was sorely disappointed.
Our first appointment was VandeWalles. The wedding cake specialist was wearing a flour-covered apron and requisite ugly hairnet. The only cake in sight was behind the glass display counters. She pulled out an order form and began filling it in: name, address, phone number, wedding date, number of servings, flavor, etc. Princess looked bewildered as she answered questions and I started squirming in my seat; we just wanted to taste cake, not place an order!
Finally, toward the end of the interview I took the bull by the horns. "We're also meeting with Manderfields, so I'll call you either way. Ummm… could we get a sample since we've never had your cake?"
"Of course!" She disappeared into the back and returned with three small heart-shaped cakes in a pastry box.
"This is white with strawberry filling, this one is chocolate with mocha filling, and this is marble with a custard filling." Score – we have cake!
That night I carefully cut each cake into four pieces for Teacher, Cowboy, Princess and I to taste. The chocolate was too chocolate-y for Cowboy but he loved the white with strawberry. Princess and I thought the chocolate was to die for, but unfortunately they were all a little dry.
The next night was Manderfields. This time I wasn't surprised by the form and the questions, but she still got me when the interview ended and I asked for a sample.
"We really don't have samples, but you could order a small cake for six dollars." Not what I wanted to hear – we really wanted to taste Manderfield's cake to see how it compared to VandeWalles.
"Are the yellow and chocolate cupcakes out there the same as a wedding cake would be?" Always thinking, that's me!
"Yes, they are, just smaller. I'll grab you some." Success!
We left with vanilla, chocolate and red velvet cupcake samples. Personally I think if red velvet was a flavor it would taste a whole lot better than red velvet cake, but I guess some people like it. There's no accounting for taste. I also gave in to the delicious Valentine-decorated butter cookies, and a cannoli for my Valentine, Teacher.
That night I carefully cut the cupcakes into three pieces – Cowboy was at work. They were much more moist say that ten times fast than VandeWalle's but the flavor wasn't as special – they tasted like a cake I could make from a box. Plus they left that nasty greasy film at the top of my mouth. I hate that.
So now what? Two tastings, no really outstanding cake.
Back to the phone… Tomorrow we try Simple Simon's.
Here's the dilemma: if Simple Simon's is the one we can stop looking – but we won't get to sample any more cake!