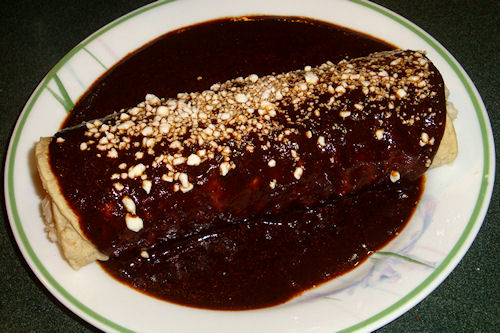 It's all Jo-Bear's and my mom's fault.
It's Jo-Bear's fault because when I was pregnant with him I couldn't get enough Mexican food and after he was born the craving never went away.
It's my mom's fault because chicken enchilada with dark Mexican mole sauce is her very favorite dish at our very favorite Mexican restaurant, Solea. She raved and raved and raved about it so much I finally had to try it.
I was hooked from the first bite.
For weeks all I could think of was dark Mexican mole sauce. Every time we went to Solea I ordered chicken enchiladas with mole. At night I fell asleep with great rivers of mole flowing through my dreams. In the grocery store I caressed the jars of mole sauce, but never brought any home because I was afraid they would only be a poor imitation of Solea's chocolaty nectar.
Then Teacher discovered a dark Mexican mole sauce recipe in Authentic Mexican, one of our favorite Rick Bayless cookbooks. Rick's books are our go-to source for authentic Mexican food and we're eating our way through them one recipe at a time.
Teacher decided to make Rick's dark Mexican mole sauce for a special treat when College Boy, Irish Girl and Love Bug came to visit. I don't know if I was more excited about seeing them again or the mole sauce. OK, that's not totally true; I was more excited about their visit – but not by much!
Making Mexican Mole Sauce – Photos with Commentary from the Peanut Gallery
Making Mexican mole sauce "from scratch" is a time-consuming and labor-intensive job, but well worth it! I snapped some photos while Teacher was cooking but figured it was more important to stay out of his way than to chronicle the whole process.
The beginning of the sauce: 3/4 of a 15 oz can tomatoes – squished, 2 oz chopped Mexican chocolate, scant 1/4 tsp black pepper, 1/8 tsp cloves, 1/2 tsp aniseed, 1 tsp cinnamon, 1/4 C toasted sesame seeds, 1/2 tsp toasted coriander seeds, and 2 tsp chile seeds.
Terribly abused chiles (8 oz dried mulatos , 2 1/2 oz dried anchos , 6 dried pasillas, 1 canned chipotle): stemmed, seeded, scraped, torn, fried and soaked in boiling water for an hour. I'm so glad I'm not a chile pepper! Don't feel too bad for them though; they retaliated by filling the house with clouds of capsaicin – the stuff that make them so bloody hot – during frying. Jo-Bear came up from the basement asking "Why is it so hard to breathe?" I strongly recommend LOTS of ventilation when you're frying those puppies.
The raisins and almonds 2 oz each get fried to intensify their flavors and soften them up a bit. Rick says to fry the almonds first then remove them from the frying pan before frying the raisins but Teacher took a shortcut by frying the almonds most of the way then adding the raisins and finishing them together.
After removing the raisins and almonds from the pan fry 1/2 a medium onion, sliced, until nicely browned and sweet. The aroma of frying onions makes my mouth water and my tummy grumble. Shush, tummy, it's not time to eat yet!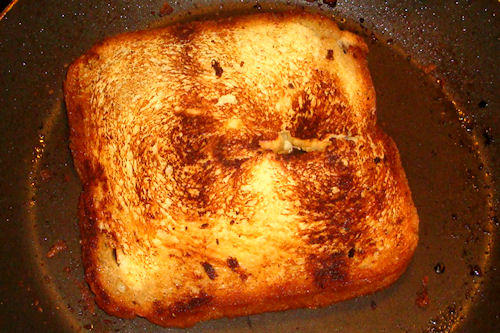 Next up for frying is a stale corn tortilla and 2 pieces of firm white bread – stale or dried out. Yeah, there's a lot of frying in this recipe. If you're worried about calories run around the house a couple of times, but under no circumstances should you eat less mole sauce – that would be criminal.
All the fried stuff gets tossed into the bowl with the tomato, seeds and spices.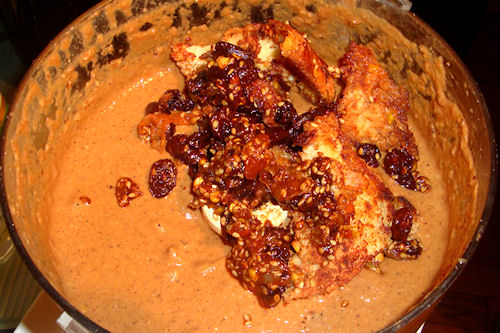 Little by little the mixture of fried stuff gets pureed with 1/2 C chicken broth. It looks disgusting at first, but it'll taste heavenly when it's done – I swear.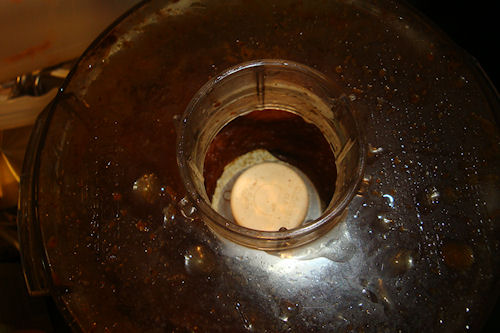 See, it's looking yummier as the chocolate gets pureed up and mixed in with everything else.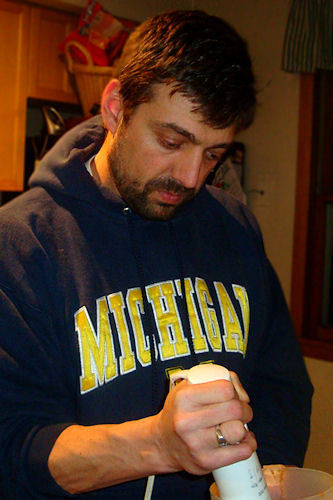 Teacher used his "boat motor" aka stick blender in a juice pitcher to puree the chiles with about 1/2 C broth. I'm a lucky lady to have such a handsome husband who cooks for me too.
They have a deeply rich and fruity aroma; kind of like raisins but with a strong smell of chiles.
You have to strain both purees separately. Since both mixtures are rather thick the easiest way we found was to scrape the mixture through the sieve with a spatula. It's a little time-consuming but not difficult. Be very careful or wear an apron because the chiles stain.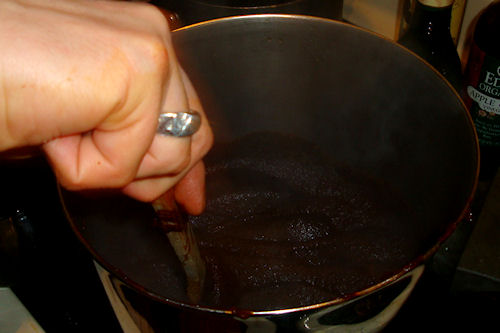 We're not done frying yet! Now you need to fry the strained chile puree for about 5 minutes to darken and thicken it, then stir in the other puree and cook it a little longer until it thickens again. Just imagine how much the flavors are intensifying with all this cooking down; I can't wait for dinner!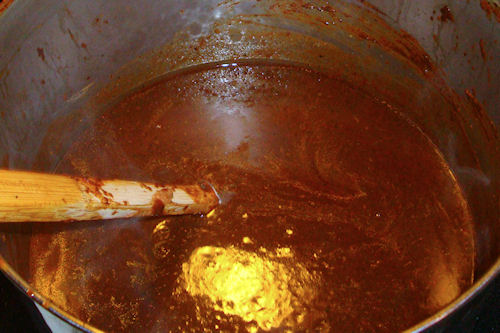 Finally, add chicken broth, stir, and simmer for about 45 minutes. Add up to 2 tsp salt and 1/4 C sugar, and some chicken broth if the sauce is thicker than heavy cream.
While the sauce is simmering you may want to start on the dirty dishes.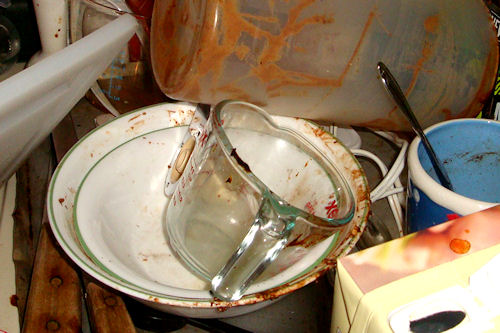 Did I forget to mention that this recipe creates lots of dirty dishes?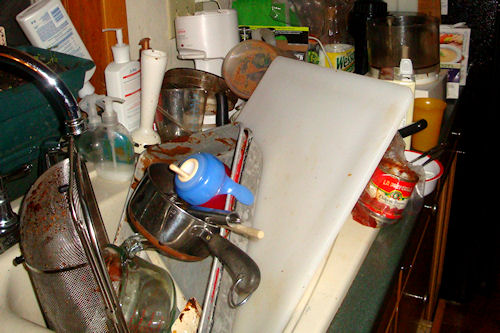 I didn't say anything the dirty dishes? Oops, my bad; do you want to wash or dry?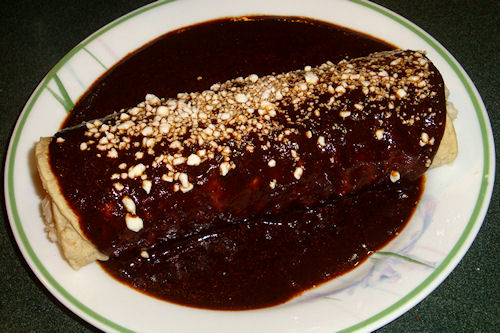 Mmmmm – dark, rich, spicy with a hint of sweetness and an amazing complexity. It's the best dark Mexican mole sauce I've ever had! Shhhh, don't tell the Solea guys; I don't want to hurt their feelings. The flavors meld more overnight so leftovers are even better than the "firsts."
It's fantastic on baked turkey or chicken, or simple enchiladas of corn tortillas wrapped around lightly seasoned chicken. Sprinkle on a little queso anejo and you've got a restaurant-worthy enchilada!
For the complete dark Mexican mole sauce recipe "Dark and Spicy Mole with Turkey" on page 197 you'll need to get your hands on a copy of Authentic Mexican by Rick Bayless. We found it at our local library and loved it so much I bought a copy for Teacher for Valentine's Day. He says the gift was really for me, but if you'd seen the overdue fines you'd agree it was really for him. If you like Mexican food you NEED this book – it's totally worth every penny!
Happy eating!