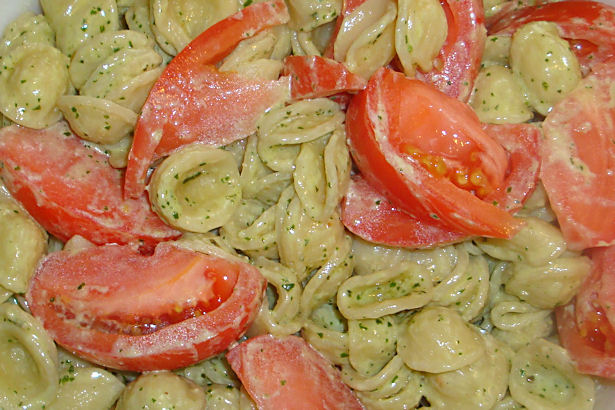 We don't go to Noodles often, but when we do I almost always get the same thing: Pesto Cavatappi. It's a little bit of Heaven in a bowl: creamy, cheesy, noodley, basil-y, carb-filled, don't-ask-how-many-calories divineness.
Mmmmmmm…
Pesto Cream Sauce
Irish Girl found a recipe for a pesto cream sauce that's almost as good as Noodles', and is say it with me… is quick and easy too!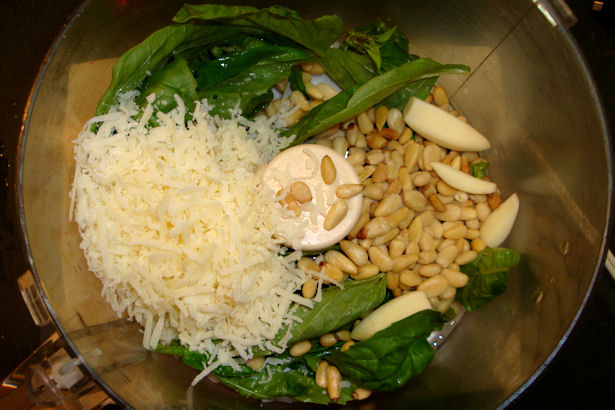 Start with the basic pesto ingredients: fresh basil, freshly grated parmesan cheese, peeled garlic, and pine nuts which you can dry-roast in a frying pan until lightly brown and delicious, but you don't have to.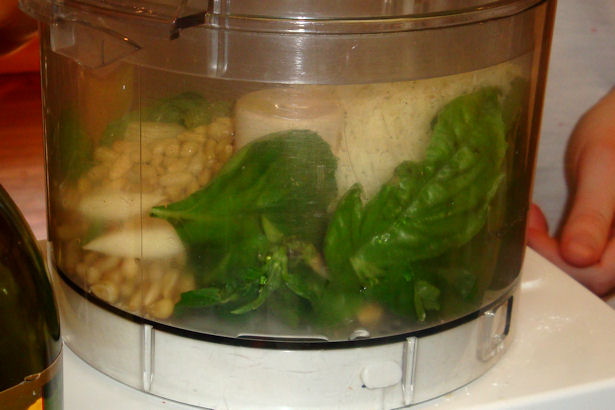 Give the the basil, cheese, garlic and pine nuts a whirl in your food processor.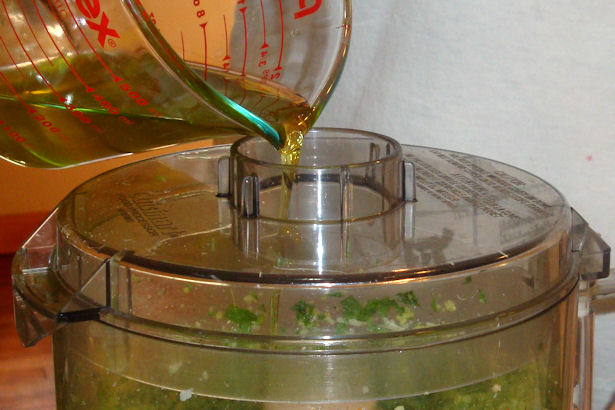 Once they're chopped up, slowly drizzle in some extra virgin olive oil, and keep whirring to form an emulsion.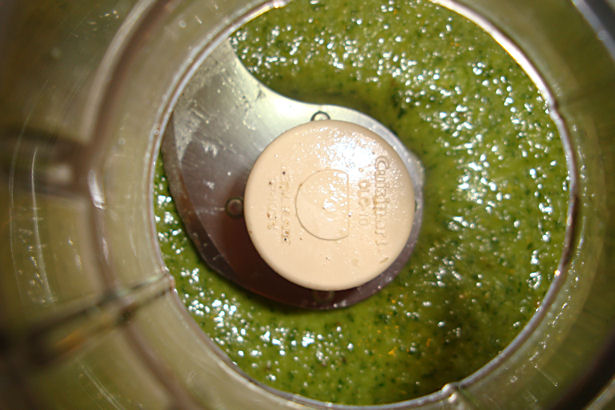 Mmmmm – doesn't that look good?! That's all you need to do for a basic pesto, but we're going to kick it to the next level with some cream and butter.
By the way, if you've got a ton of basil you can make a ginormous batch of pesto and freeze some in ice cube trays for winter.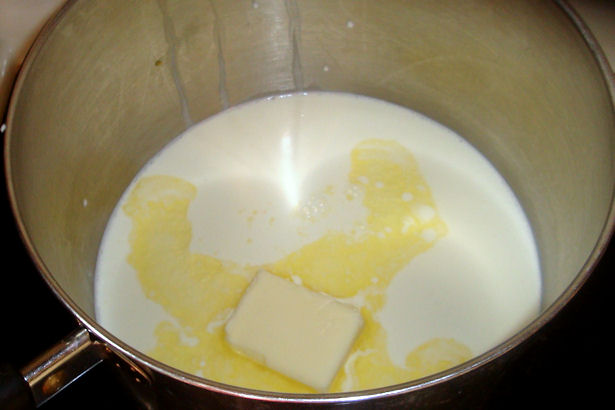 Heat some heavy cream and butter the real stuff; no margarine allowed over medium-low heat until warm; keep an eye on it so the cream doesn't scorch.
Once the cream and butter are warm, add the pesto and stir to combine.
That's all there is to making pesto cream sauce – easy as pie, isn't it?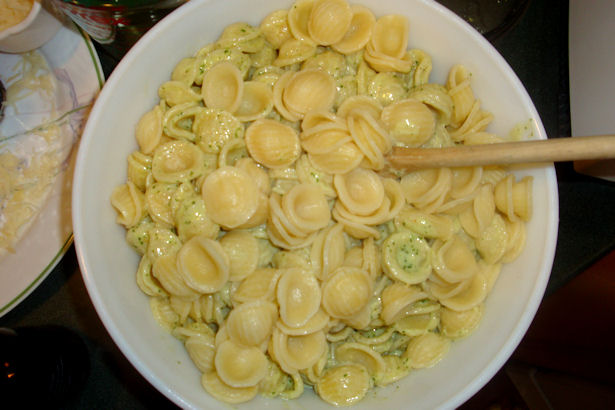 Irish Girl stirred the sauce into some pasta she'd cooked up while she was making the sauce, but it would also be great over chicken or salmon, with crusty bread, or just off a spoon; it really is THAT good!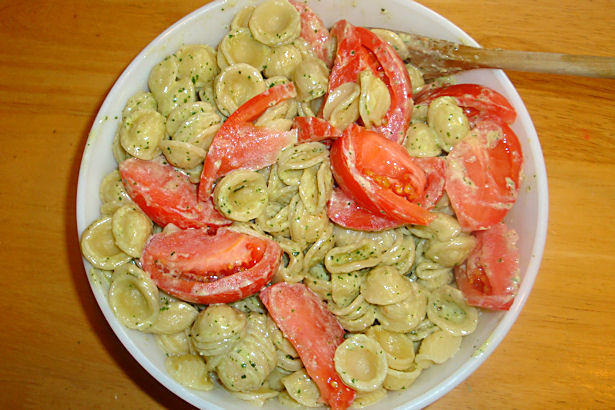 Irish Girl tossed in some fresh tomatoes too – the hot pasta made them all warm and yummy but not mushy. Other great additions would be cooked chicken, and sautéed mushrooms or asparagus; don't forget extra Parmesan cheese and freshly grated black pepper on top!
Pesto Cream Sauce – Official Recipe
Ingredients:
1 1/2 C fresh basil
1 C Parmesan cheese, grated, plus extra for on top
Heaping 1/3 C pine nuts
4 cloves fresh garlic, peeled
2/3 C extra virgin olive oil
1 C heavy cream
4 Tbsp butter
Place basil leaves, 1 cup Parmesan, pine nuts, and salt and pepper to taste in a food processor or blender.
Turn machine on to chop ingredients. Leaving machine on, slowly drizzle in olive oil and continue mixing until combined. Add additional olive oil if the mixture seems dry or pasty. Set aside.
Heat cream and butter over medium-low heat. When warm add pesto and stir.
Pour pesto cream sauce over prepared food and serve immediately.
Enjoy!