Hi, I'm Amy Sue – Welcome to my world!
I'm a forty-something work at home mom (WAHM) to six beautiful children, wife to my wonderful husband, and pet-mommy to four kitty-cats and various fish (sadly, all the hamsters and hermit crabs died). It sounds like a zoo … and it usually is!
In addition to being head zookeeper I keep busy with two separate WAHM businesses: Amy & Kids Co. Family Child Care and Zany Zebra Designs. I direct the Handbell Choir at our church and the Wind Ensemble, a middle school band. As if that's not enough, I'm also secretary, webmaster and an active member in Valley AEYC (Valley Association for the Education of Young Children), our local early childhood association. Yeah, I'm busy.
I hope you enjoy My Happy Crazy Life! Here I'll write about the joys and trials of motherhood, family, small business ownership, and life in general. Plus I'll share some of my life story, random thoughts, an occasional recipe, and whatever else pops into my head. Don't worry, it's not as scary as it sounds.
Here we are! This was taken on Christmas Eve, 2011. Pseudonyms have been created to protect the innocent… and the easily embarrassed.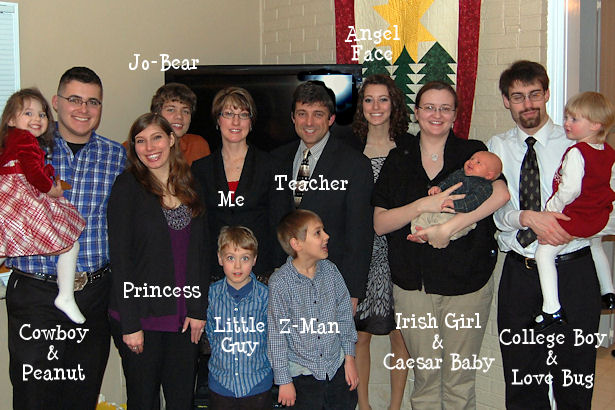 Teacher is my wonderful husband. He's smart, sweet, oh-so sexy, and the best partner a girl could have.
College Boy is our oldest, the one we practiced on. I think he turned out OK anyway.
Irish Girl is his lovely wife. She's the perfect partner for College Boy, and a daughter of our heart.
Love Bug is our sweet granddaughter. She's as pretty as her mama and smarter than both of her parents. We're totally smitten with her. I can't believe I'm a grandma – and at such a young age too!
Caesar Baby is the newest addition to the Zoo. He's easily wound all of us around his little finger, and no-one is complaining.
Princess is our second-born. Shes a girly girl but not a diva; sugar, spice, and everything nice.
Cowboy is the perfect husband for Princess; he'll spoil her enough, but not too much.
Peanut is our darling granddaughter. She has personality to spare, and an overwhelming sweetness that's irresistible.
Angel Face, our third-born, can be like the little girl with the curl; I think it's my fault.
Jo-Bear is number Four. He's like a fresh-baked cookie: crunchy on the outside but soft and sweet inside.
Z-Man is earnest as Forrest Gump, smart as a whip, and can make puppy dog eyes that would slay an axe murderer.
Little Guy is number six, trouble in a small package, and our last one – barring a miracle.
Finally, there's me. You'll get to know me as time goes on.
Thanks for letting me share this wonderfully happy and crazy journey with you. If you've got a moment please leave a comment; I love hearing from you!