Back on the bus the entire group was zoning out from the early start to the day, the fresh air at the zoo, and our full bellies.
Suddenly the bus pulled over to the side of the street.
I looked out the window to see what was going on and saw these two fellas conversing outside our bus.
"I've got a baaaad feeling about this…" I thought.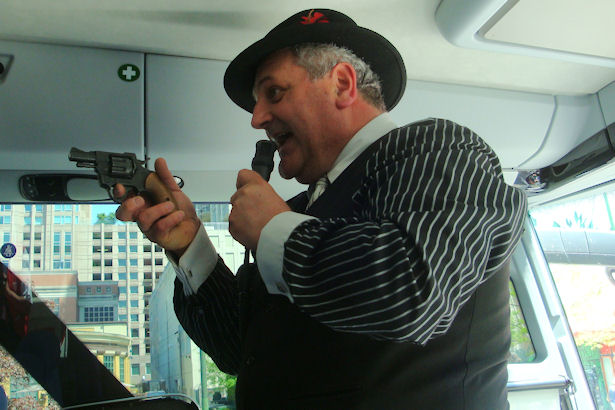 Boy was I right; it was a stick-up!
This snazzy fella boarded our bus, grabbed the microphone and pulled out a gun, "None of yas move and ya won't get hurt." he said.
"Here's what's 'a gonna happen: we're gonna take a little ride, ya see?" He waved the gun back and forth.
He turned to the bus driver, "Ya heard me; DRIVE! Follow that black bus right in front of ya."
Turning back to us he continued, "There's just a few rules ya gotta follow, ya see? "
"Rule One: Ya gotta stay in yer seat."
"Rule Two: If ya hear gunfire ya duck down in yer seat and cover yer head."
"Rule Three: Ya gotta have a great time on this Tour."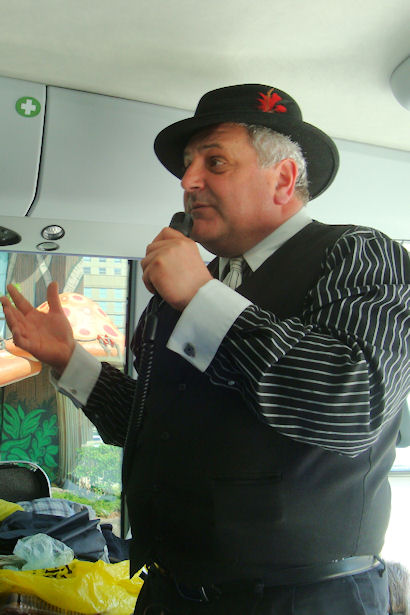 I know you're smart enough to know that we weren't really being held up; the fella with the gun was our tour guide for the Untouchables Tour.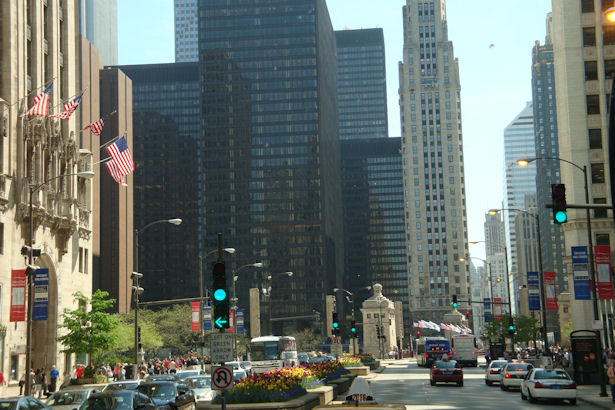 We drove around Chicago for almost two hours as our guide related the history of Chicago's gangsters in the 1920s and 1930s – staying in character as a Prohibition-era gangster the whole time. Sadly, the city has changed so much there wasn't much left from that era, but it was still interesting to hear the stories as we toured the city.
The stories he told us included the history of Chicago from its beginning Did you know "Chicago" basically means "stinking onion?", and how the Suffragettes and politics affected Prohibition as well as stories about the gangsters. Basically we got an in-depth history lesson that was so interesting you hardly realized you were learning something!
As much as we enjoyed the tour, when it was over we were more than ready to get off the bus and stretch our legs.
Hooray, it's suppertime!
To be continued…