I'm doing a happy dance in my kitchen – looky, looky what I got in the mail today… a beautiful box of fabric from my favorite fabric store, Fabric Bliss! I can't stop petting all these yummy fabrics; it's an addiction. Hi, my name is Amy and I'm a fabriholic…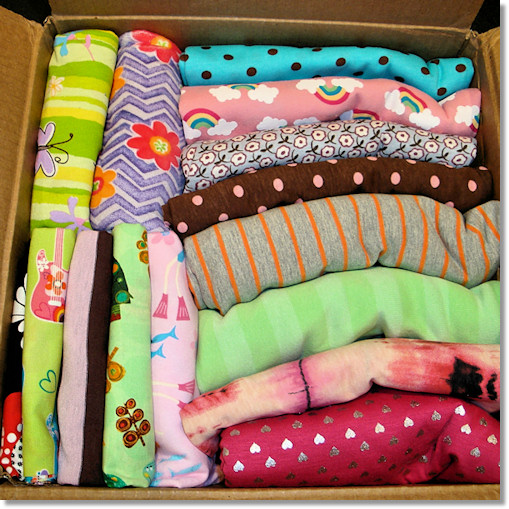 I don't know where I first heard of Fabric Bliss… maybe I was doing a Google image search for a certain fabric and she had it, I just don't remember. What made me fall in love with her store was the remnant boxes. Although her kooky descriptions and irreverent newsletter didn't hurt! The remnant boxes are stuffed with less-than-a-yard bolt ends in a box and sold at a great price. Since I like to buy smaller pieces of fabric so I can offer more variety and avoid having a thousand diapers in the same print floating around, the remnant boxes are perfect for me. I bought my first one about a month ago and as soon as it arrived I started bugging Jen about when she'd offer them again.
While I stalked the store watching for more remnant boxes I fell in love with some let's be honest here – a bunch of her fabrics. I made a wish list and calculated the total for a yard of each fabric. Then I sat down and put my head between my knees to recover from the sticker shock. Not that Jen has bad prices, I just had a loooooong list!
Feeling sorry for myself because I couldn't afford all the fabric I loved, I emailed Jen to see if she ever sold amounts under a yard. I didn't think she would – a yard is the standard minimum – but she surprised me by saying she would. Woo hoo, happy dance! Feed my addiction, Jen!
I cut my list down to the bare bones then emailed the order to Jen. At the same time remnant boxes became available again, so of course I had to get another one. Don't tell the kids where the Dairy Queen money went… That's the box that arrived today – Jen even combined both orders to save me money, how sweet is that?
I can't wait to get the fabric all washed up so I can make it into adorable diapers. I wonder what's in the washing machine right now… Sorry family, no clean clothes for you today – I have fabric to wash!