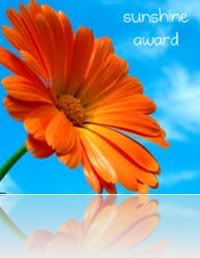 My Happy Crazy Life has received the Sunshine Award from both Gillyweeds and Joyful Rose. Thank you both for thinking of me!
Since I follow the rules – most of the time – I'm passing the award along to some of my favorite blogs; please take a few minutes to visit them.
Teacher's school blog:http://www.mrnogarsclasswrites.com/
Friend and mentor: http://www.cricketwalker.com
Connect Etsy and Hyena Cart: http://etsyhcteam.blogspot.com/
Learn about website developing: http://www.website-development-training.com/
Seamstress friend's blog: http://homesteademporium.wordpress.com/
Wisconsin Early Childhood Association blog: http://wisconsinearlychildhood.wordpress.com/
What not to do with your website: http://www.webpagemistakes.ca/
Friend, website host and web designer:http://michelleshaeffer.com/
Friend and favorite jewelry artisan: http://motheringrocks.blogspot.com/
Funny yet thought-provoking: http://mst3.wordpress.com/
Friend, knitter, yarn dyer: http://www.pullingatstrings.com/blog/
Graphic designer: http://personalphotoart.blogspot.com/
To the award winners, please pass this on to your favorite bloggers! Here are the rules:
1. Put the logo on your blog or within your post
2. Pass the award on to twelve bloggers
3. Link the nominees within your post
4. Let the nominees know they have received this award by commenting on their blog
5. Share the love and link to the person from whom you received this award.