Saturday morning dawned cloudy, cold, and snowy. Snowy?! Yep, 32 degrees and snowy. Welcome to Spring in Wisconsin. When the girls and I went to band at 8 am the windshield was covered with ice and snow and we shivered until the heat kicked in.
Aside from complaining that I was SO tired of winter I didn't think much of the cold until it was time to pick up our Thai guest from Teacher's school. We were the first family to arrive and had just scurried inside the building when the small bus pulled up behind us. "They're here!" Teacher called to me. "They're here!" I called to Jo-Bear, Z-Man and Little Guy who had run ahead of me into the cafeteria area. We all turned around to watch as the bus doors opened. Yeah, I realize I'm a loser for not bringing the camera, but it had been a busy couple of days so gimme a break.
The Thai children tumbled off the bus with giggles and exclamations of "Snow! Snow!" Our guest later told us that it doesn't ever snow in Thailand, even in the mountains. The children spun in circles and jumped around, releasing some of the energy that had built up during the two-hour bus ride from Madison. Lynn, the Thai teacher, Teacher and the bus driver quickly unloaded the luggage and the Thai teacher shooed his students inside.
I was surprised by the Thai teacher's appearance; he looked much younger than I'd imagined – although I later learned he'd been teaching 18 years which made him about Teacher's and my age. He was thin and not very tall (close to Teacher's 5′ 9″), with black hair sticking up in all directions and a big grin. He was wearing a lightweight leather jacket, colorful scarf loosely tied around his neck, and had a leather backpack slung over his shoulder. "I am Jim" he said, pressing his hands together and bowing slightly to me. His slight accent that caused it to sound like a cross between "Jim" and "Cheem". His Thai name is Warawut, but he goes by "Jim" which is much easier for English-speakers. "It is cold!" he said, holding his arms and shivering. He told me that right now in Thailand it's the hot season, with temperatures near 100 when they left. I looked at the Thai children – they were wearing scarves, sweaters, and sweatshirts, but not winter coats.
The other host families began to arrive and claim their guests. Pannapat, Praeploy, Natpawat, Bhurin, and Wasu each pressed their hands together and bowed to the members of their guest family. "Hello, I'm happy to meet you." and other polite greetings were exchanged. In the little time I was able to watch I was very impressed with the Thai students' knowledge of English. I also marveled at the Thai families' bravery for sending their 10-12 year old children halfway around the world to stay with strangers for 3 weeks. Jim told me that these students were from different parts of Thailand and didn't know each other or him before this trip. I don't think I'm a clingy parent but I'm not sure I could send Jo-Bear or Angel Face to Thailand with a stranger for three weeks!
Jim handed out his card with phone number to each family while Lynn passed out her cell number and our home phone number. "Just treat them as you would your own children." Lynn told the host families. "You can call me 24/7 if you have any questions or concerns. If they get homesick have them call their English teacher, Jim." Later Jim told us that one of the students racked up a $70 phone bill calling home from the hotel. Of course the student didn't have any idea how expensive it would be, he (she?) was just homesick.
Among a flurry of "goodbye"s and hugs each Thai student left with their family until only Teacher, Jim, Lynn and I were standing in the commons chatting and watching our boys run around. "He's so cute!" Jim said with a smile, pointing at Little Guy who was following Z-Man across the floor as fast as his little legs would go. Jim tried talking to Z-Man, holding his hand out for a "Five" but Z-Man was acting shy and hid behind me. The adults chatted a few minutes more and amidst lots of laughter and hand gestures Jim told us how another student left her passport on one of the airplanes, the mad dash to retrieve it, and how the plane was held for them.
I felt a sense of relief as I listened to Jim talk – I'd been worried that we wouldn't be able to understand him and vice versa, but he obviously knew the English language and had a huge vocabulary. When he spoke quickly I had a hard time following him because of his accent, but most of the time I could figure out what he was saying. He seemed to understand us well enough, and wasn't shy about asking us to repeat something he didn't catch.
Soon it was obvious that Little Guy needed a nap sooner rather than later so we said "Goodbye" to Lynn and headed for the van, stopping to pick up Jim's luggage on the way. "You pack light!" Teacher commented when he saw the small suitcase and duffel bag, "I don't think I could pack that lightly for 3 weeks away." "I know I couldn't!" I said. So true – the amount of luggage that Jim had for these three weeks is less than Teacher and I take when we spend three days and two nights in Chicago for the Midwest Clinic.
Teacher stowed the luggage, I "stowed" the kids and we all climbed in, Jim sitting next to Little Guy. As the van left the school parking lot we all began our adventure together.
Our guest, Jim, on the bus. Jim has been to several countries in Asia but this is his first trip to America.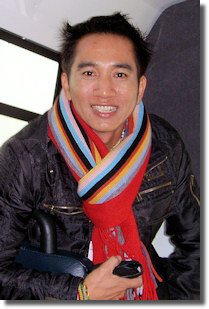 Bhurin (nicknamed "Green") meets his host family. Green has been to America several times without his parents; the first time he was only 4 year old!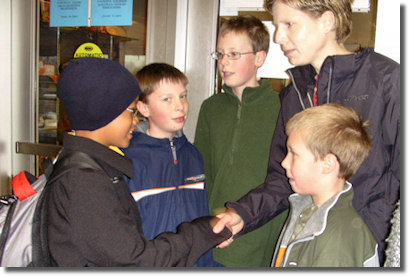 Lynn (far right) handing out phone numbers to Pannapat's host family. This is Pannapat's first time in America.