My grandma's test results came back and she has breast cancer. 🙁 She's having a lumpectomy on the 15th and radiation after. I think it'll be hard for her to be so tired – even at 87 years old she has tons of energy and is totally on the go. Even though she's getting older I'm not ready to lose her… but I don't want her to be sick either.
Grandma and I have a special relationship because my aunt and 2 yr old cousin were killed in a car accident shortly before my mom found out she was pregnant with me – I think I was a ray of hope after they died. And Grandma took care of me for 9 months, beginning when I was 3 months old, because my mom returned to her teaching job. Grandma has always been in such good health that I always thought she'd just fall asleep some night and wake up in heaven. I still hope that's what happens, I don't want her to suffer from cancer. This really sucks.
Edited 2/17/07 – Grandma came over on Valentine's Day. She and Mom made cookies for the kiddos' dessert. I took this photo of Grandma and Little Guy: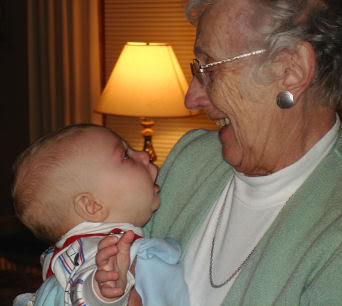 She had a lumpectomy on the 15th and is staying with Mom and Dad to recuperate. I'm hoping she'll be strong enough for us to walk over tomorrow sometime.