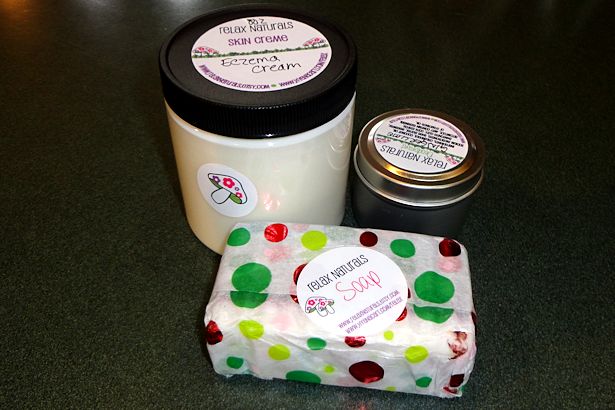 Relax Naturals has the best eczema cream ever. And I should know because I've been fighting eczema flare-ups since I was a teen.
Yes, I have other goodies besides the Eczema Cream – I'll get to those too, don't you worry.
Anyway, back on topic…
For many months I've been battling an eczema flare-up all over the palms of my hands.
This is about the worst place for me to have a flare-up because I wash my hands about a gazillion times every day, and as anyone with eczema knows; frequent washing makes eczema worse.
Much worse.
My hands hurt.
My hands itch.
My hands bother me while I'm sleeping and I end up scratching them so hard it wakes me up.
Simply put – eczema sucks.
I've tried a ton of products, both over-the-counter and prescription, but so far nothing has done the trick. Along the way I've learned a couple of things about my eczema: petroleum-based lotion causes more flare-ups, organic lotion helps it get better, and coconut oil is the most beneficial.
Unfortunately, coconut oil isn't very user-friendly; it may look like a solid in the jar but the moment it touches your skin it melts like butter on a hot griddle.
Remember covering yourself with baby oil to get a great tan and not being able to touch anything because the oil would get all over everything? Coconut oil is like that too.
Not being able to touch anything doesn't work well for moms and child care providers. Or pretty much anyone who can't douse their hands with coconut oil then spend the day on the couch watching soaps and eating bon-bons.
Relax Naturals to the rescue!
I first discovered Rikki and Relax Naturals when I was looking for a natural deodorant that really works.
Since that day I refuse to use any other deodorant, so when my favorite scent Ginger Lime got low I visited Rikki's shop to order some more. Of course I browsed around while I was there, and noticed Creamy Coconut Body Butter. I messaged Rikki to see if it would be good for eczema, and she said it would be, but she had something even better… a cream specifically created for eczema!
Happy dance!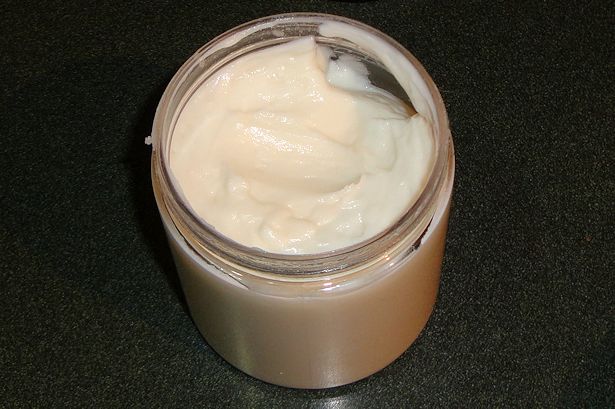 And here it is – the best ezcema cream ever!
It's light, creamy, and looks so much like whipped buttercream frosting that I have to stop myself from scooping some out and eating it! It's so moisturizing that I only have to use a pea-size amount, and it absorbs without leaving a greasy feeling on my hands. Lavender essential oil provides a soothing scent, and apparently is also good for many skin conditions including eczema.
Best of all, the eczema on my hands isn't flaring up as badly as before, and is actually starting to go away.
Once again, Rikki and Relax Naturals Rocks!
Ready to find out what the other goodies are?
Guess!
OK, you're right – it is silly to have you guess when I already said I was ordering more deodorant and the tissue-wrapped package says "Soap" on it.
But you don't know what KIND of soap it is, so guess!
Anyone?
Anyone??
Bueller???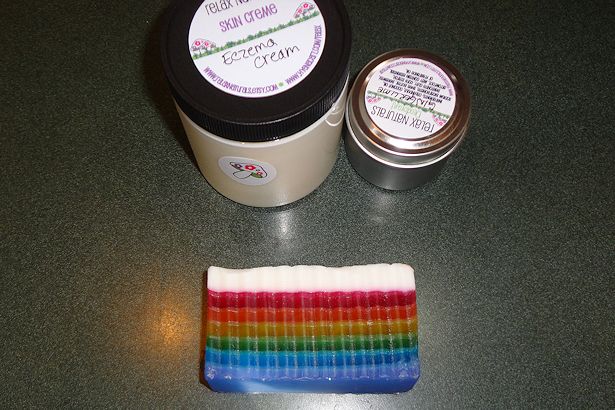 OK, if no-one wants to play I'll just have to tell you. It's Rainbow Shimmer Fruity Rings soap.
The listing claims that it smells like Froot Loops Fruity Rings cereal but I think it smells better. It has a light, crisp citrus scent, without the cloying sweet smell that the cereal has.
The only problem is that it's so pretty I don't want anyone to use it!