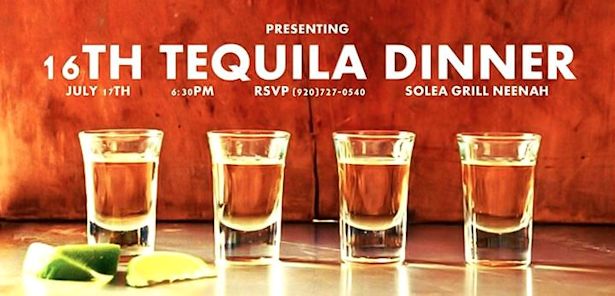 You know how sometimes you're really, really looking forward to something, then when the time comes you're not looking forward to it anymore?
That's what it was like for the July 2014 Solea Tequila Dinner. I'd been looking forward to it for weeks, but when the day arrived I was just kind of "meh" about it. Princess couldn't go with us, and Teacher and I were out of sorts with each other and with life in general, so I don't think either of us was really excited about it when we got into the car.
But we knew once we got there we'd end up having a great time.
And of course we were right!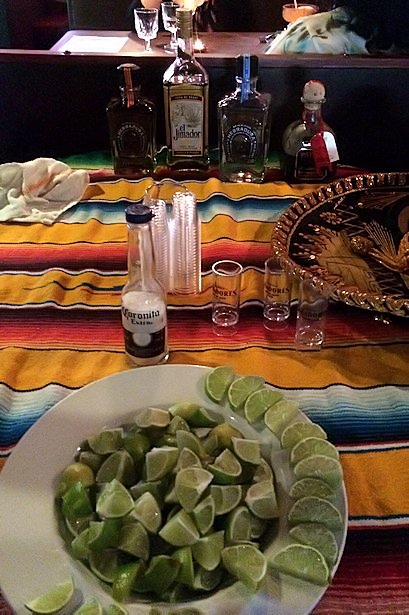 As always, there was tasting table where Tequila Dinner guests could get samples of each of the featured tequilas. I wouldn't say Teacher and I are tequila "experts" by any stretch of the imagination; tequila "appreciators" is more like it. We love trying new tequilas and new tequila drinks, so we were excited to see a couple of tequilas we hadn't tried before mixed in with others that we enjoy.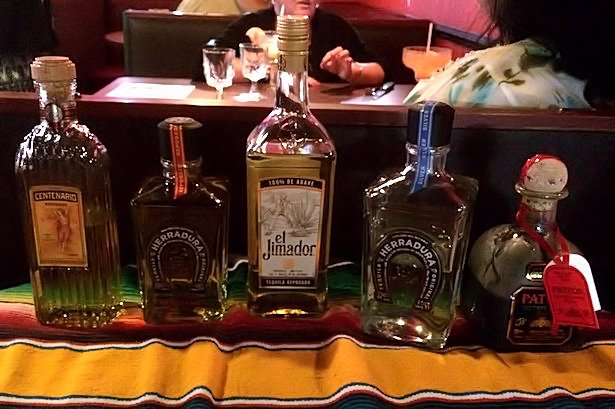 Right to left: Centenario Reposado, Herradura Reposado, el Jimador Reposado, Herradura Silver, and Patron XO Cafe.
Unfortunately, like the last Tequila Dinner, the menu didn't list all of the margarita ingredients so I'll be guessing what was in them and/or Googling to see if I can find a similar recipe. I'm not as good as identifying flavors as Teacher, so this could be interesting…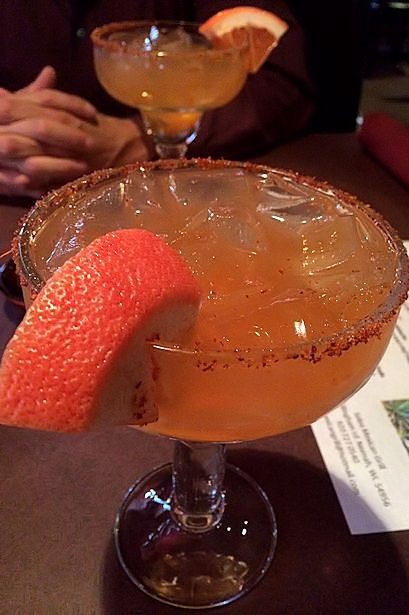 The evening began with a "Chipotle Grapfruit Margarita" featuring Centenario Reposado tequila. I recognized but couldn't remember if we'd tried the Reposado version before or not.
Although I've never been fond of grapefruit I enjoyed this Margarita. It was a basic Margarita with grapefruit juice instead of lime juice and a pinch of chipotle in the drink as well as chipotle salt on the rim. The chipotle salt gave it a nice bite – they use more chipotle than we do in our chipotle salt – and the grapefruit didn't come through too strongly for me.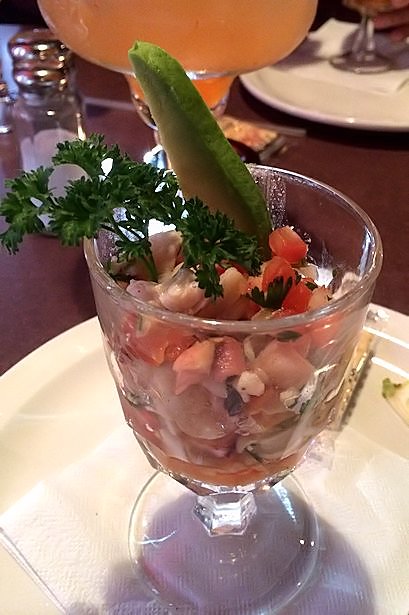 The first course was "Ceviche do Mariscos" – Seafood ceviche with octopus, shrimp, and sea scallops. The seafood was tossed with pico de gallo and garnished with parsley and a slice of buttery avocado.
This was SO good – fresh and light with a delicious seafood flavor that wasn't the least bit fishy. I'm always a little skeptical of ceviche because the seafood is "cooked" in citrus juice instead of with heat, but I always end up enjoy it and kicking myself for being skeptical in the first place. How many times do you think I'll repeat that cycle before I break it?
Our host, Craig the guy who's standing, was entertaining as ever. He kept busy dispensing little tidbits of information about tequila, handing out tequila samples, and giving away free drink cards to people who answered tequila trivia questions correctly. And a certain someone I know who just shouted out "Kangaroo!" We'll get to that story a little later.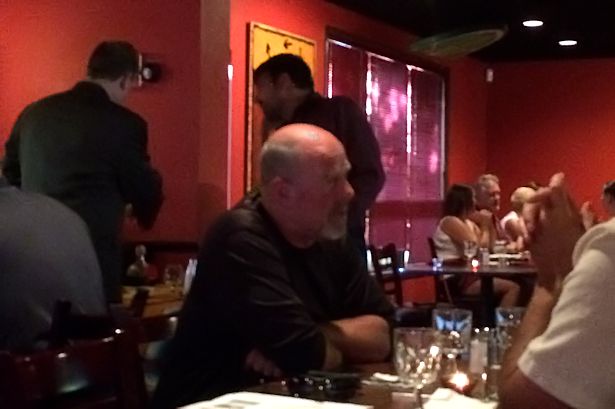 While waiting for the second course Teacher moseyed over to the tasting table to get our first sample of the night…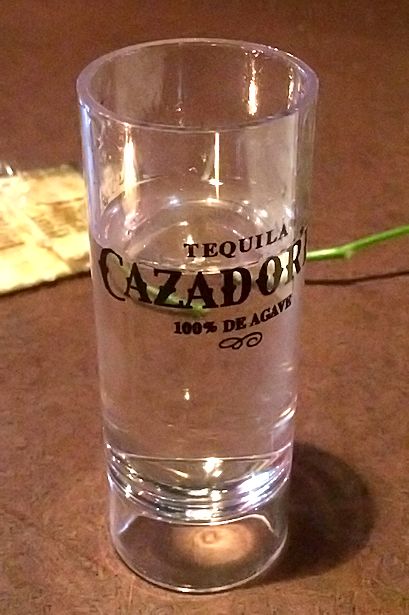 Herradura Silver.
I thought it was pretty good. Not as smooth as some silvers I've tried but not as peppery as the ones I flat out don't like. I'm not as good at noticing the notes of vanilla or cinnamon or pepper or whatever as Teacher is but I enjoy trying to find those notes. In general I prefer silver tequilas in mixed drinks rather than sipped over ice.
Silver, or Blanco, tequilas are generally clear with an intense flavor. Some are bottled right after being distilled while others are aged in stainless steel tanks for a month or two.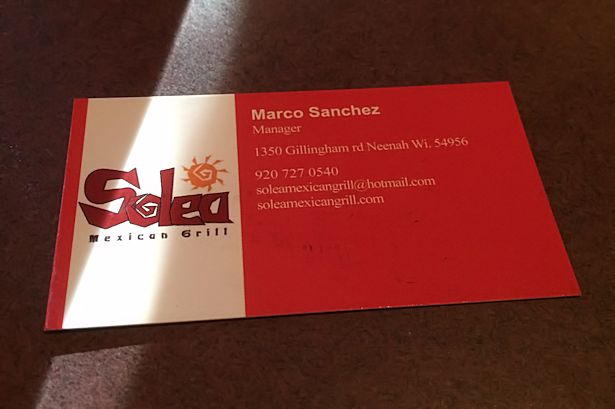 Whoopee!! This may look like an innocent business card, but it's actually a Free Drink in disguise. And it's mine, all mine!
I won it by bouncing in my seat while waving my hand in the air and shouting "100% Blue Agave! Blue Agave! Azul Agave! Agave de Azul!" in answer to the question "What plant is tequila made from?"
OK, back to our scheduled program…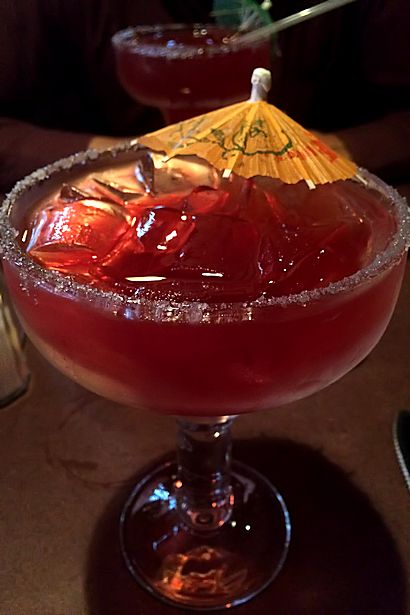 Shortly after winning my Free Drink our second Margarita arrived, a "Jamaica Margarita" featuring Herradura Reposado margarita.
Although it looks like it should taste like Fruit Punch Kool Aid it was surprisingly light and refreshing, with a subtle hibiscus flavor. I was surprised by how much I liked this one!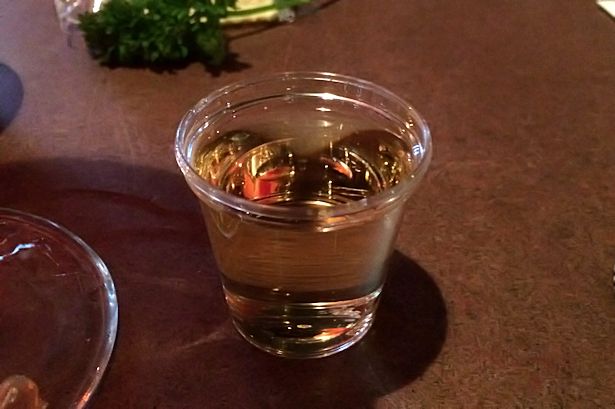 Teacher decided he wanted to try the Herradura Reposado by itself. It was good and definitely had a deeper, more mellow flavor than the Silver we'd tried earlier.
"Reposado" means "Rested." Reposado tequilas are typically aged in oak barrels which give the tequila a deeper flavor. Sometimes the barrels were previously used to age other spirits like whiskey, cognac, or wine, and the tequila picks up a little of those flavors.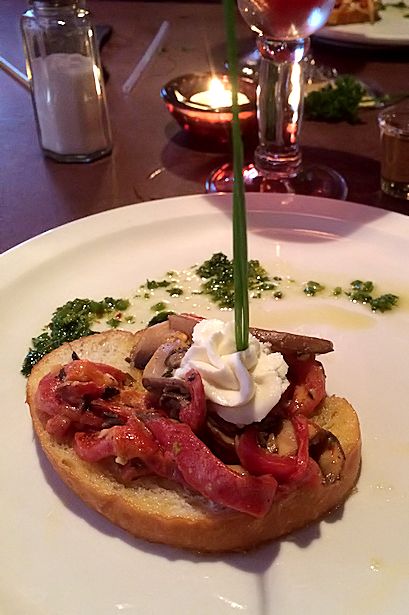 The second course was "Montaditos de Queso de Cabra" – Toasted garlic bread with roasted red peppers, portabella mushrooms, goat cheese with chives, and jalapeño chimichurri sauce.
Wow, was this fantastic! It was like a Mexican bruschetta, but better because the toppings weren't juicy so the garlic bread stayed toasty. I do not like goat cheese one bit it tastes "furry" to me, but it wasn't too bad spread thinly over everything else. If Teacher were to make this at home I'd want to use an alternative cheese – but I'm not sure what. Other than the goat cheese I thought it was fantastic!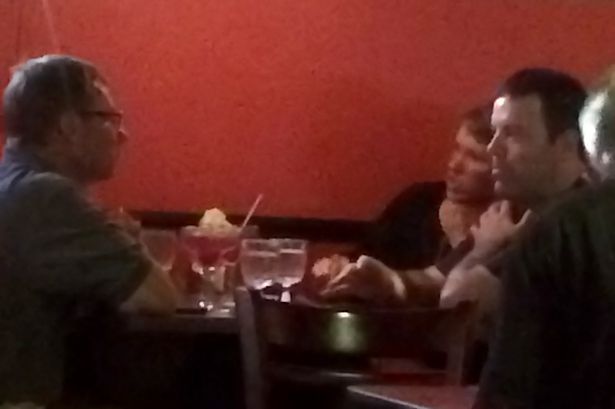 Look – across the room – it's Jessica & Jim, the friends we made at the last Tequila dinner! "Hi Jessica and Jim!!"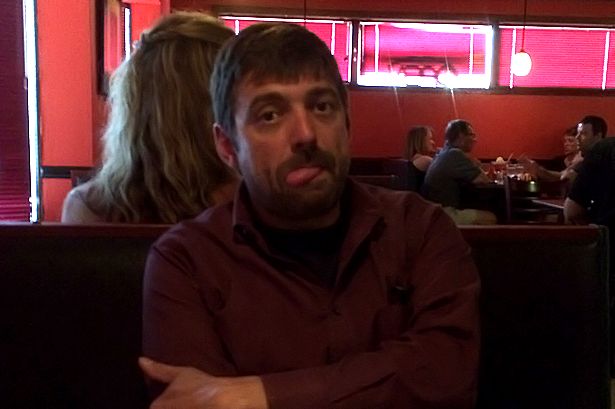 Oh Teacher, you're so silly!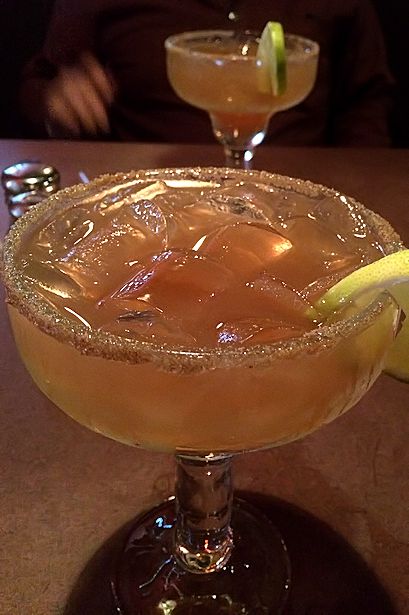 Here comes the third Margarita – "Tamarindo Margarita" featuring El Jimador Reposado tequila. "El Jimador" means "the Harvester" – knowing that could be worth a free drink if you yell loud enough when Craig asks the question.
Teacher absolutely LOVES tamarind Margaritas – I do too, but not as much as he does. A tamarind margarita is basically your typical Margarita with the addition of tamarind nectar, and a little simple syrup to sweeten it because tamarind isn't very sweet on its own. This version was excellent, with a stronger tamarind flavor than other ones I've had in the past.
Time Out!
What's tamarind, you ask?
According to Google, tamarind is "the sticky brown acidic pulp from the pod of a tree of the pea family." It has a sour or sour/sweet flavor that's hard to describe but is a little citrusy and a little dried fruit-y.
What a great free drink trivia question!
Actually, the question that Craig asked was "What family does tamarind belonged to: fruit, legume, or vegetable?"
I'll give you a hint – the answer is NOT "Kangaroo"!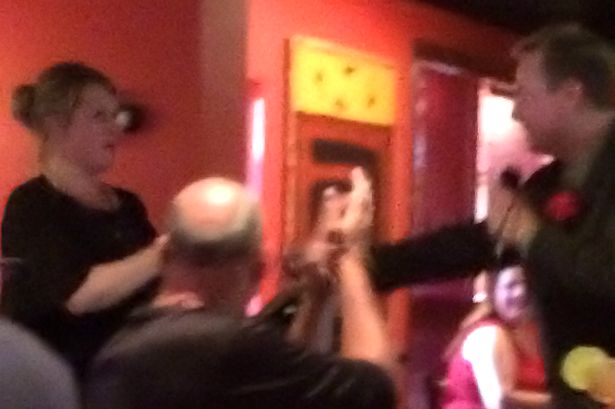 Even though Jessica aka "Cheater, cheater, pumpkin eater" won a free drink by bouncing in her seat while waving her hand in the air and shouting "Kangaroo! Kangaroo!" the real answer is "Legume."
Just funnin' ya, Jessica! The four of us should get together and use our free drink cards.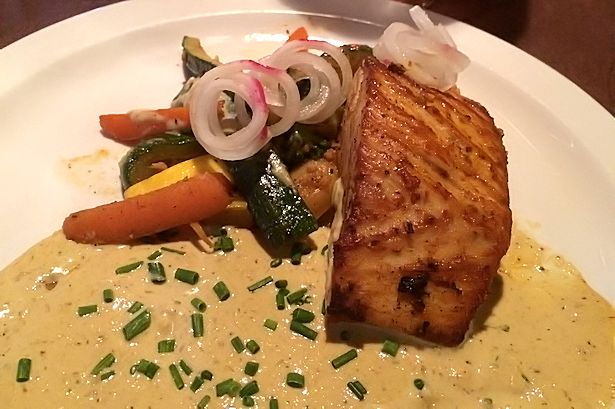 The fourth course arrived shortly after Jessica's triumph: "Mahi mahi a la crema de pistache" – Grilled Mahi mahi with pistachio cream sauce and chef veggies.
Heaven, I'm in Heaven…
The mahi mahi was done to perfection and the "chef veggies" – carrots, summer squash, zucchini and onions were perfectly tender-crisp. I know I used "perfect" twice in the same sentence, but it WAS perfect! The pistachio cream sauce was rich, smooth, and full of flavor; basically a pistachio molé sauce. Pistachio is another of Teacher's favorites, so this course was right up his alley.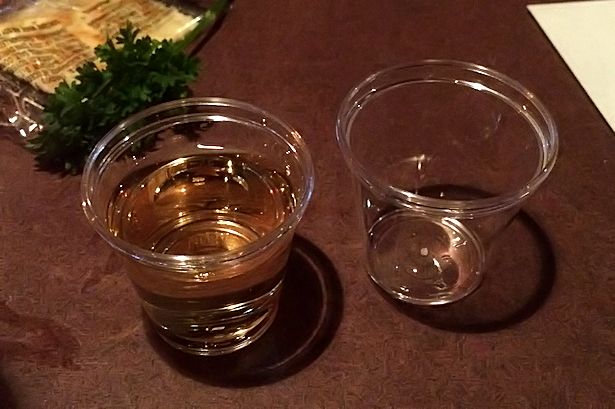 The next tequila we sampled was Centenario Reposado, the one that had been in the very first Margarita of the night. It was rich and smooth, but still not something I'd drink just over ice. At home we use repososado tequilas to make deeper-flavored Margaritas.
Something interesting probably happened between the third and fourth courses but since I had to visit the Ladies' Room I missed it. Oh well, what can you do?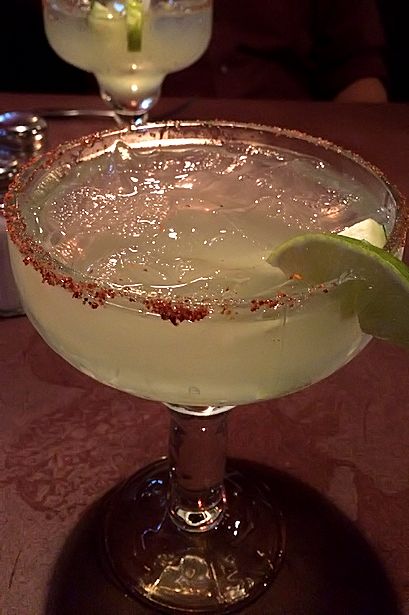 I returned just in time to be served this lovely green concoction: the "Pepino Margarita" – a Cucumber Margarita featuring Herradura Silver tequila.
A cucumber Margarita may sound weird since Margaritas are sweet and cucumbers aren't, but it's absolutely delicious! The cucumber is light and refreshing, and the sweetness in the drink is subtle – not weird at all. The chipotle, sugar, and salt on the rim of the glass provided a spicy punch. Simply delish!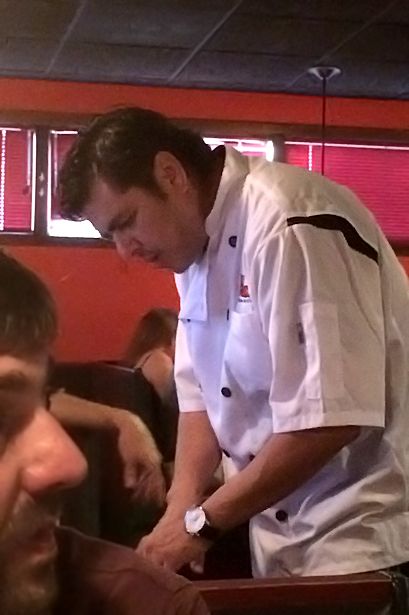 In between courses, Marco Sanchez – the Tequila Dinner head chef – visited all the tables, greeting new guests and repeat customers with the same warmth. I tried numerous times to snap a photo but the man moves too quickly! This is the best shot I had.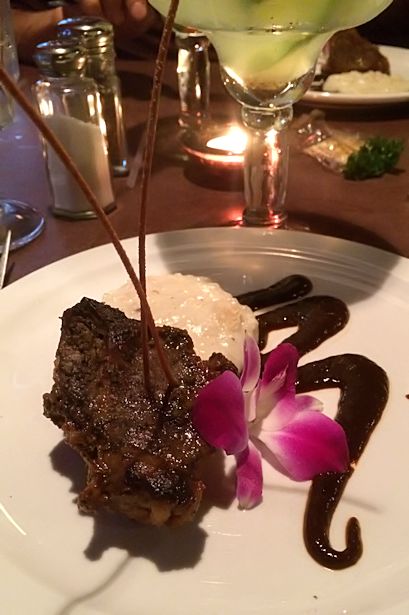 The fourth course was "Costillas de Cordoro con Romero, Ajo y Salsa de Ancho/Tamarindo." – Roasted lamb chops rubbed with rosemary and garlic, drizzled with tamarind-ancho glaze, over creamy potato pureé.
This was my least favorite course of the whole meal. It was nicely executed and beautifully plated, but I don't care for lamb it tastes "fuzzy" like goat cheese does to me and I wasn't impressed by the potato pureé. I once tried to make white potatoes into baby food with the food processor intend of a beater, but they ended up all gummy and I threw them all out. This potato pureé reminded me of that experience.
On a good note, the cucumber Margarita paired very nicely with the lamb, and the deep-fried angel hair pasta was fun. I'm sure people who like lamb enjoyed the course.
Finally, my favorite food group: Dessert!
The "Smooth Operator Café" featured Patron XO Cafe Dark Cocoa tequila, Frangelico (a hazelnut liquor) and cream.
Holy sweet and creamy yumminess, Batman! We are definitely going to try replicating this one at home.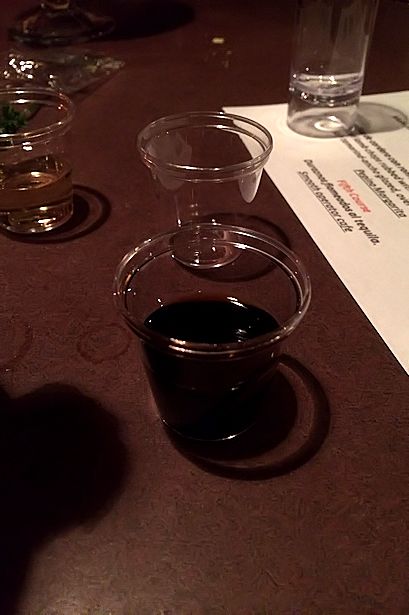 Of course we had to sip some Patron XO Cafe Dark Cocoa on the side too – this is my Number One favorite sip-over-ice tequila! It has Mexican chocolate and coffee in it, and we all know you can't go wrong with coffee and chocolate. If you look for this at the store be sure to buy the one with the RED label; the one with the purple label isn't the same.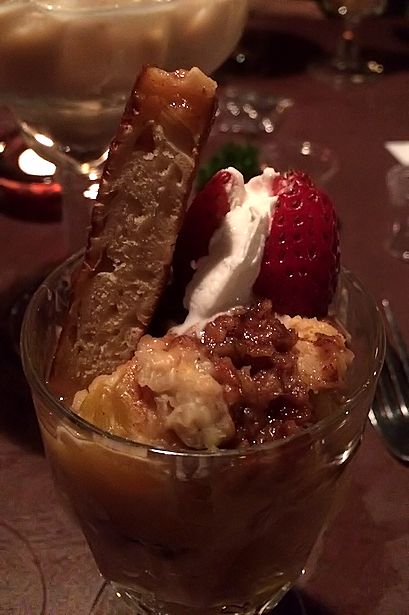 Dessert was "Duraznos Flameados de Tequila." There wasn't a description on the menu but it seemed like a warm bread pudding with peaches, garnished with a pancake strip and strawberry stuffed with whipped cream.
Generally I believe dessert should consist of chocolate LOTS of chocolate and/or cherries cherry pie, cherry crumble, cherry turnovers…, but this was amazing! I'd definitely consider ordering it for a change if it were on the menu.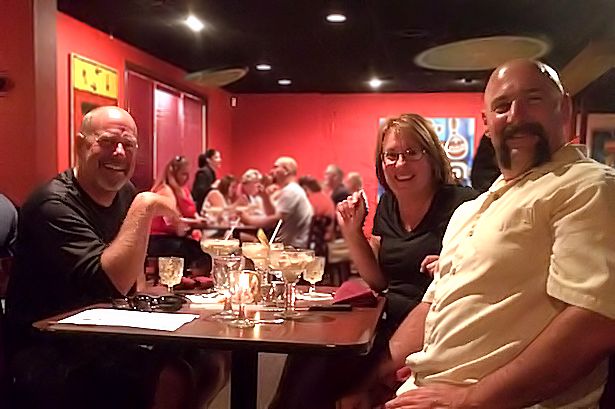 Just like the last Tequila Dinner, Teacher and I made new friends. This year we met Jeff, who is sitting across from his lovely wife Kennie, who is sitting next to their brother-in-law Steve, who is married to Jeff's sister Dina, who was away on a business trip. Yes, I had to write that all down so I wouldn't forget!
We'd been chatting across the aisle with each other all night, so after dessert Teacher and I scooted over to their table for formal introductions and to get to know each other better. We discovered that we all had quite a few things in common, but it's too long and convoluted a story for now. Suffice it to say that it really IS a small world after all.
I think we could've stayed another hour chatting with our new friends, but our designated drivers – their daughter and Angel Face – arrived at about the same time to drag us all home. Party poopers! Oh well, we'll probably see them again at the next Tequila Dinner – maybe we'll all sit at one huge table table together.
What a riot THAT would be!