I feel kind of silly getting so excited about a box of samples, but some days you just need a little pick-me-up, and my Walmart Beauty Box arrived on one of those days.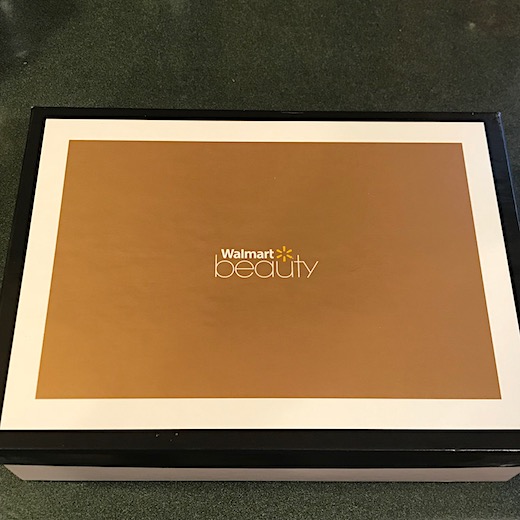 This may sound silly too, but these boxes are fabulous on their own! Not only are they pretty, but they're sturdy too. I put them out in the playroom for the kiddos to build with or fill/dump, and they last for months! They also work great for Christmas presents that need a box but are too small for a normal sized box.
But I digress…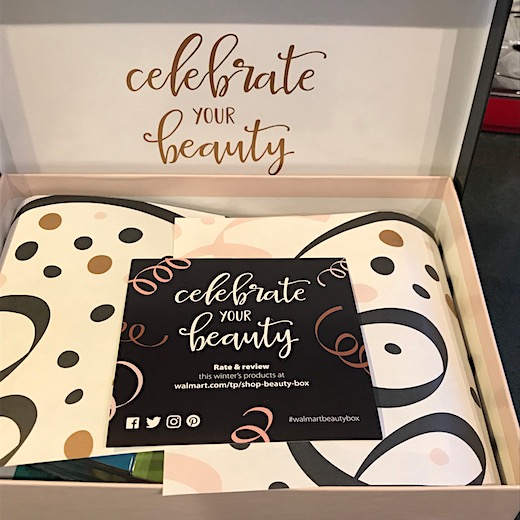 I think this edition's design is classy, with the metallic gold and black. Let's see what's inside!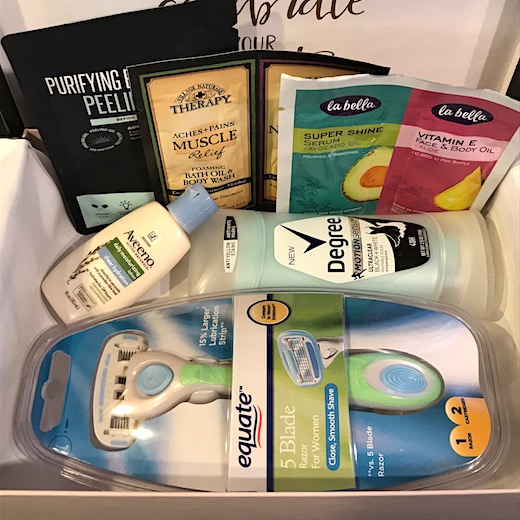 Oooh, I likey!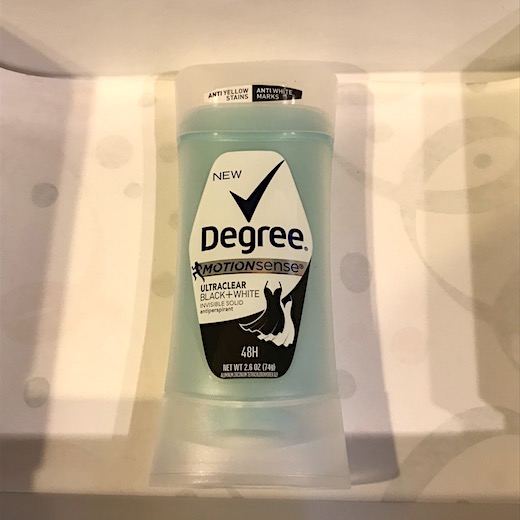 Degree MotionSense Ultra Clear Invisible Solid Antiperspirant & Deodorant "Degree Ultra Clear Black + White Antiperspirant and Deodorant, with long-lasting MOTIONSENSE formula, offers powerful sweat and odor protection. The unique formula provides Ultra Clear protection against white marks on black clothes and yellow stains on whites. Degree deodorant with MOTIONSENSE Technology provides underarm odor and wetness protection–the more you move, the more it protects. Degree Ultra Clear Black + White combines our strongest protection against yellow stains with the same 48-hour protection you know so your clothes stay protected and so do you."
Angel Face just mentioned that she's switched to Degree MotionSense and LOVES it so I gave this to her. She was thrilled!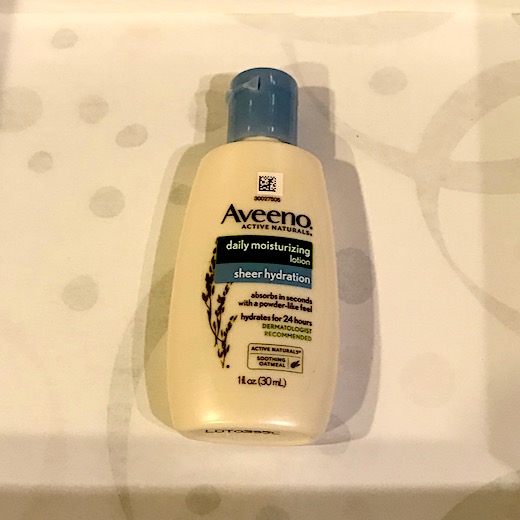 Aveeno Sheer Hydration Daily Moisturizing Lotion "Hydrate your skin with Aveeno Sheer Hydration Daily Moisturizing Lotion. This naturally hydrating sheer lotion absorbs in seconds for a fresh, powder-like feel you'll want all year round. Clinically proven to relieve dry skin, this dermatologist-recommended moisturizing lotion with Active Naturals Oat replenishes and hydrates skin. It moisturizes for a full 24 hours, leaving you with velvety soft, beautiful, and healthy-looking skin. The lightweight, non-greasy formula is fragrance-free and non-comedogenic."
I've loved Aveeno products for years so I was super excited to see this lotion in the box. I don't use powder so I wasn't thrilled with the "powder-like feel" on my legs, but I don't mind it on my hands. This became my new "purse lotion."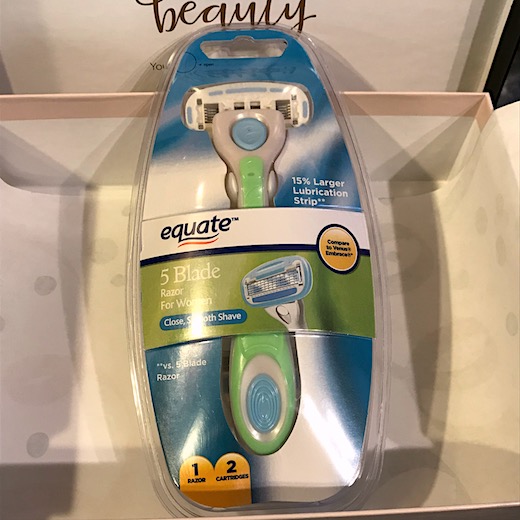 Equate Women's 5-Blade Razor with Replacement Cartridges "Enjoy a close, comfortable shave with an Equate Women's 5-Blade Razor. It has an easy-to-use handle for a firm and secure grip. Each razor has a rounded cartridge and coated blades that help you shave every curve. A moisture halo and large lubrication strips with botanical oils allow it to glide smoothly over the skin. The ladies razor comes with a Freshpak dispenser and a tray for fresh blades and convenient shower storage. The package includes one razor and two replacement cartridges."
I fell in love with the Venus Embrace years ago and although I've tried several razors that are supposed to be comparable, none ever came close. Until now. I LOVE this razor! In my opinion it shaves just as well as the Venus Embrace, and is cheaper too. If that wasn't enough, it comes with a holder for the razor and replacement cartridges that suction-cups to the shower wall. Bonus! There are six people taking showers with over 20 bottles, tubes and cakes of shampoo, conditioner, body wash and soap so razor that suction cups to the shower wall is super handy.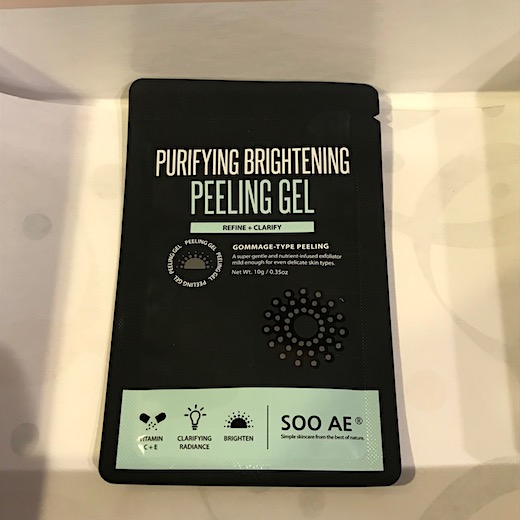 Soo Ae Purifying Brightening Peeling Gel "This gentle and effective Purifying Brightening Peeling Gel from Soo Ae will refine and clarify all skin types. It delivers superb and extra-gentle exfoliation to gently lift dead skin cells and unclog pores while restoring skin clarity and radiance. This peeling gel also improves absorption of skincare applications. Mild enough for even delicate skin."
I love peel-off masks, but haven't had time to try this one. One of my 2017 New Year Resolutions was to go to bed earlier to get more sleep. But I tend to get wrapped up in something then end up flying upstairs at the last minute, so I haven't had time to do anything but the most basic bedtime routine. Yes, I realize I said 2017 – I didn't do so well last year so I'm trying again this year. I probably need to set aside a night every week to use the mask samples I've accumulated. That'll help me complete Resolutions #2 AND #3!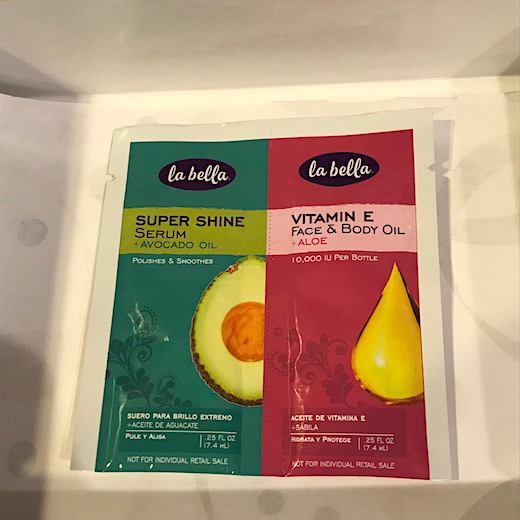 La Bella Super Shine Serum Avocado Oil and Vitamin E Face & Body Oil + Aloe "Eliminates frizz & flyaway hair" and "La Bella Vitamin E Oil with Aloe hydrates and protects to give you softer and healthier-looking skin. It re-energizes with an antioxidant-rich blend, leaving you with a youthful glow. This La Bella oil evens out the complexion and skin tone. It helps minimize the appearance of scars, stretch marks and dryness or chapping. This oil blend is easy to use by just gently massaging it onto the face, the body or the hands every day."
I tried the Vitamin E oil first and hated it. It was fluorescent yellow, runny I know it's an oil, but some personal care oils are thickened, and didn't absorb well – even after I rubbed it in my leg felt tacky. "No way am I getting this on my Lularoe leggings!" I thought to myself as I washed the oil off my leg and replace it with my usual Desert Oasis almond lotion.
After that fiasco I was a little scared to try the hair serum but I pulled up my big girl panties and went for it. I LOVE IT! As I've mentioned before, my hair tends toward fuzzy frizziness, but after using a nickel-sized amount of serum my hair was shinier, smoother, and silkier. And the effect lasts the three days I go between shampoos! I was able to get 4 uses out of the .25 fl oz sample, even using what I consider a generous amount. I'm definitely buying some of this next time we're in Walmart!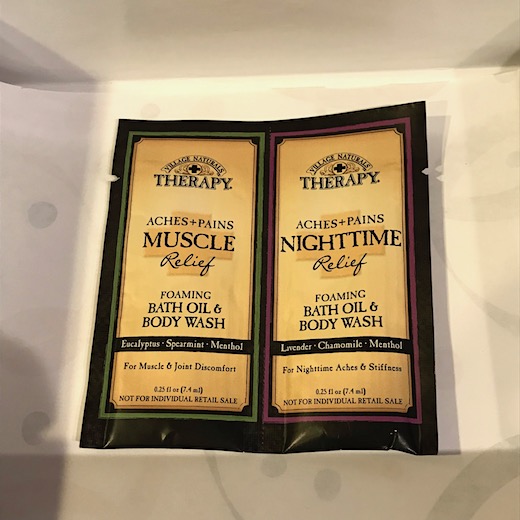 Village Naturals Therapy Aches & Pains Muscle and Nighttime Relief Bath Soaks. "With Essential Oils & ExtractsRelieve sore muscles & joints by soaking in a bath with a comforting blend of Eucalyptus & cooling Menthol to ease your aches & pains. The combination of Sea Salt and Magnesium Sulfate help to draw out impurities and ease tired muscles. Infused with extracts of Spearmint & Matricaria to soften your skin while you soak your soreness away.Don't have time for a full bath? Soak your feet in a footbath filled with warm water and Aches & Pains Mineral Bath Soak to relieve tired achy feet.98% Naturally DerivedNo Animal Testing" and "Village Naturals Therapy Aches + Pains Nighttime Relief Concentrated Mineral Bath Soak Lavender-Chamomile-Menthol. Relax plus unwind while soaking in our powerful blend of essential oils and extracts including lavender, chamomile and cooling menthol. The combination of sea salt and epsom salt helps to draw out impurities and ease tired muscles."
At first I considered giving the Muscle Relief one to Jo-Bear for after soccer or lifting, but then I decided to save it for this summer when I'm sore from working on the house. The Nighttime one I'll try one of the nights I set aside to do a mask and go to bed early. Really, I will.
So that's the Walmart box – best $5 I've spent outside of Starbucks for a long time! I loved almost everything I tried and can't wait to see what's in the next one. If you decide to try any of these products drop me a line to let me know what you think. 🙂