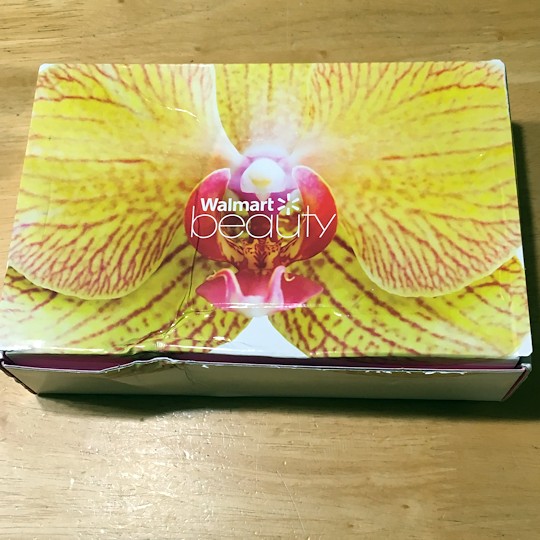 My Walmart Summer Beauty Box arrived in the mail unexpectedly – what a great surprise! The box is a little smushed, but everything inside was just fine.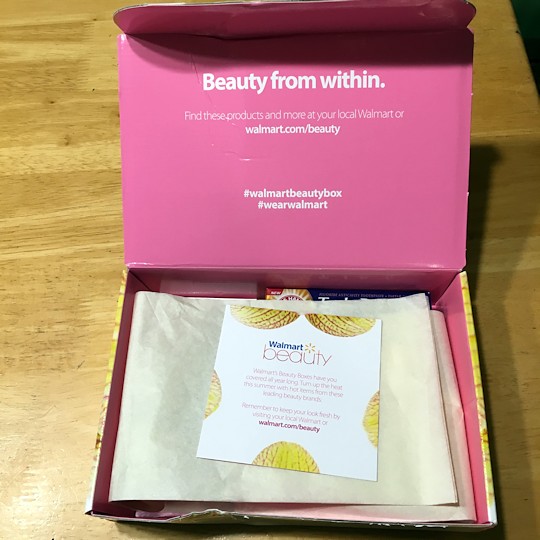 Teacher snickered at my excitement, "I don't think of "beauty" when I think of Walmart."
Good point, but our budget is more Walmart than Sephora.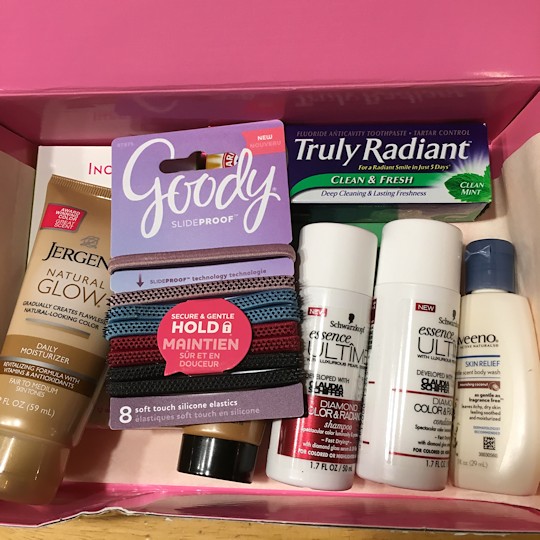 I see some favorites in there – hooray!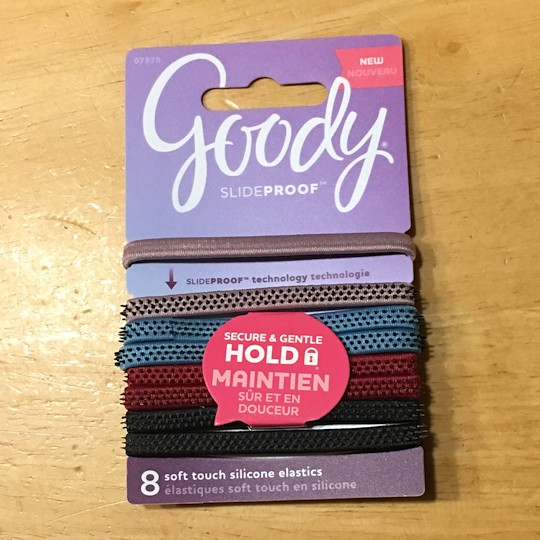 Goodie Slideproof Elastics. Princess got some of these in her Winter Walmart box but I signed up so late in the rotation that my box didn't have them. I'm thrilled to finally get some to try!
It was a little tricky figuring out how to keep the spiky no-slip side toward my hair, but they work great! I can really feel the difference when I use these instead of regular bands. In fact, they hold so well I have to be careful not to pull my hair too tight or it'll hurt when I turn my head.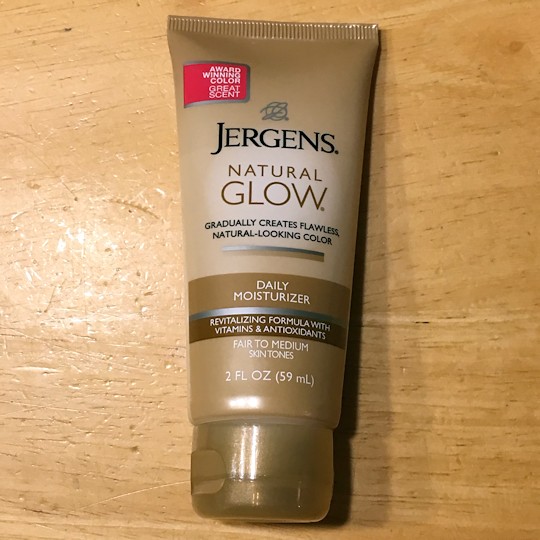 Jergens Natural Glow Moisturizer. Teacher teases me that my skin is "glow in the dark white," but Jergens Natural Glow gives me a decent natural looking tan. Sadly, "tan" on me is the same color as "never seen the light of day" is on Teacher. I've tried a several other tanners in the same basic price range and like Jergens best because it's not expensive, it works on me, the color looks natural, and it doesn't stink like some tanners.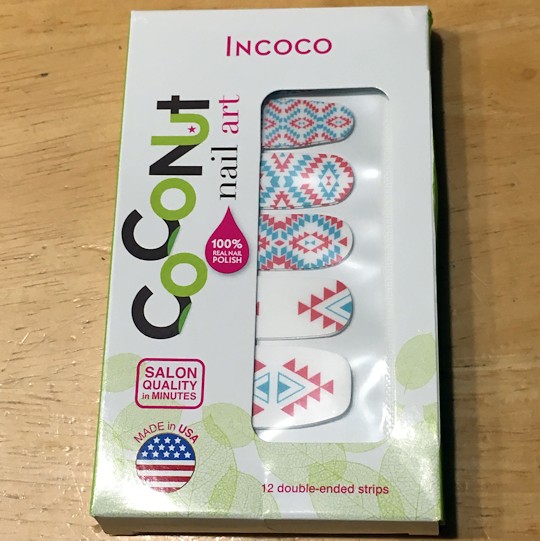 Coconut Nail Art Strips. I'm on the fence about these because: 1. I love my Jamberry wraps so much I can't imagine using anything else, 2. Princess tried some nail polish wraps and wasn't impressed, 3. This pattern is SO not me. But it screams "Angel Face!" so I may give them to her… Or maybe I'll try one on my pinky to see what they're like and give the rest to her.
Have you tried nail polish wraps like these, and did you like them?
Sally Hansen Airbrush Legs. I tried a dab of this on my glow-in-the-dark white legs and it was way too fake looking. The light color might work better, but I doubt I'd use it on a regular basis because I'd be worried about spilling something on my legs and having it run off. I gave it to Princess to trade for me and can't wait to see what she turns up with!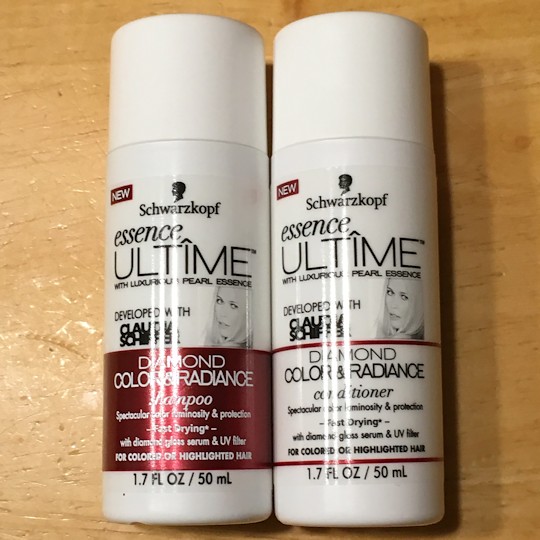 Schwarzkopf Diamond Shampoo & Conditioner. I hadn't heard of Schwarzkopf but Princess had and was really excited that it was in our summer Walmart beauty boxes. I really liked both products – they smell great and made my hair soft and shiny. I haven't used them long enough to see how well they prevent fading compared to my usual Aveda products, but so far so good. I want to hang on to these purple highlights for as long as possible!
Aveeno Gentle Scent Body Wash. This definitely has a gentle scent, but what little there is there smells better than the Jason coconut body wash I'm currently using. It also makes my skin feel softer and more moisturized than the Jason. I may have found a new body wash!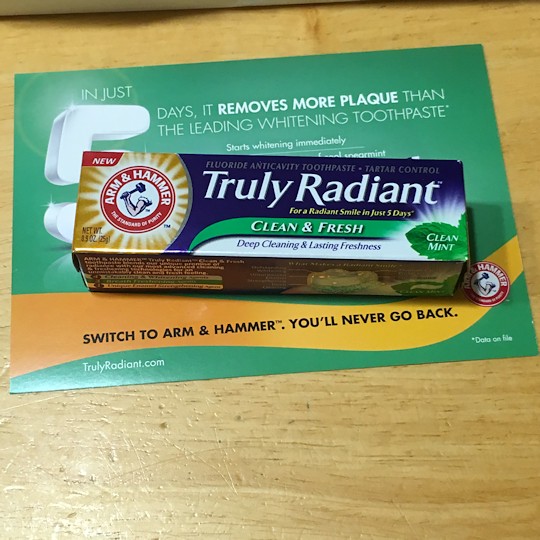 Arm & Hammer Truly Radiant Clean & Fresh Toothpaste. Princess gave me a sample tube of this a month or so ago and I made the mistake of trying it for the first time at bedtime. When it says "Lasting Freshness" it isn't kidding – my mouth felt so fresh and minty that it kept me awake! Since then I've only used it in the morning and I absolutely love that my mouth feels fresh and minty for hours after brushing. I wish it came in a Sensitive version, but I've been using it in the morning and my usual Sensitive toothpaste at night without any problems so far.
So that's the Summer Walmart Beauty Box – pretty great for $5 if you ask me!
I wonder what's going to be in the Fall one…