I originally sat down to write about Jo-Bear's high school graduation, but before I started writing I thought I'd look up what I wrote about the other kids' graduations first.
Wanna guess what I found?
That's right – Nothing.
#momfail
Again!
So instead of a post just about Jo-Bear's graduation I decided to write about all four kids' graduations so far. Kill two four birds with one stone.
Number 1: College Boy
To be fair, College Boy graduated the year before I started blogging so I should get a pass for that. He actually graduated 20 years after I did, which is cool, but makes me feel old.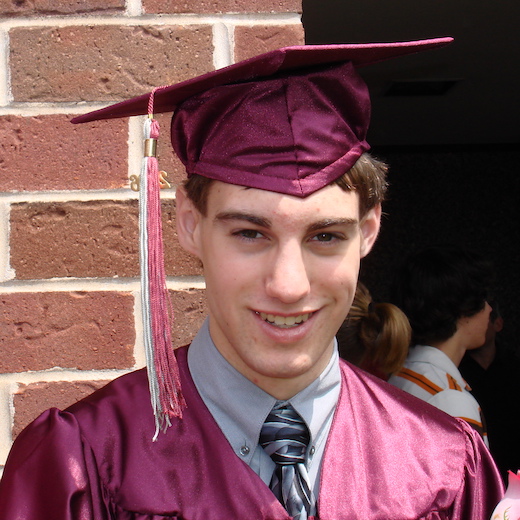 I didn't take many photos of his graduation – probably because he was the practice baby and was still figuring out how to do things. It probably didn't help that I was 5 months pregnant with iMatt formerly known as Little Guy and dealing with Preggo Brain.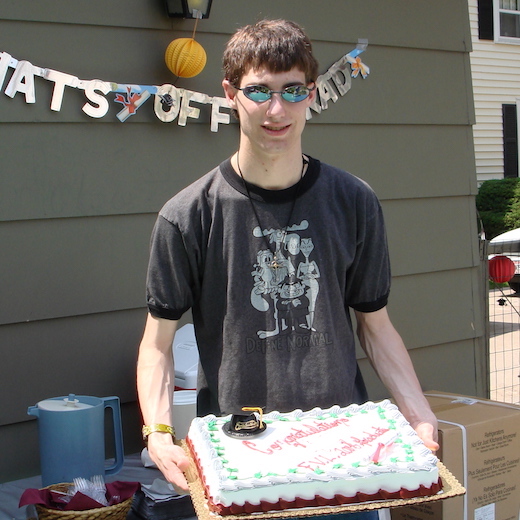 I don't know why, but in my family we always take photos of the cake. We didn't take photos of the buffet which I regretted when we were planning Princess's graduation or of College Boy with his siblings, but the cake was recorded for posterity. Priorities people!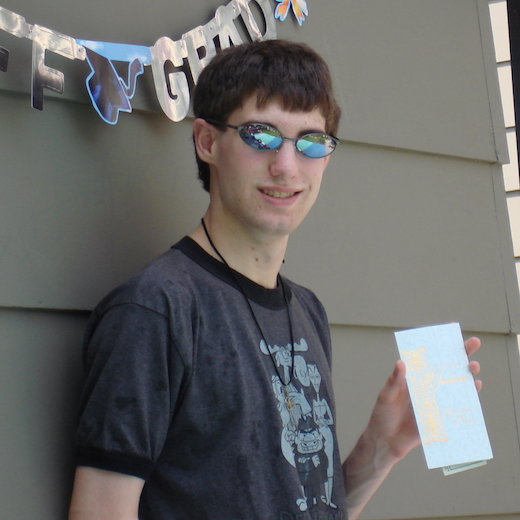 Love that smile! We were so proud of him then, and still are.
Number 2: Princess and Cowboy
Despite all the challenges Princess faced her last year of high school we never doubted that she'd graduate. And she did so with flying colors. She reminds me of the women in the movie Steel Magnolias – she looks delicate on the outside but inside she's tough as nails.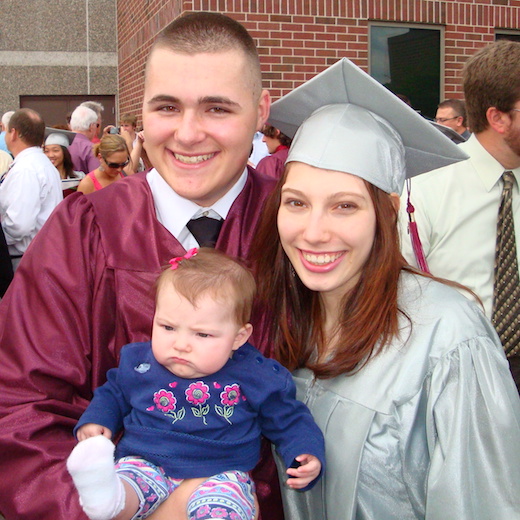 One of these things is not like the other… Princess and Cowboy are so happy and excited but Peanut just wanted to keep napping.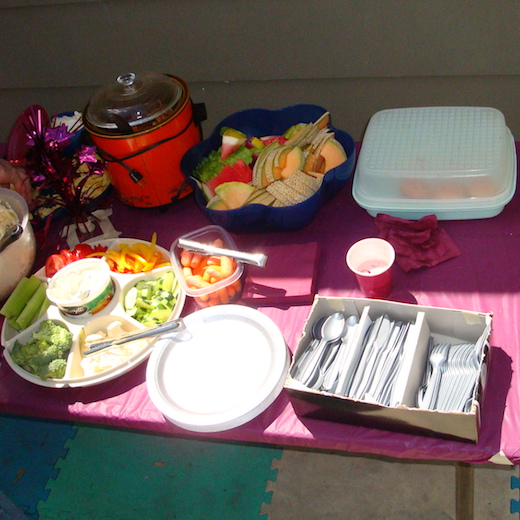 I learned from my mistake at College Boy's graduation and made sure to take photos of the buffet so we'd remember what we served when it was time to plan Angel Face's graduation party.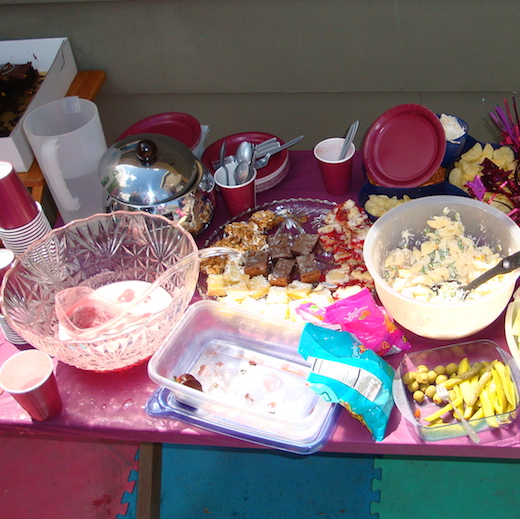 It probably would've been smarter to take the photos at the beginning of the party, but "better late then never" – right?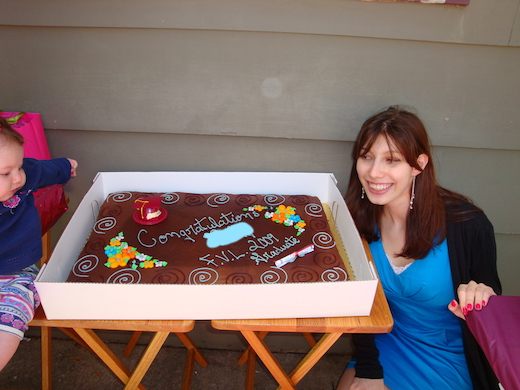 And of course there's a photo with the cake. Still no photo with siblings, but we've got the cake. What was I thinking?!
Number 3: Angel Face
By Angel Face's graduation I was beginning to get the hang of things. It probably also helped that Peanut was four years old instead of the six months she was at Princess and Cowboy's graduation. It's amazing how much better you function when you're getting decent sleep.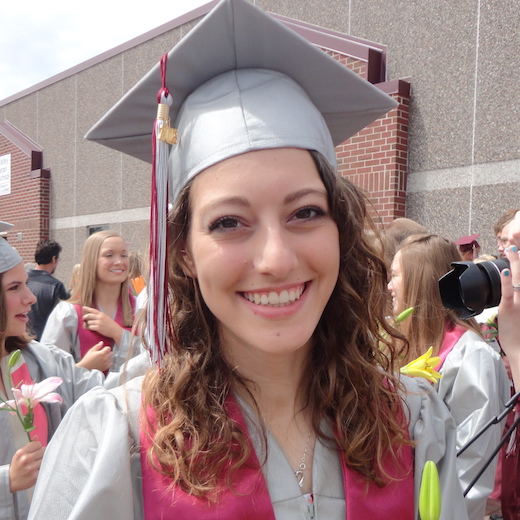 Grades have always been more important to Angel Face than her siblings, and she worked hard to earn that sash.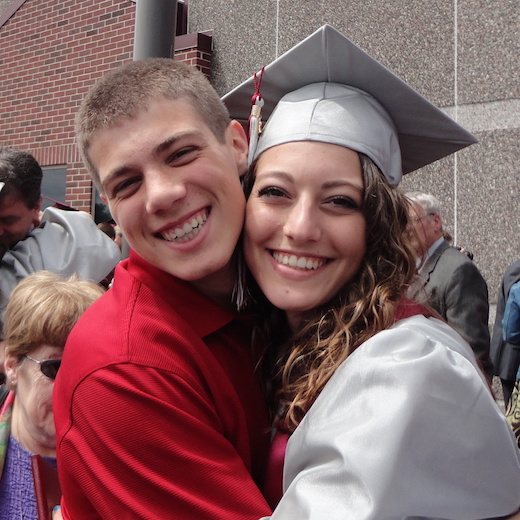 Hard to believe that at one time these two fought like cats and dogs. All of the kids have gone through a "hate each other" stage around middle school age, then once they get to high school they became good friends. I can't wait for Z-man and iMatt to reach that stage.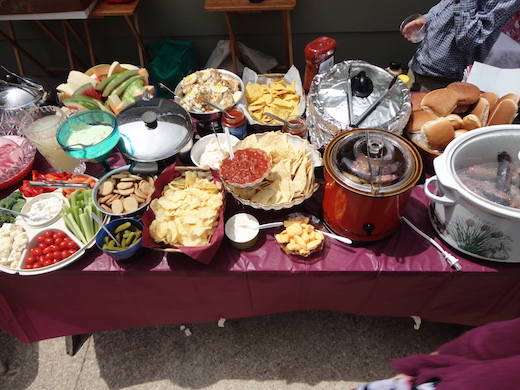 The third time's the charm – this time I remembered to take a photo of the buffet BEFORE all the food was gone. Go me!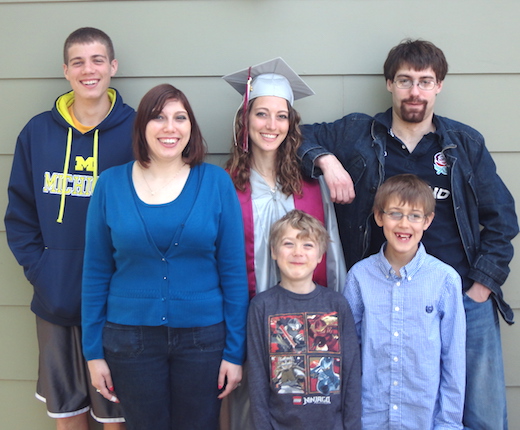 AND I remembered to take a photo of all the siblings. I took one of the siblings and siblings-in-law too, but that one didn't work out as well. #closedeyes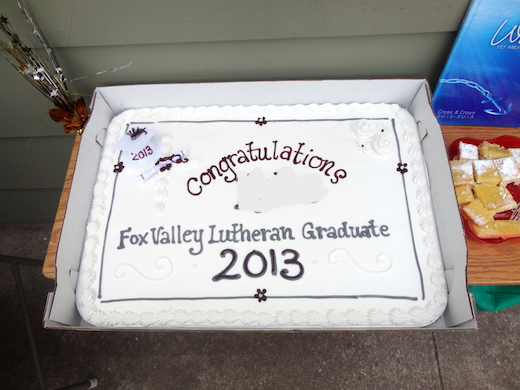 Don't forget the obligatory cake photo. In case you're wondering, we get our cakes from Simple Simon and they're always marble. That way yellow and chocolate cake lovers will be equally happy, or equally disappointed.
Number 4: Jo-Bear
I think I've finally figured out this graduation stuff. Except for the food – I forgot to take photos of the buffet again. But that's OK, we can refer to Princess and Angel Face's photos when it's time to plan the last 2 graduations.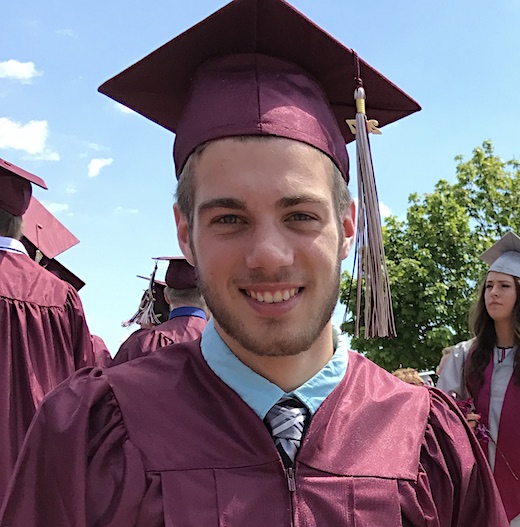 He cleans up pretty well, even with a scruffy face.
Look at the difference four years makes. I love how much my kids love each other – eventually.
Jo-Bear and his cake. I think it's interesting how each cake has been decorated differently. Aside from Princess wanting chocolate frosting and us wanting a soccer ball for Jo-Bear, we've left the decorating up to the bakery, and have never been disappointed.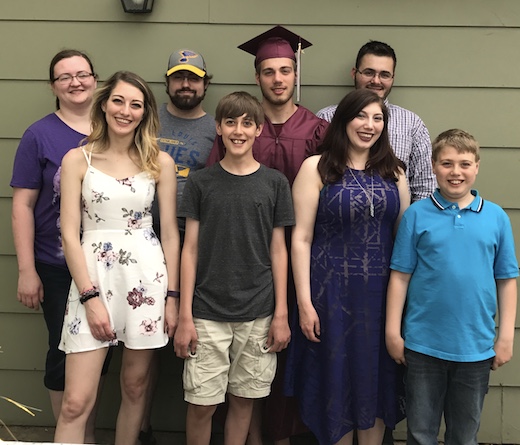 The siblings and siblings-in-law. I love these people so much – my heart hurts just looking at them!
Now that I've finally getting the hang of this graduation thing I hope I don't forget it all by the time Z-Man's high school graduation rolls around!
What are some of your graduation traditions?