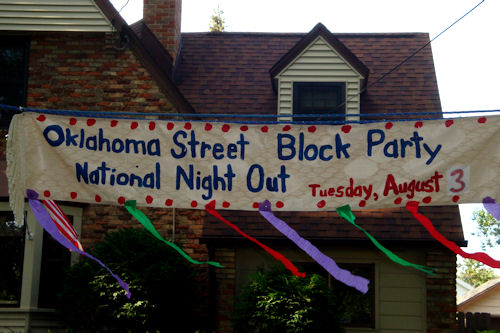 Every year since I-don't-know-when our block has a Block Party to coincide with National Night Out. This year was no exception.
Our block parties have always been planned by two women who each have plenty of time on their hands and obscene amounts of energy to spare. They plan a full night of activities, with something new each year. This year was no exception.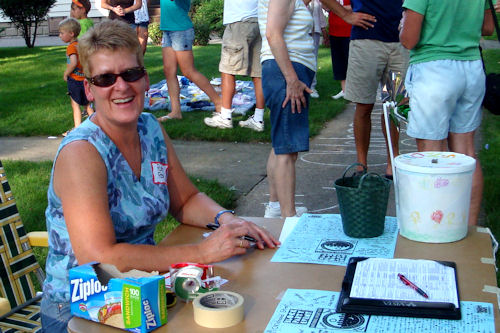 Here's Ruth, one of our devoted block party planners, handing out pre-made name tags, answering questions, and generally giving directions so we all know what's going on.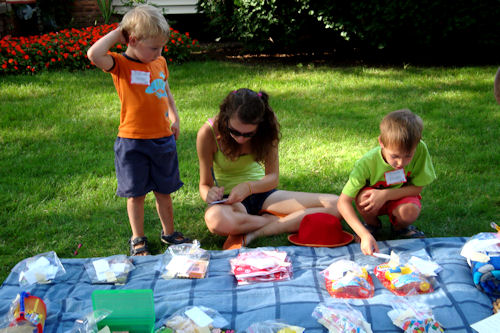 First order of business after getting our name tags, is to enter the prize drawings. There are usually enough prizes for each child to win something.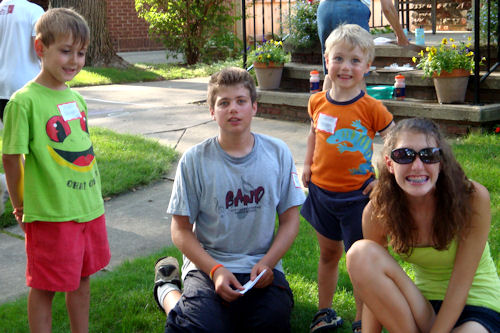 Smile guys! Angel Face – don't let the little boys put their names in for any annoying toys!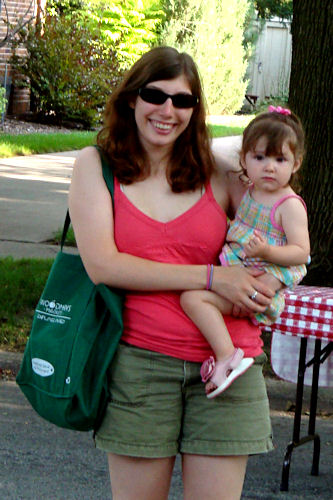 Princess and Peanut are here! Even though they don't officially live on the block anymore they're honorary lifetime block party invitees.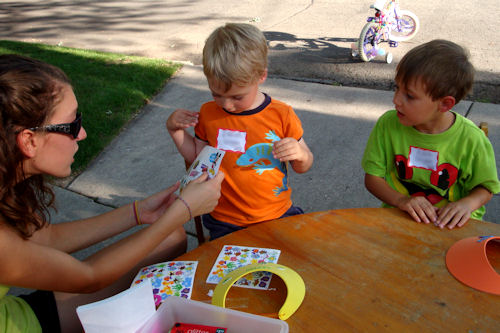 I don't know how other block parties are set up, but ours has activities scheduled throughout the evening, and each household with children is asked to host something.
This year the family with the two cute little girls the same ages as Z-Man and Little Guy whose names I don't know because I only see them once a year at the block party provided supplies for the kids to make foam headbands and bookmarks. Angel Face took the boys over and helped them make headbands.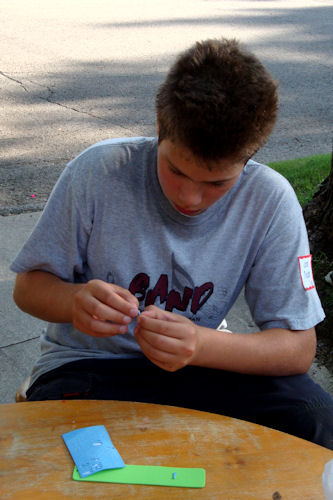 Jo-Bear's friends weren't around yet so he made a bookmark. He's in Sixth grade this year and growing up so fast that it's nice to see the little-boy side of him every so often.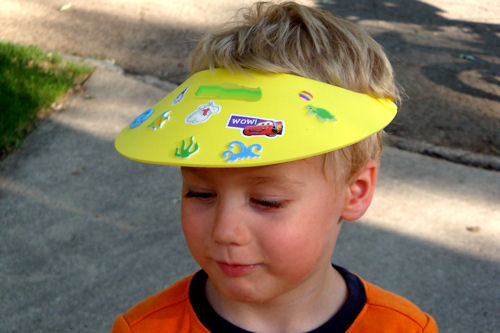 Nice job Little Guy! I see your favorite color, green, and your beloved Lightening McQueen.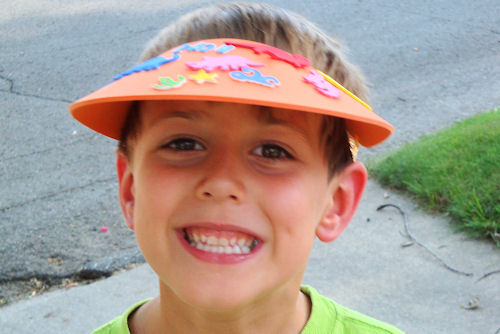 Z-Man covered his visor with his current obsession – dinosaurs! I remember when College Boy was the same age and just as in love with dinosaurs.
This family also had a Crazy Daisy sprinkler and two wading pools with tons of toys. Poor Little Guy didn't know what to do – he crept up to the pool and I could tell he was dying to play in it, but he knew it wasn't his and that it's not OK to just start playing with someone else's stuff.
You'd think three years old is too young for ethical dilemmas.
For a while I was in charge of the Bike Parade, but happily handed it off to another family a couple of years ago. This year Jo-Bear came up with a new idea: a paper airplane flying contest. I thought it was a fantastic idea, but not many kids came over to try it. That could be because our house was pretty far away from most of the action, so next year we'll move our table closer to the middle of the block.
Oh boy – Todd's firing up the grill! Todd is the other block party planner's husband, and in charge of the grills each year.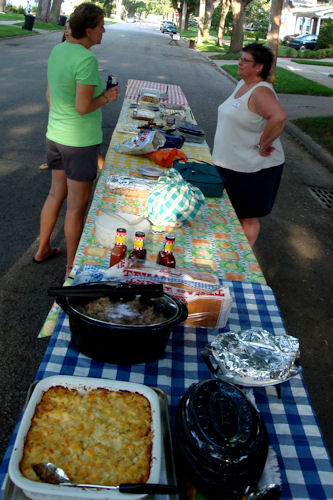 Everyone brings their own meat and dishes and stuff, plus something for the pot luck table. Each side of the street is alternately assigned hors 'd oeuvres/side dish or salad/dessert.
I wonder why we can't decide on our own what to bring. I suppose they're worried that everyone would bring dessert, or salad, or chips and dip and there wouldn't be any variety. I wouldn't complain; give me a medium-rare burger surrounded by desserts and I'd be in heaven!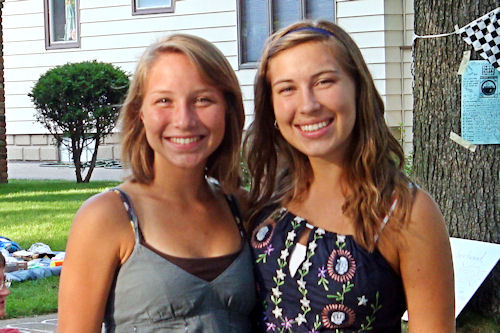 I snapped a quick photo of Kathy and Eileen together. These sisters have been Princess and Angel Face's best friends for the past eleven years. They're all like sisters, but better because they share clothes without complaining and never fight.
Teacher is chatting with some of the neighbors, waiting for our burgers to get done. Are they ready yet? I'm HUNGRY!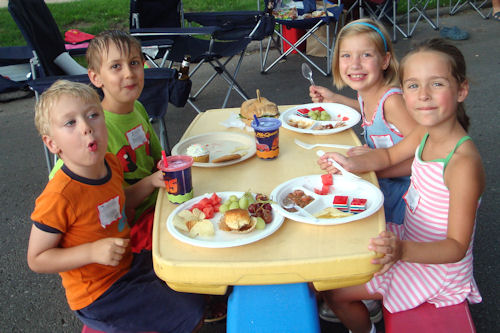 My little charmers found friends to eat with. The blonde is Eileen and Kathy's little sister, Haley, and the brunette whose name I don't rememberlives in the house with the wading pools.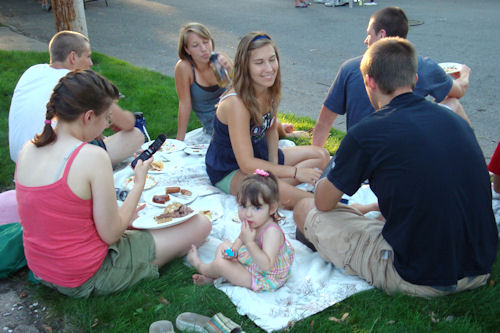 Following a tradition that started the very first year we lived here, Princess, Kathy, and Eileen have a picnic on the same old quilt, always in front of Grandma and Grandpa's house. Even before my parents bought it. The boys are a new addition; admirers of Kathy and Eileen.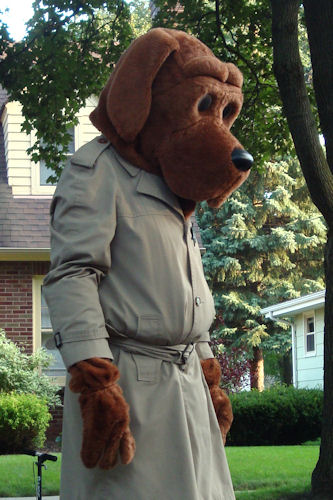 We were still eating when McGruff arrived with his police escort. I always feel sorry for whoever is inside the costume; not only is he or she sweltering, but most of the little kids are scared of the giant dog and won't come anywhere near him.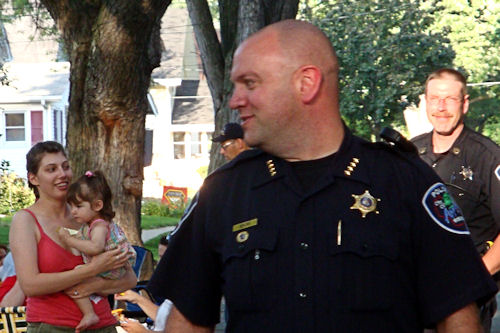 Every year McGruff and his escorts make the rounds of all the National Night Out block parties in the area, and somehow always manage to show up while we're eating. I wonder if they plan it that way on purpose?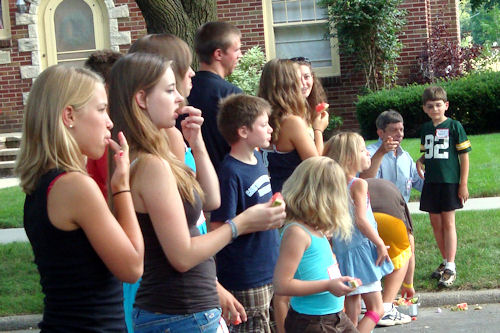 After supper we always have a watermelon seed spitting contest. I am proud to say that so far none of my kids are good enough spitters to win. Whew!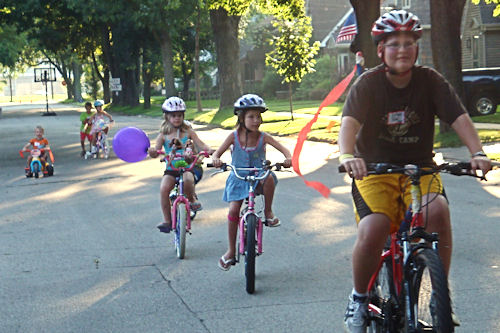 Next is the Bike Parade. The kids love decorating their bikes and riding them them in the middle of the street.
We used to have prizes for "Most Decorated Bike" "Cutest Rider" and so forth, but it was a real pain to organize. One year I gave treat bags to all the kids who participated, but in recent years we decided there was enough sugar between the desserts and the pinata so we stopped giving prizes.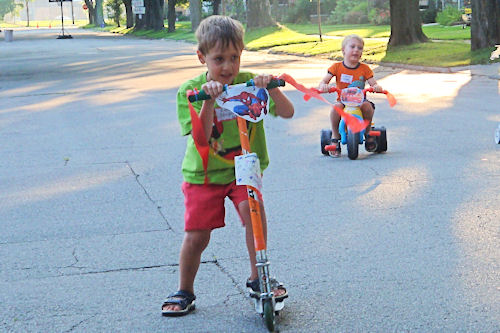 Angel Face helped Z-Man and Little Guy decorate their bikes. Little Guy has his all-time favorite Lightening McQueen on his bike, while Z-Man's loyalties are divided between dinosaurs and Spider Man. I'm not thrilled with the Spider Man thing but since he only has a few figures and coloring sheets I let it go.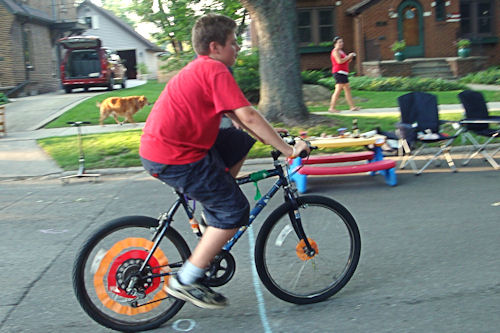 Jo-Bear rode in the Bike Parade this year. I wonder when he'll decide he's too old for it, but I'm in no hurry for him to grow up quickly. Teacher says I'd keep all my kids young if I could – and he's right.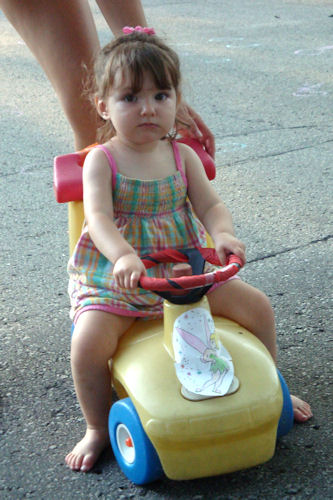 Peanut was in the Bike Parade too, but couldn't keep up so Angel Face pushed her at the back of the line. Most of the time Peanut remembered to keep her feet up so they weren't scraped up too badly. She seemed to like it, scraped toes and all.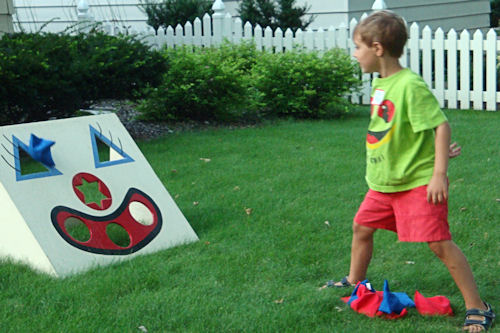 Z-Man stopped to play a game of Bean Bag Toss…
Go, Z-Man, go!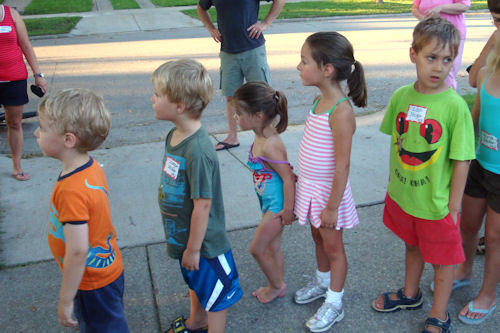 Then got in line for the piñata.
They always have two piñatas; one for the little kids and one for the older ones. The kids line up by age so everyone can have a chance to hit it.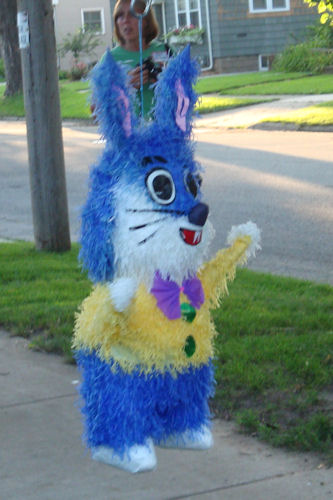 I have mixed feelings about piñatas – especially cute ones. There's just something wrong about giving a kid a bat and having him beat away at a cute bunny. I really prefer the ones with the ribbons, and each kid pulls a ribbon until the right one is pulled and releases all the candy.
But when in Rome…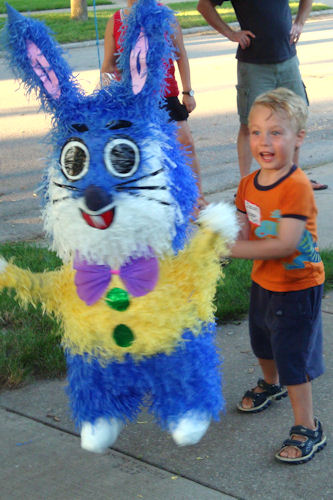 C'mon, Little Guy, HIT THAT BUNNY!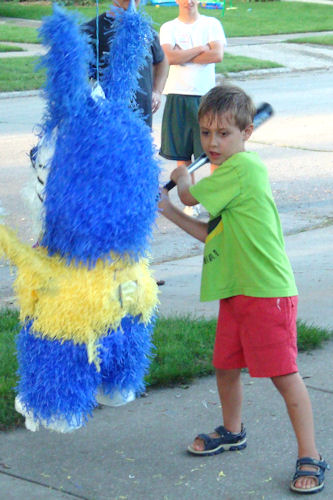 Hit it HARD, Z-Man!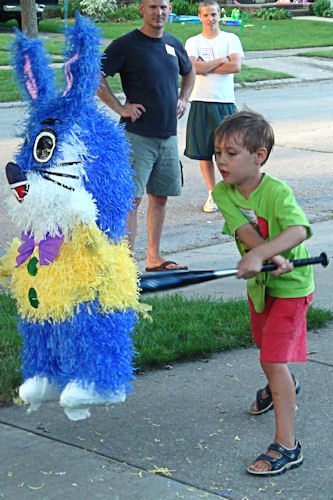 HARDER, kiddo!
Peanut isn't happy to see her uncles beating a bunny with a baseball bat.
I hope this doesn't scar her for life.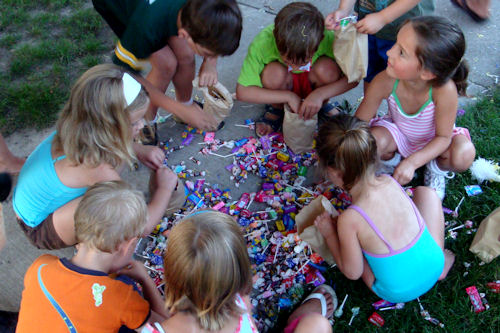 Finally the piñata breaks and candy rains down. I can't believe how much candy there is; each kid ended up with a lunch bag stuffed to the top.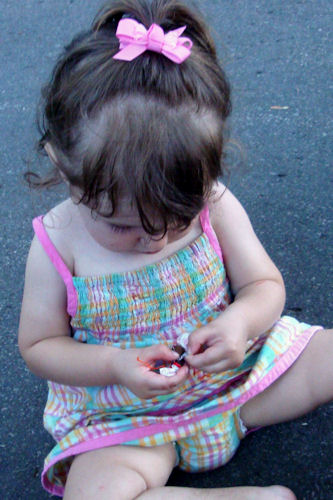 Peanut toddled in and grabbed herself a couple of Tootsie Rolls – her favorite. She'll turn herself inside out for a Tootsie Roll!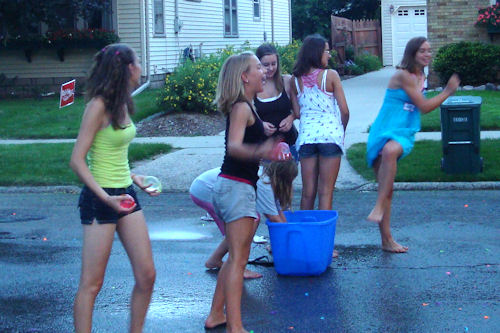 After the big kids' piñata was the traditional water balloon fight: boys against girls. As usual there was no clear winner, but everyone got drenched.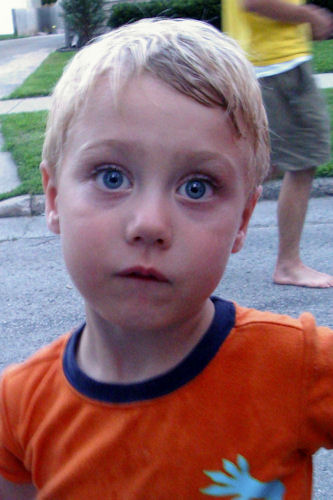 Oh, look at those eyes! What do you want, Little Guy?
Of course I'll be your partner for the egg toss!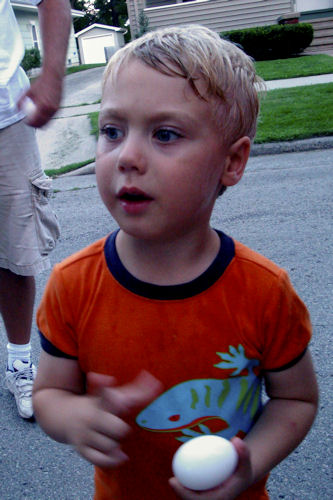 Eeek! Be careful; don't drop the egg before we start!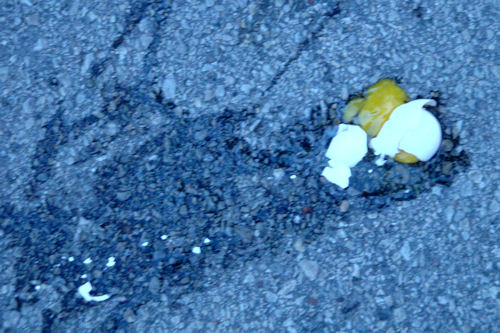 Oops.
Can we get another egg over here, please?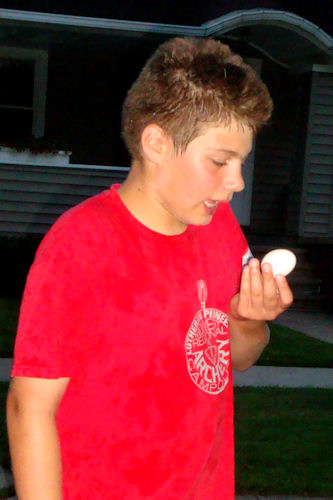 I don't even know what to say…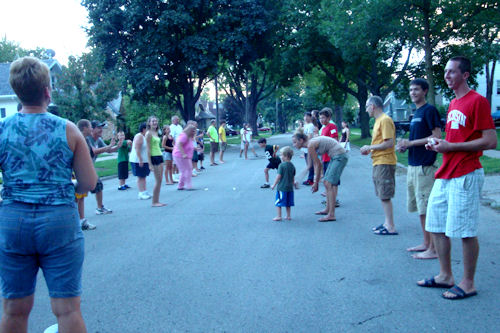 Round Two… it looks like Jo-Bear and Angel Face are partners.
Good luck guys!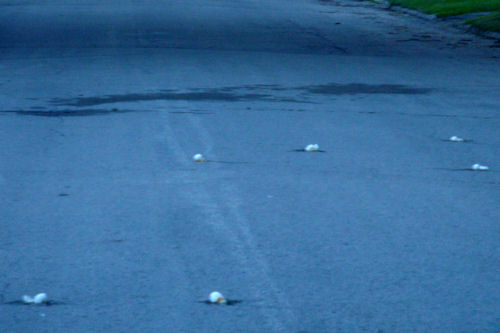 The egg toss is the last activity of the night; time to start cleaning up and heading home.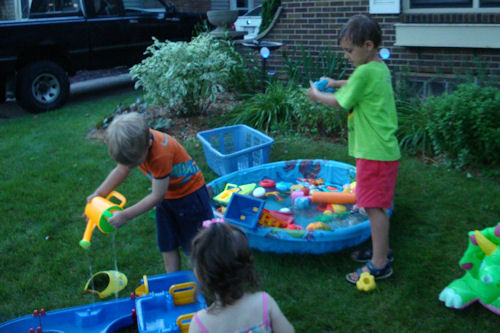 The boys and Peanut played in the water while Teacher and I helped clean up the street.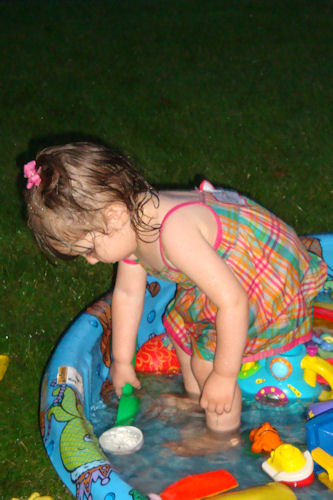 Peanut was worn out from all the fun, but didn't want to stop playing in the water.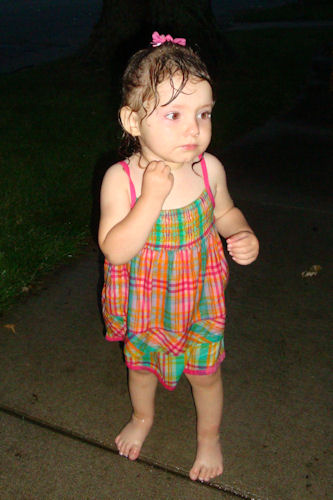 Then she got cold and was ready to go home. C'mon sweetie; let's get you dry and into bed. There'll be another block party next year – promise!