Halloween can be an expensive holiday, and costumes usually top the list of expenses. Over the years we've found ways to keep costume expenses to a minimum – when you've got six kids finding ways to cut costs is a matter of survival!
Here are some tips to help you save money on your children's Halloween costumes too:
Make your own. There are tons of easy patterns available at your local fabric store; don't be afraid to try one out! A pattern was used for most of the costumes pictured in this post – either as written, or as a basis for me to build upon.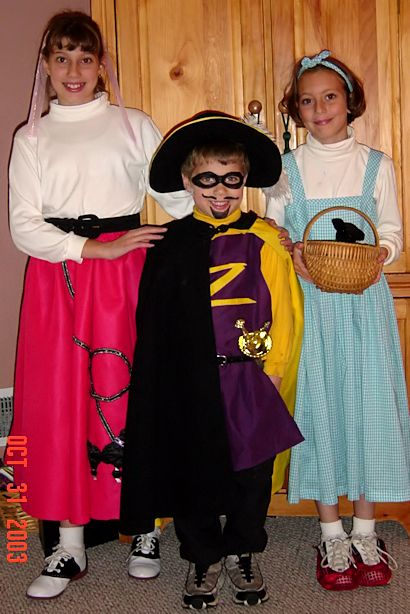 Sock Hopper Princess, Angel Face Dorothy, and Three Musketeer Jo-Bear in costumes I made from patterns.
However, I do realize not everyone is a seamstress or has a sewing machine, but with a little ingenuity you can still make your own costumes.
When College Boy was a toddler I made him a lion costume from a yellow sleeper with a tail made from an old sock and some yellow yarn, and a "mane" made by hand-sewing yellow yarn to an old hat. I darkened his nose and drew whiskers with my eyeliner. So cheap, so quick, and soooo adorable.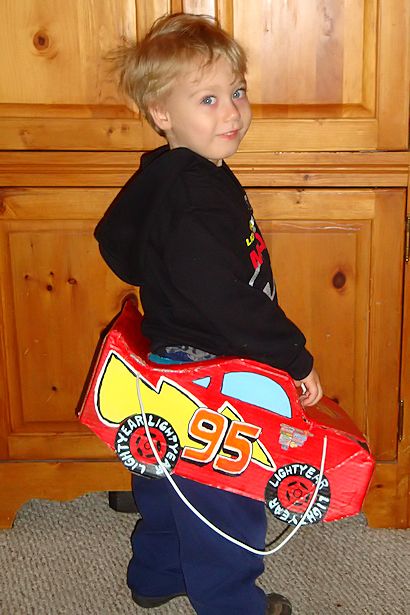 Teacher made this Lightening McQueen costume for Little Guy when he was in the midst of his Cars obsession. It's pretty amazing to see what can be done with a box and some paint!
Be a hoarder. But only with Halloween costumes please! I realize it sounds like a no-brainer, but I know of people who gasp throw away their costumes every year. What a waste! Get a nice Rubbermaid tote or sturdy box and pack costumes away right after Halloween. Make sure they're clean first, of course.
I've saved almost every costume our children have worn since College Boy was a baby. Every year we bring the totes down from the attic and the kids dig through them to see what piques their interest that year.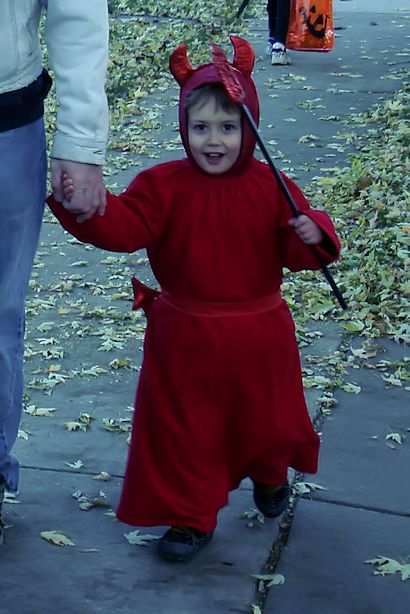 Z-Man's adorable devil costume was originally worn by College Boy as Mickey Mouse, Sorcerer's Apprentice.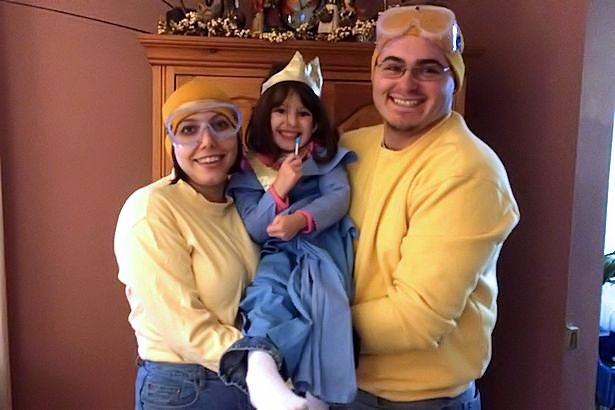 Here's Peanut in a Sleeping Beauty costume I made for Princess when she was 6 or 7. Princess and Cowboy made their Minion costumes from a combination of Goodwill finds and things they already owned.
Swap costumes. Instead of buying new, trade costumes with friends and family. Princess and Angel Face traded costumes and accessories with their friends many times, essentially doubling their choices.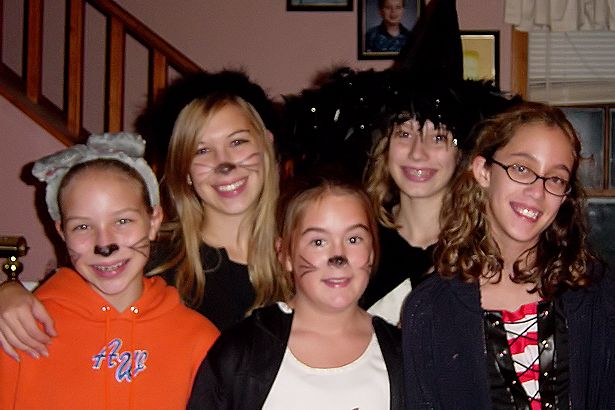 I'm not even sure who borrowed what this year. Many Halloween afternoons were filled with giggles and belly laughs as the girls tried on different costumes.
Use what you have. Put on your creativity hat and dig through your closets. If your child is in a sport, use the uniform as a quick and easy costume.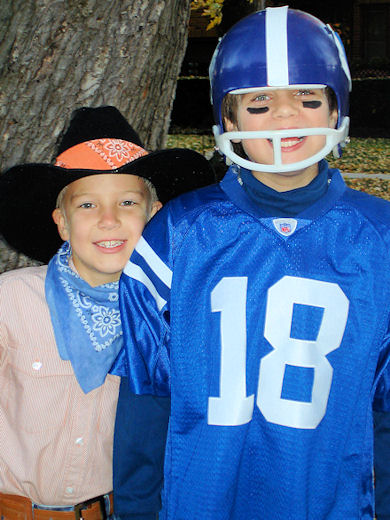 One year Jo-Bear wore his Colts jersey with a dress-up helmet I had for the child care.
Angel Face is a pro at scouring the closets for Halloween costumes. Here she is in her own jeans, Teacher's shirt, my bandana, a dollar store hat, and a gun/holster from when my mom was a kid.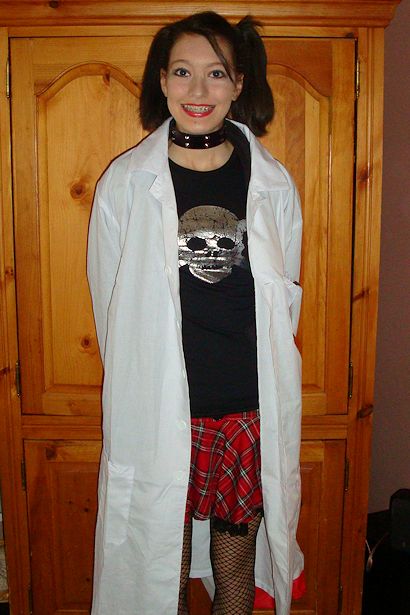 Angel Face strikes again! For her NCIS Abby costume we only had to buy a lab coat, spiked collar, and black hair spray; the rest of the outfit came from her closet. I used my mad Paint Shop Pro skills to whip up a NCIS ID with her photo, but you can't see it in this photo.
Reuse what you have. When College Boy and Princess were little I made them Peter Pan and Tinkerbell costumes. The next year I paired the Peter Pan tunic with brown pants and hat, then swapped the dagger for a bow to change Peter Pan into Robin Hood. Easy peasy!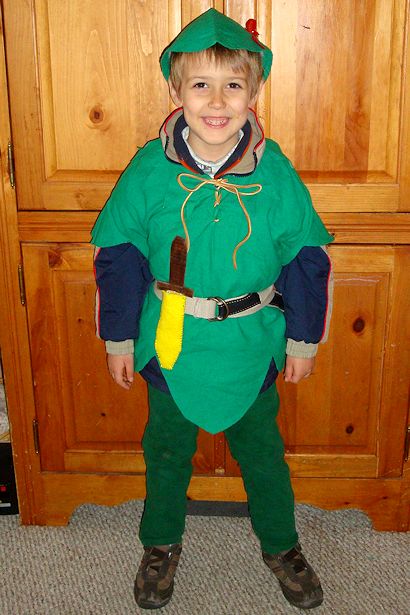 Here's Z-Man in the Peter Pan costume I made for College Boy.
After College Boy graduated from High School his younger siblings used his graduation gown as the basis for Harry Potter, Hermoine, witch, and vampire costumes.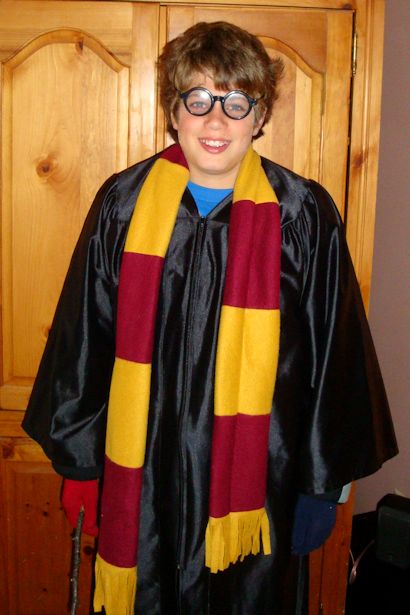 Jo-Bear as Harry Potter.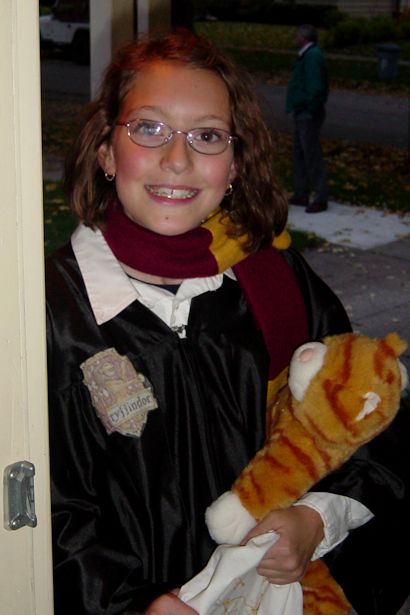 Angel Face as Hermoine.
Buy a head. I mean "ahead" not "a head". Costumes go on sale super-cheap after Halloween, so buying next year's costume after this Halloween can save some serious cash. Keeping your child from changing his mind is another matter entirely…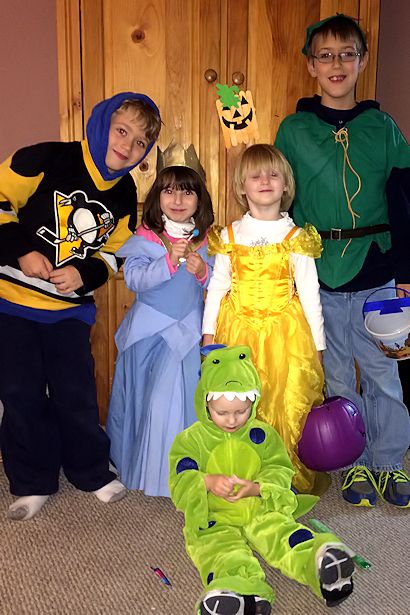 Little Guy in a Penguins jersey passed down from College Boy, Peanut in the Sleeping Beauty costume made for a young Princess, Love Bug in a Belle costume Irish Girl purchased on clearance after Halloween last year, Z-Man as Robin Hood in the popular Peter Pan costume, and Caesar Boy in a costume Irish Girl found in a second-hand shop. Does my family know how to save money on Halloween costumes, or what?!
How do you save money on Halloween costumes?