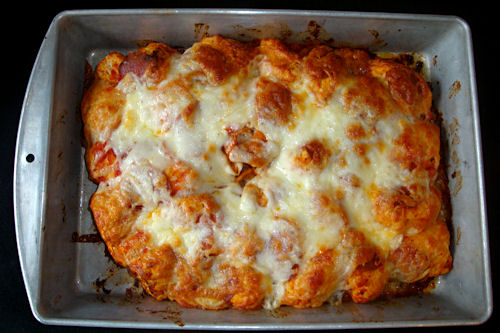 Bubble Up Pizza is one of the kids' favorite lunches. I love it too because it's quick and easy and I know the kids will eat it. It's also a great way to use up leftovers!
Bubble Up Pizza Recipe Ingredients
Bubble Up Pizza doesn't require many ingredients and won't dirty many dishes – another reason I love it! The recipe is very versatile; I vary the amounts and the ingredients depending on how many children I have to feeding and what foods are on hand.
Refrigerator biscuits
Jarred pizza or spaghetti sauce
Mozzerella cheese
Your favorite pizza toppings
Bubble Up Pizza Recipe Instructions
1. Grease
First, grease the bottom of your pan with butter or shortening so your bubble up pizza won't stick too much.
Or line it with parchment paper, but don't use wax paper unless you want your food to taste like crayons. Foil won't work either because the pizza will just stick to the foil instead of the pan, and I don't see any advantage to that.
The number of biscuits you're using will determine what size pan you need. Generally I've found that a 9×13″ pan works well for two cans of regular-sized biscuits. For one can of biscuits I recommend an 8×8″ pan; I tried a loaf pan once and the biscuits took forever and a day to get done in the center.
2. Cut
Next, cut each biscuit into fourths.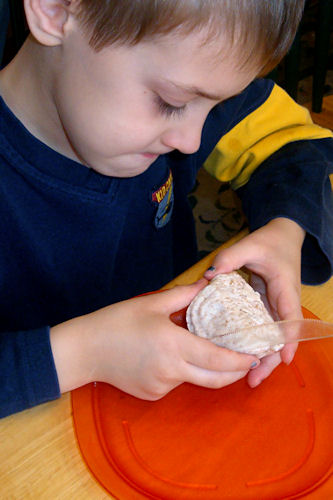 This is a great way to involve the kids! Give them plastic knives and show them how to cut the biscuits into pieces.
You'll have them wash their hands really well first, right?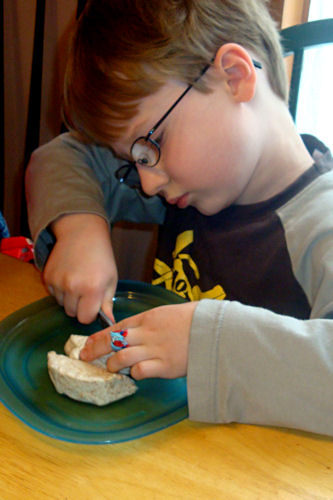 When I gave E the knife he held up his hand and said "My mom doesn't let me use knives!" Sooooo cute! I reassured him that his mom wouldn't mind if he used a plastic knife, and he dove right in.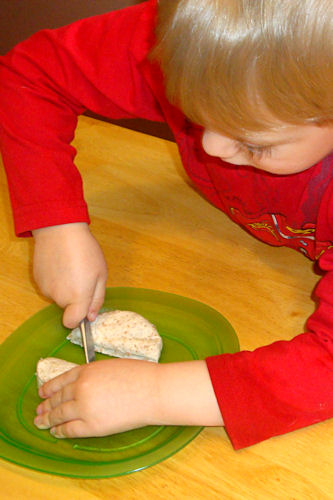 It really doesn't matter if they mangle the biscuits or cut them into a billion-gazillion pieces like Little Guy did, it'll still taste good.
3. Mix
Pour some of your spaghetti sauce into a bowl and add the cut up biscuits. I like to start out with less sauce and add more if the biscuits look dry.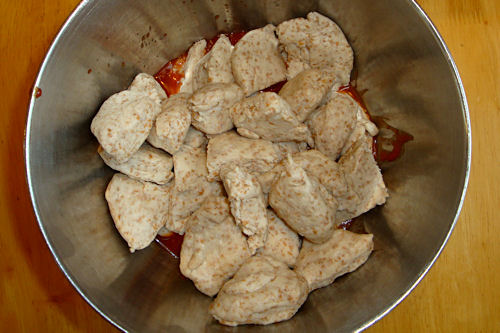 If you're thinking that the biscuits look weird it's cuz I used wheat biscuits. I try to get some extra nutrition in whenever I can.
4.Stir
Gently fold the biscuits into the sauce, adding more sauce as necessary. We used plain sauce this time but sometimes I brown sausage or hamburger and mix it into the sauce. If you add meat you'll need more sauce because the meat soaks it up.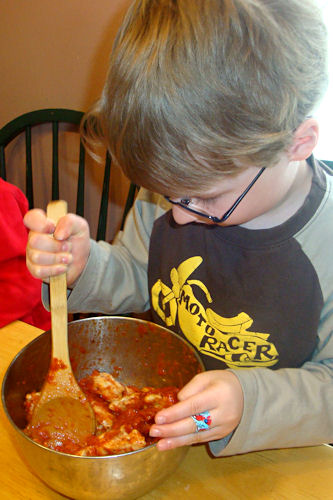 You can add vegetables too if you'd like, or wait and put them on the top under the cheese.
5. Spread
Spread the mixture evenly into the greased pan.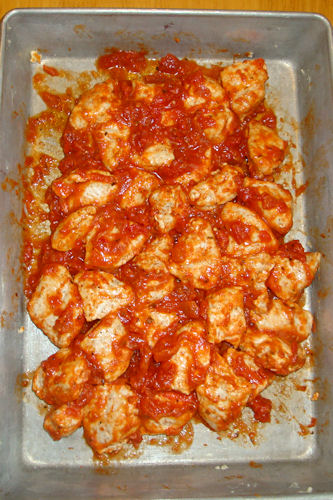 This time I used a 9×13″ pan for one can of biscuits cuz I wanted be sure they'd be done on time but in the future I'll use an 8×8″ pan.
6. Top
Top the biscuit and sauce mixture with your favorite pizza toppings and mozzarella cheese.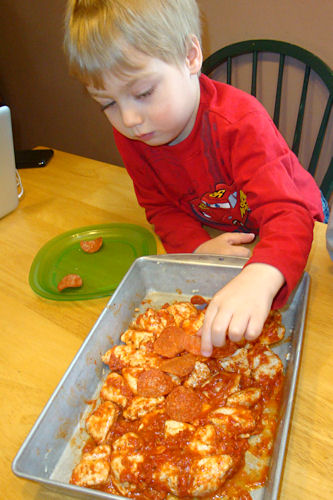 Since E stirred the biscuits Little Guy got to put the pepperoni on.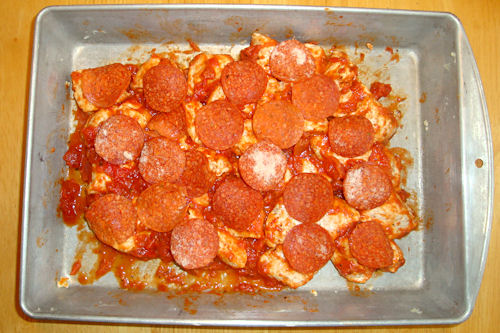 Mmmm, it's looking good! We prefer turkey pepperoni because it's less fatty and Angel Face doesn't eat pork so it's easier to keep just one kind of pepperoni on hand.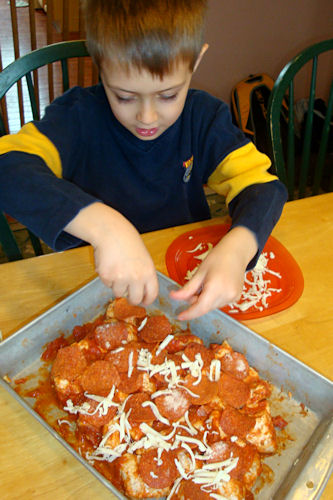 Now it's Z-Man's turn to add the cheese.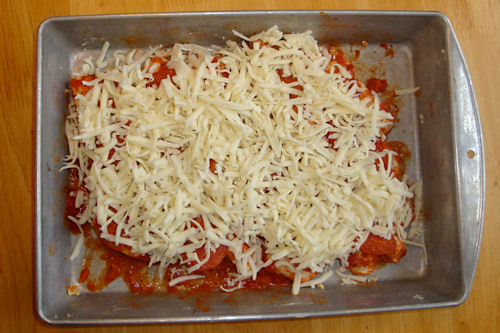 It's ready for baking. Doesn't it look yummy?
7. Bake
Bake at 375 for about 30 minutes, or until cheese is bubbly and the biscuits in the middle are done.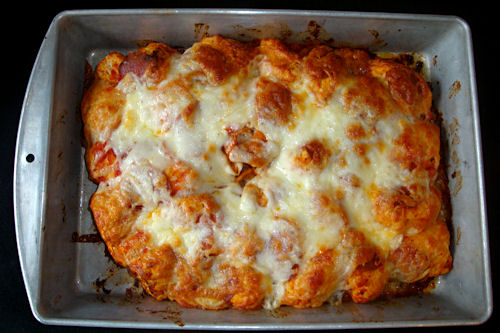 All done – time to eat!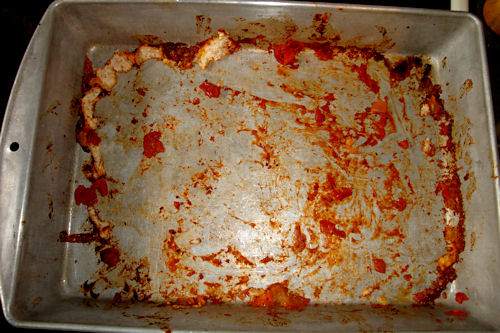 As usual, lunch time was too busy for me to snap a photo of the kids chowing down, but here's proof that they loved it.
I hope you'll try Bubble Up Pizza with your kids and let me know how they liked it. Be sure to send photos too!
Happy Cooking!