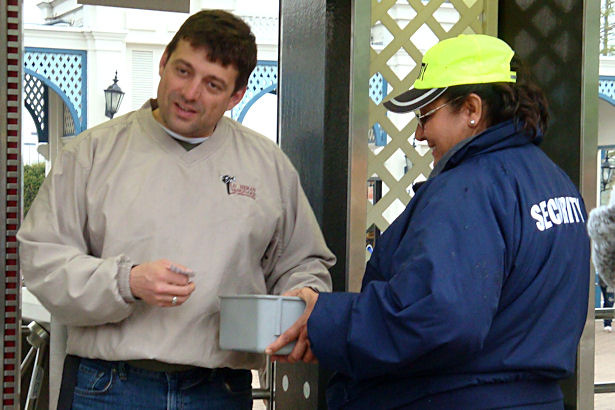 Teacher almost always "beeps" when he goes through metal detectors; this time it was his belt buckle. Not that he's got a honkin' big belt buckle, the detectors are just THAT sensitive.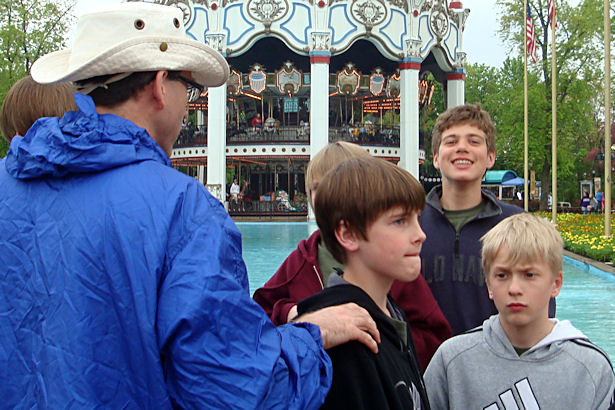 Once inside the park we connect with the rest of the group. Most of the kids in our group this year have never been on a roller coaster before – Jo-Bear included – and are both excited and apprehensive.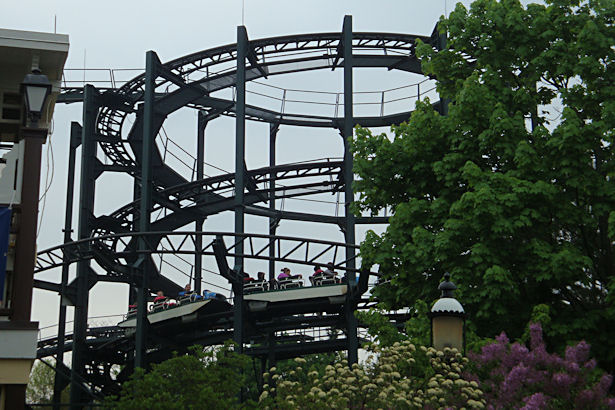 We helped them get their feet wet with a small but fun coaster: the Whizzer. It's also been my very favorite-est roller coaster at Great America since I was a kid.
They thought it was pretty cool too.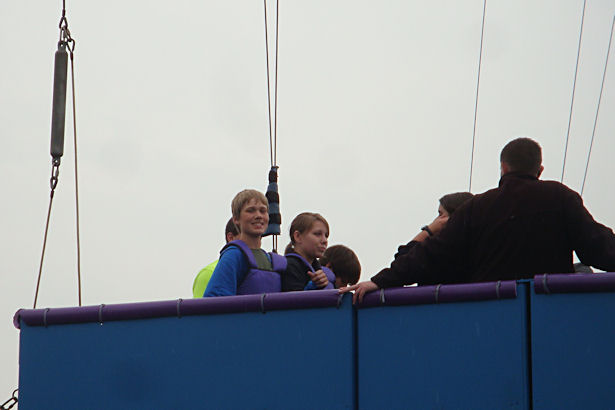 As we walked back from one of the rides the kids spied some of their friends getting geared up for the Dare Devil Dive.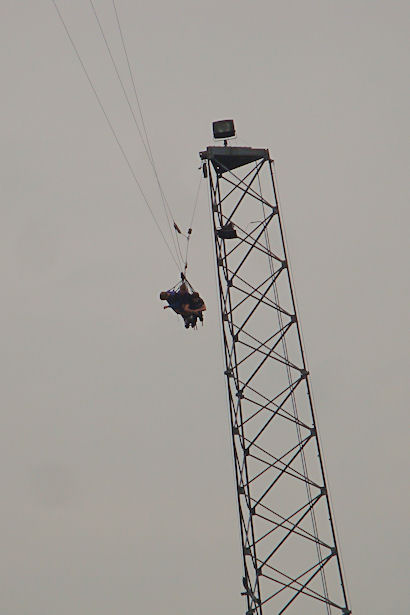 There's NO way on earth that you'll ever get me on that thing. It's not that I'm not afraid of heights – being high doesn't bother me, it's FALLING from up high that scares the pants off me.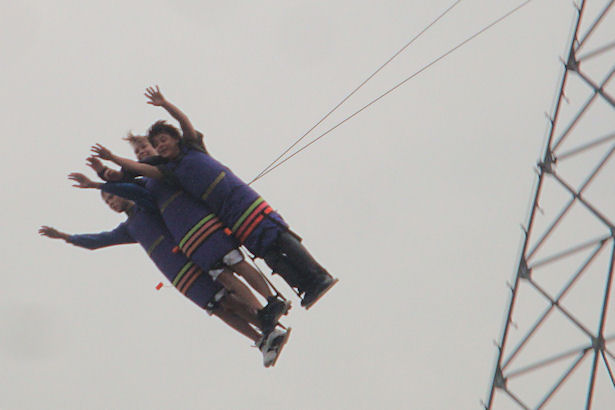 ""AAAAAAAAAAAAAAAAAAAAAAAAAAAAAH!!!!!!!!!"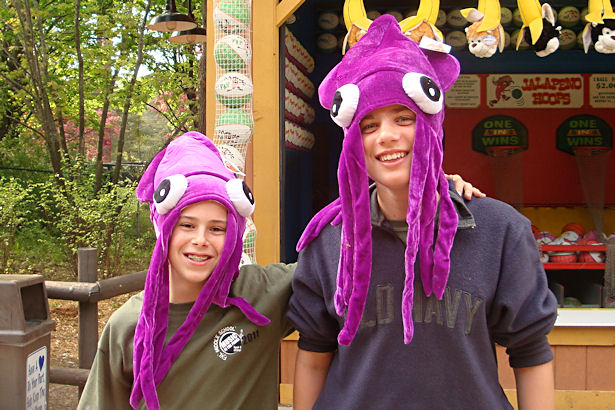 Jo-Bear had been obsessed with all the squid hats around the park and finally decided he HAD to get one. I can't complain – there's lots of worse things all over the park that could have caught his eye. If I have a choice I'll take the squid.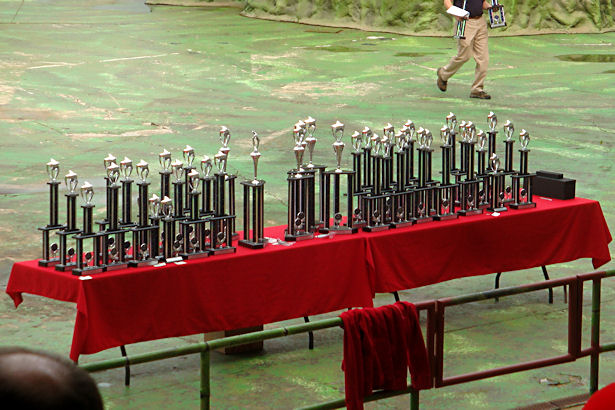 All too soon it was time for the awards ceremony. This year was a "growing year" – the band as a whole was younger and less experienced than other years and it showed. They played their best though, and that's what matters. I'd rather place last not that we placed last with a band that played its heart out than place first not that we placed first either with a band that only half tried.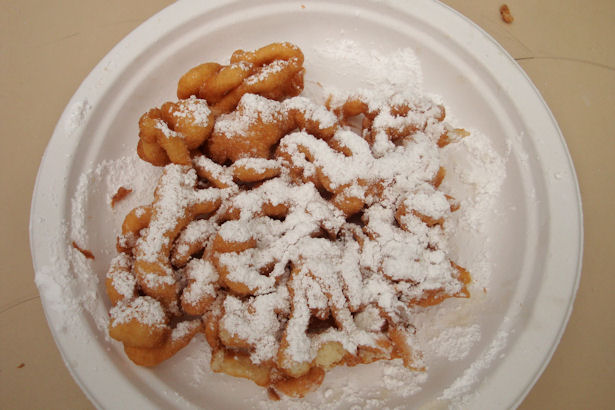 After the awards ceremony we got my third-most favorite thing at Great America after Teacher and the Whizzer – a funnel cake! Yes, it's outrageously expensive. Yes, I know it's just fat and sugar and really bad for me. Yes, I think it's totally worth it anyhow!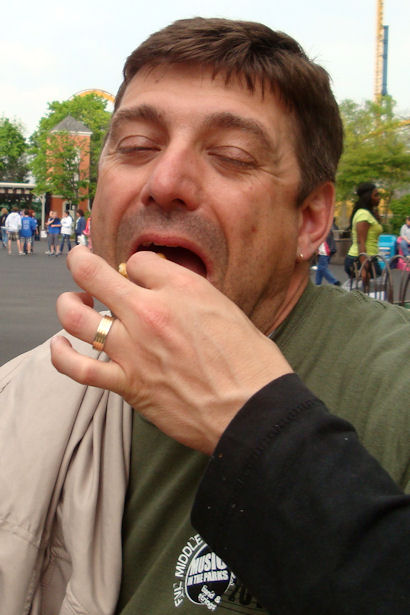 Teacher likes funnel cakes too, and always lets me have more than my fair share. What a guy!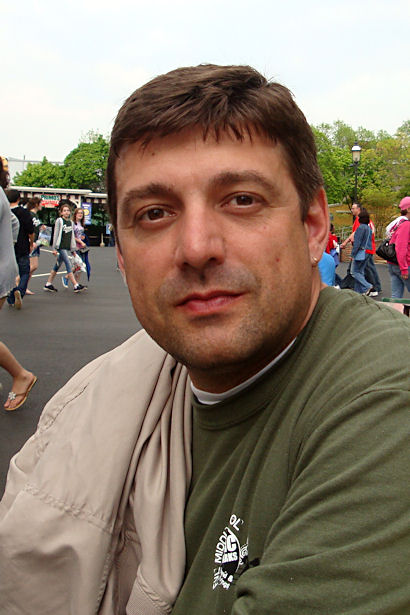 Be still my beating heart; after almost twenty-four years of marriage I still get weak-kneed when I see him. I am such a lucky woman to be married to such a terrific – and good-looking – guy.
But I digress…
So we rode more rides, walked more of the park, and finally got back on the bus for the long trip home. On the way we stopped at a Mc Donalds so the kids could get supper if they hadn't eaten in the park.
It was a quiet ride home. Although no-one figured out how to work the DVD player we discovered that "fast play" DVDs would work, so we could put on movies for the kids and few adults who weren't sleeping.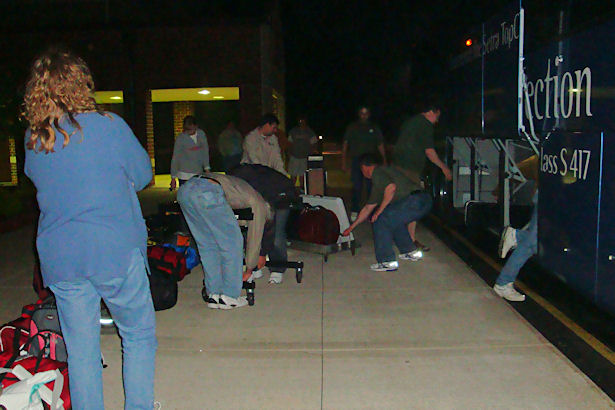 Back at school it was like Friday morning all over again – except backwards. Finally everything was off the bus, each seat area had been policed, and the last zombie-like kids had gone home so we could go home too.
Jo-Bear had a blast on his first Chicago trip and was looking forward to going again next year. Teacher and I were too, but not right now; all we want right now is to sleep.