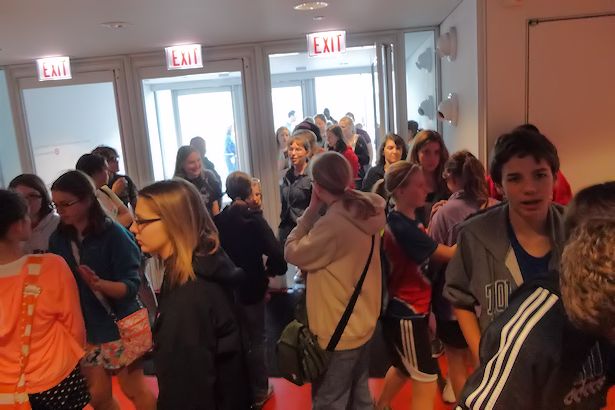 We arrived at the Art Institute and crowded into the group reception area so the guard could go through his spiel. Look – that's one of our Js on the far left!
Both Teacher and I love the Art Institute and were super-excited about going there this year.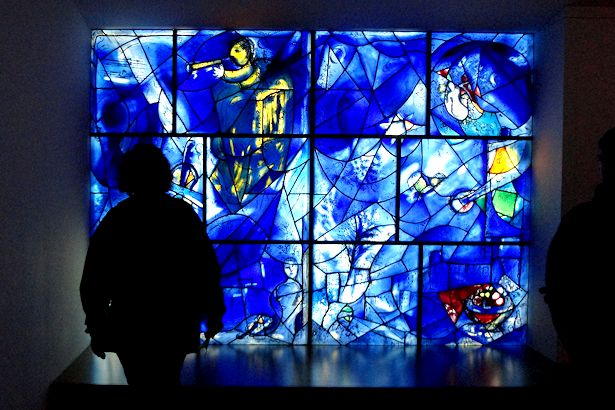 Teacher was an Art major in college so we'd taken many field trips to the Art Institute with several of his art classes. I wasn't an Art major but they let me tag along anyway.
I don't remember ever seeing the Chagall stained glass windows before – they are SO beautiful! Pictures can't begin to do them justice.
The J Crew was suitably impressed.
Not.
Come on guys, we're gonna get you some culture even if it kills you!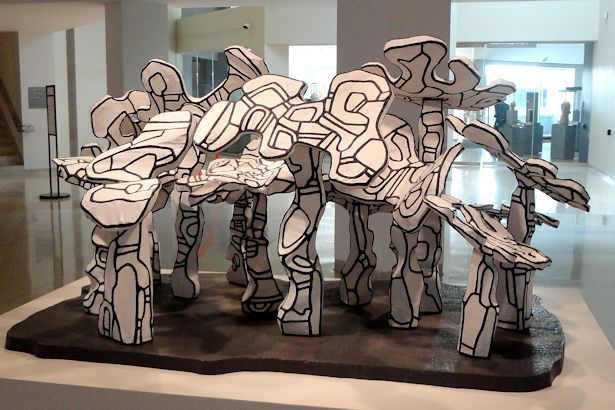 This sculpture by Jean Dubuffet isn't my usual taste but something about it appealed to me.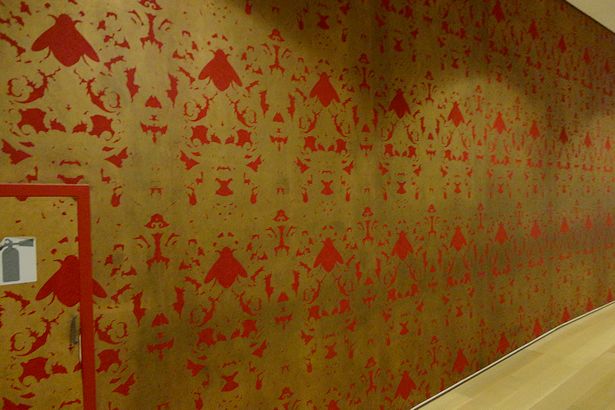 I wasn't as fond of the bee wallpaper by Barberini – it freaked me out.
I was so engrossed in the art that I forgot to take any other photos, but you can see tons of them at the Art Institute website. Or better yet – go there yourself!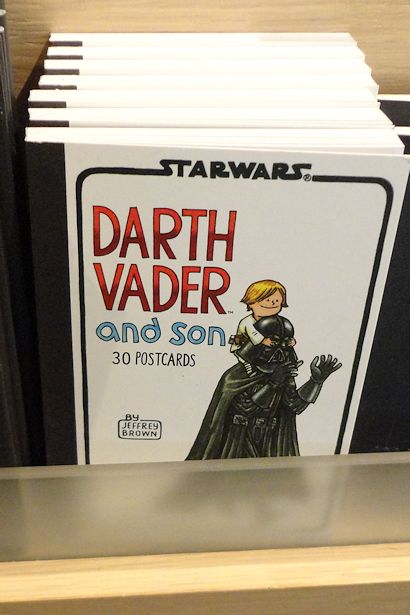 I did snap a quick photo of a Christmas present idea for College Boy. Shhhh – don't tell him!
After the Art Institute was supper at Giordanos– yum!
Unfortunately we ran into a little snafu called Chicago traffic. Our driver wasn't familiar with Chicago so he took a wrong turn and we ended up on the highway. After exiting and circling around we were late for our reservation – a big deal for a party of 50!
Chuck, always impatient, was beside himself at the delay and kept asking "Should we get out and walk? How far is it? Maybe we should walk. Is it just over there? Can you let us out so we could walk?"
Finally at one of the red lights the driver said that Giordanos was "just a couple of blocks that way" so Chuck decided we should get out and walk. He was so worried about the time that we told him to go ahead to tell Giordanos that we were on our way and we'd get everyone there.
That's where the trouble began.
Teacher and I started leading the group the way the bus driver had indicated, but after a couple of blocks it was obvious we were going the wrong way. It had been so long since Teacher and I had been in that part of Chicago that we weren't sure which way to go. Finally one of the parents who was more familiar with Chicago made her way to the front of the group and let us to Giordanos.
When we arrived at the restaurant we assumed that Chuck would be waiting for us, but he wasn't! They seated us anyway because we were 15 minutes late for our reservation and they had another large group coming in right after us. They brought out our pizzas ad we had the kids start eating while we tried to figure out where Chuck was.
His wife finally reached him and discovered that he was almost at the restaurant. He'd followed the bus driver's incorrect directions and kept walking, and walking, and walking. I think he made it halfway to Navy Pier before he found a police officer who gave him proper directions. Luckily he reached Giordanos safely with plenty of time to eat.
So much for our record of never losing anyone on the Chicago trip – you know we'll never let him live this down!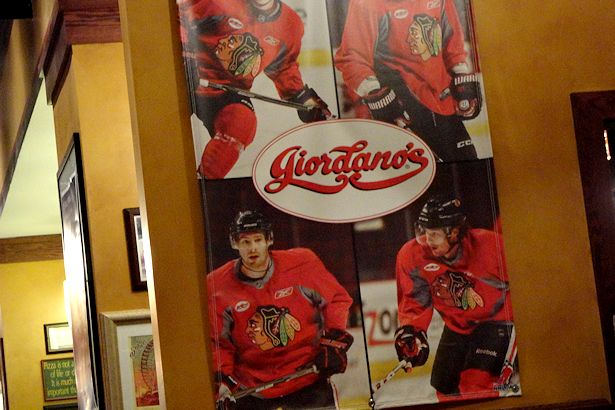 With all the hoopla over Chuck getting lost I didn't think to take any pizza photos, if you're Jonesing for pizza photos, check out these photos from our 2010 Chicago trip but I had to take a photo of the poster.
Teacher loves hockey and we've been to numerous Blackhawks games together so I really wanted to take the poster home but obviously that wasn't going to happen.
The night isn't over yet! Next stop – the Sears Willis Tower Skydeck.
Last time we were up in the Sears Willis Tower it was called the Sears Tower, but apparently it was sold and renamed the Willis Tower. They had a video explaining the whole thing but I didn't pay much attention; the important part is that it's not the Sears Tower anymore.
And it's high.
Really high.
I'm not so much into high places.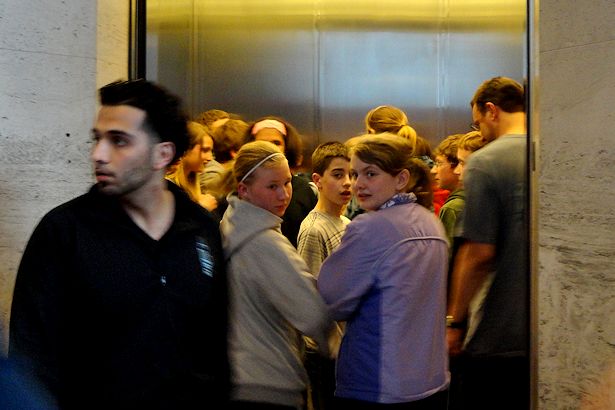 The Sky Deck is on the 103rd floor of the Willis Tower. To get there you ride up in a super-fast elevator that's crammed with more people than there should ever be in an elevator at one time.
Look at the Sky Deck guy – I'll bet he's thanking his lucky stars that he gets to put these squirrely kids in the elevator and doesn't have to ride up the elevator with them.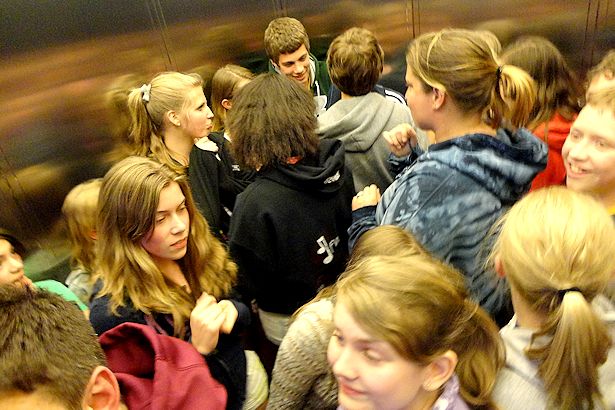 It sounds like a joke: "How many band students can you fit in an elevator?"
All of them!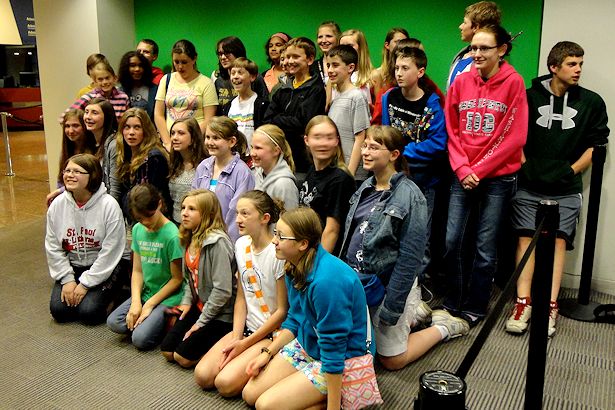 Say Cheese!
Hey Jo-Bear, no sneaking around the corner to avoid having your picture taken!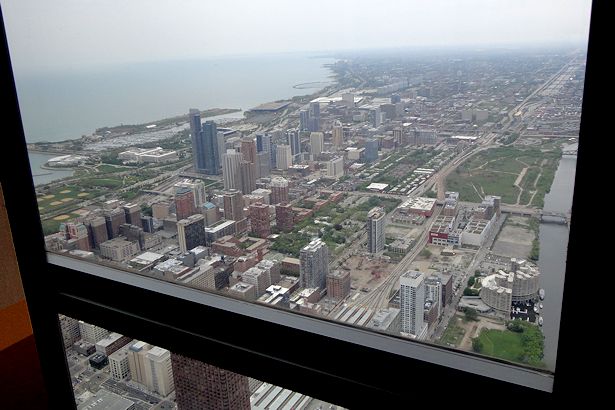 It was slightly hazy but nowhere near as bad as the year we were above the clouds in the John Hancock building.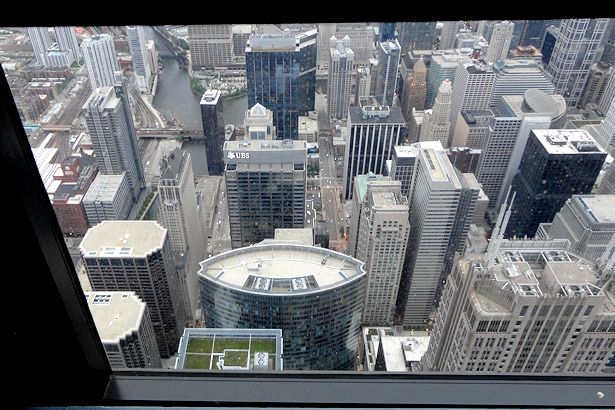 I was excited to see a green roof on one of the buildings below, but disappointed that there weren't more.
Teacher convinced me to step out onto the ledge I even looked down! but I didn't stay there long enough for a picture. I'm proud of myself for actually getting out there and not wetting my pants.
Have I mentioned that I'm not a fan of heights?
Finally, finally, finally, the long day ended and we headed toward the hotel.
After the usual craziness of unpacking all the luggage, handing out hotel keys, and final reminders we all headed to our hotel rooms. Teacher and I lucked out; the J Crew's room was directly across the hall from the parent who was assigned Hall Monitor duty. Instead of swimming they planned to stay in their room and play cards so Teacher and I checked to make sure they had a plan for the next morning then we headed for our room.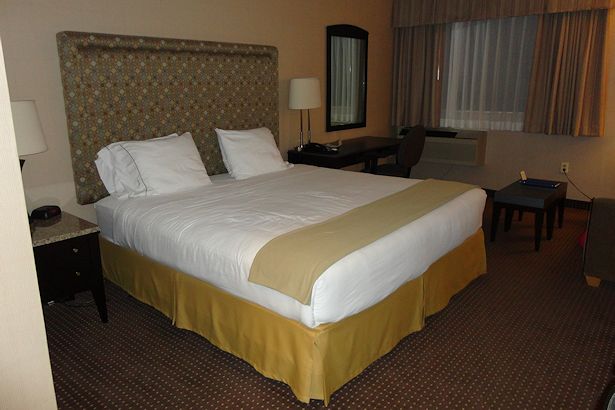 Hello gorgeous!
More to come…