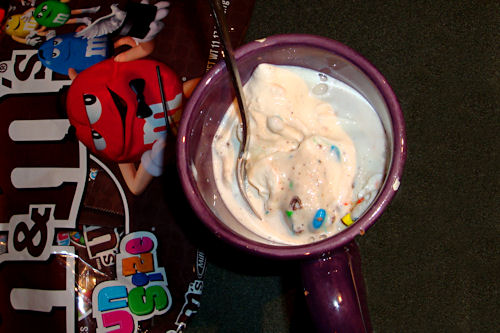 One night Teacher and I were cuddling on the couch watching TV when I got a craving for an M&M Blizzard. Neither of us wanted to leave the couch long enough to make a DQ run so he decided to try whipping one up for me. It was so quick and easy that by the time I found my camera he was done!
The ingredients for a homemade M&M Blizzard are simple:
Vanilla Ice Cream
Milk
M&Ms I'm a purist and prefer plain M&Ms but you can use your favorite variety.
Making a homemade M&M Blizzard is just as simple – all you need to do is:
Blend about 1/8 cup of milk into each 1 cup of ice cream. Teacher used his stick blender The consistency you're looking for is in between regular soft serve and a shake.
Place about 1/2 cup of M&Ms into a baggie and seal. Crush slightly with a meat tenderizer, rolling pin, or whatever other non-breakable object will work.
Stir the M&Ms into the ice cream and milk mixture.
Spoon into a cup and enjoy!
You can use this basic recipe to make almost any kind of Blizzard you want, just use whatever flavor of ice cream you want and add whatever other mix-ins you want; candy, fruit, nuts, cookies, cake, etc. You can also stir in ice cream toppings, marshmallow fluff – let your imagination go!
My next goal is to find truffles like the ones in the Midnight Truffle Blizzard so we can make those at home too; they're my other favorite Blizzard.
Got any suggestions?