Mother's Day caught me off-guard this year. All of a sudden on Tuesday I realized that since I was closed on Thursday and Friday I had to have a homemade Mother's Day card and gift ready to send home on Wednesday.
Yikes!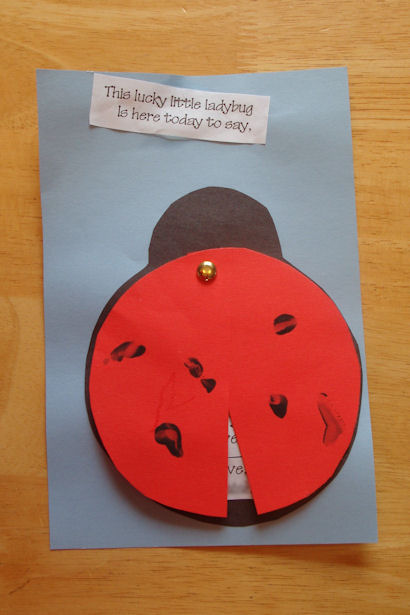 I scoured my files and found the perfect homemade Mother's Day card: a ladybug with wings that opened and closed, and a cutesy but not-too-cheesy poem.
Aren't they adorable?!
G has been obsessed with ladybugs – or " 'ady buds" as she calls them – since last fall, so when I saw the ladybug card idea I knew I'd found this year's homemade Mother's Day card!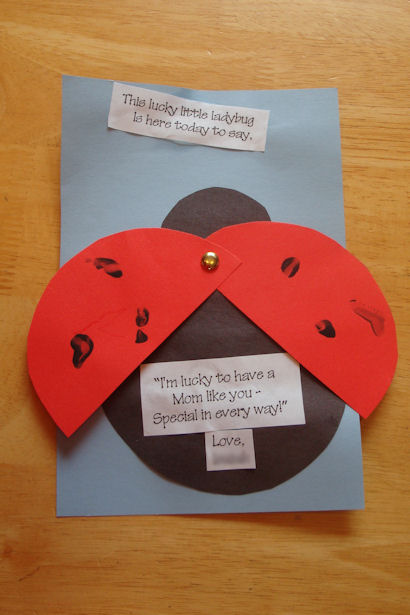 The original idea came from The Mailbox magazine – my favorite curriculum resource – but of course I put my own twist on it.
Instead of just copying the ladybug outline with text on a piece of paper and having the children make and add the wings, I cut out the ladybug body, typed up the text, and cut it into squares so the children could glue each component on the card themselves.
The rest of the directions I followed without change: I had each child paint fingerprint "spots" on the wings, then helped them attach the wings to the ladybug body with a brad when the paint was dry.
When we do our unit on bugs and insects I think we'll make them again, but instead of background paper we'll put them on tongue depressors to make ladybug puppets.
I can't wait to see what G does with her " 'ady bud" puppet!
Did you make or receive a homemade Mother's Day card this year? Tell me about it!