When I posted about the homemade Mother's Day card we made this year I mentioned that Mother's Day had sneaked up on me so I was left scrambling for a card idea.
Obviously I had to scramble for a gift idea too.
I'm picky about the gifts I give to parents, and never give a gift I wouldn't want to receive. If you like crumpled tissue paper and paper doily "brooches" you're out of luck here; they're not my style!
The challenge this year was to find a gift that the children could make, that could be completed in less than two days – including drying time – and that moms would actually like to receive.
Luckily it didn't take long for me to find the answer: homemade bath salts!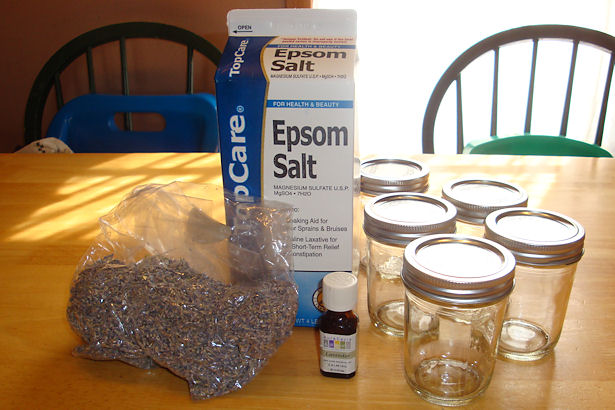 I had epsom salts, lavender essential oil and lavender buds on hand; all I needed was some sort of container to put the bath salts in. After a brief search turning my house upside-down, I decided to pick up some small canning jars at the grocery store.
If I'd had more time I would've gotten decorative jars from a craft store, but since I was in a time crunch and we had to get groceries anyway I decided the canning jars were perfect. They were definitely better than the cobwebby plastic storage containers in the basement that were my last resort.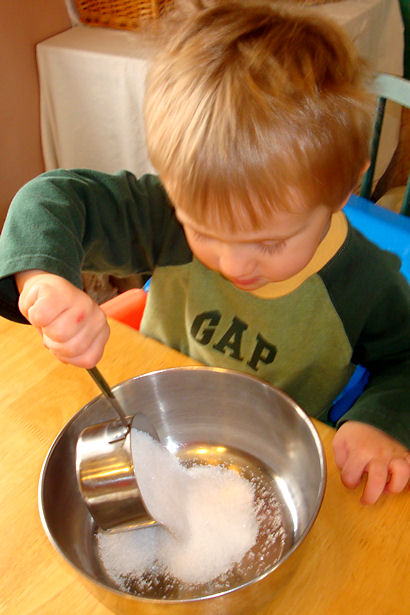 I estimated that about one cup of homemade bath salts would fit in each jar and I needed five gifts, so the children took turns pouring one cup of salt into the bowl until we reached five cups of salt.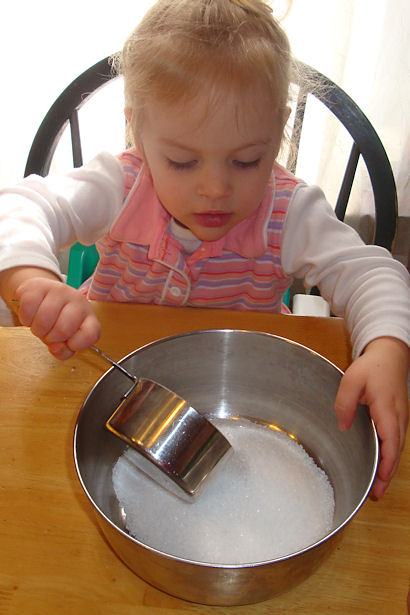 According to the recipes I found online, instead of epsom salts you could use sea salt or kosher salt, or any combination of the three.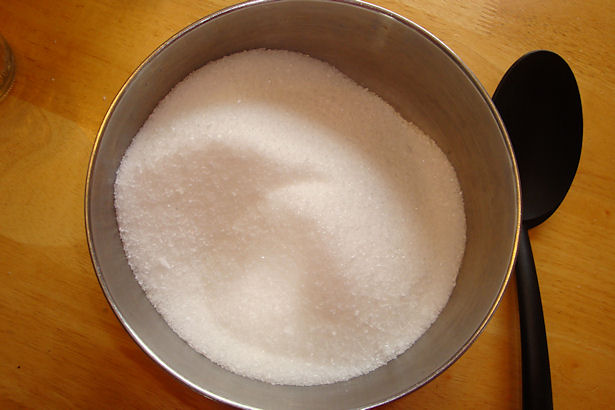 I added about 15 drops of lavender essential oil and had the children take turns stirring. I wanted to make sure it was mixed in well so we wouldn't have one over-scented jar and four without any scent!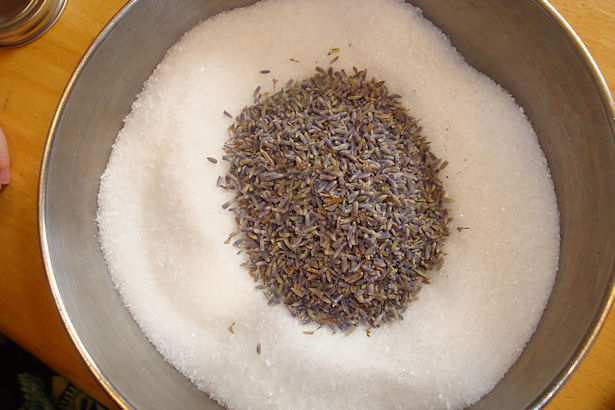 Next I added about 3/4 cup of dried lavender buds and had each child give it a stir. It was tricky to get it stirred evenly – the lavender buds are so much lighter than the salt that they kept "floating" to the top.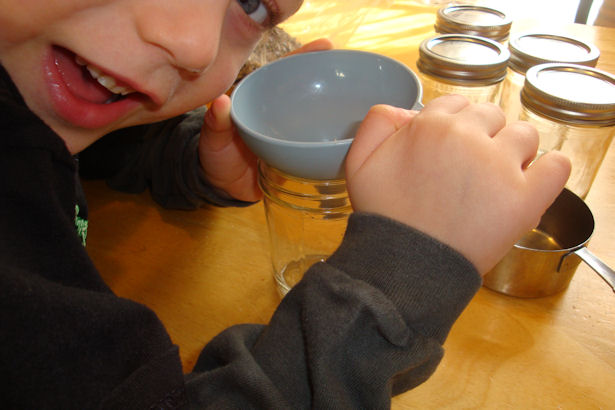 Each child held the funnel into their jar as I spooned the bath salts in.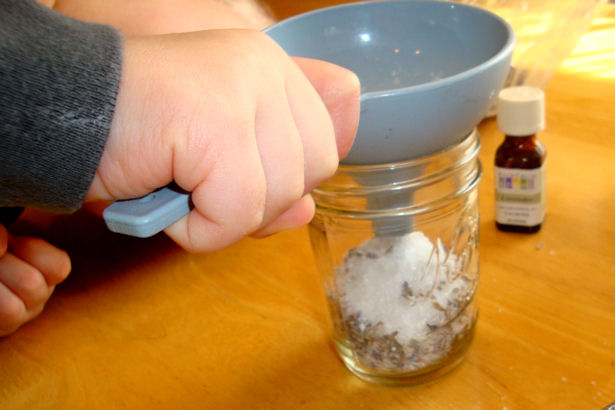 I had Little Guy go first as an example for the younger children.
All done!
I can't decide if they're pretty, or if they look bug-infested. Next time I'm going to use less lavender buds – maybe start with 1/4 cup and add more if needed.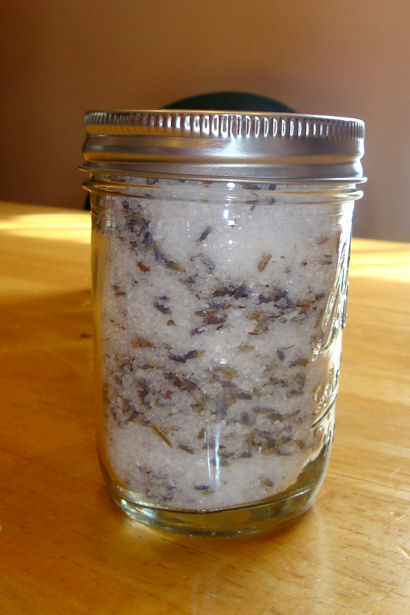 All they need now is a bow!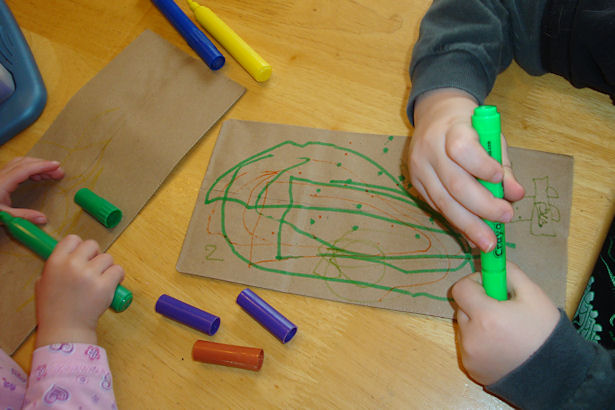 I usually like to have the children make the wrapping paper for their parents' gifts. Paper lunch bags are the perfect size for the ladybug cards and the jars of homemade bath salts so I gave the children markers and let them get creative.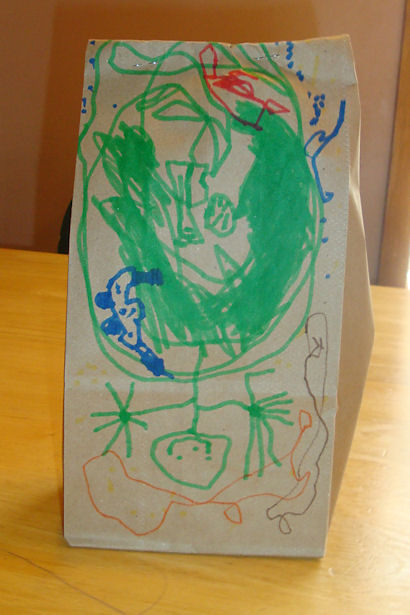 This one is for me, from Little Guy. He's so proud of it because he made it (mostly) by himself!
I can't wait to try his lavender homemade bath salts!