To look at her you'd never guess that the mere mention of her name would strike fear in a certain four-year-old's heart.
But it does.
Several years ago I began having the older childcare children bring their dishes over to the counter after meals and snacks. As each child turned two and was developmentally able and tall enough, he or she was encouraged to bring his/her dishes over also. After watching the "big kids" take care of their dishes for so long, the little ones are thrilled to be able to carry their dishes, just like the "big kids."
But not Little Guy.
Experienced parents know that our children NEVER act the same for other people as they do for their parents; they usually act better for other people. In fact, very often they act better for Dad than for Mom, and Little Guy was no exception.
He didn't flat-out refuse to bring his dishes over, he just left them on the table and out-waited me. I tried to hold out, but having one set of dishes on an otherwise pristine table drove me crazy and I always ended up clearing them for him.
I tried the Love and Logic technique of asking him if he'd rather do it himself or pay me $1.00 to do it for him, but he wasn't fazed. He didn't believe his mommy would really take his money.
Enter Irish Girl.
Ever since the first time Irish Girl came to visit she's gotten along well with our children. She's very kind and loving, but firm and no-nonsense also.
One day I was trying to get Little Guy to clear the table with no success when the words just popped out of my mouth: "Do you want to bring your own dishes over today, or would you rather pay Irish Girl a dollar to do it for you?"
Irish Girl played along, "Oh yes, I'd be happy to clear your dishes for a dollar."
"NOOOOOO!" Little Guy zoomed back to the table at top speed, snatched his dishes up, brought them to me, and glared at Irish Girl with laser-beam eyes.
"Oh, thank you honey!" I said, taking the dishes.
We had to repeat the drama for several days with Irish Girl around, then after a while it would work for me to ask the question even if she wasn't around.
Now, over a month later the habit has been so well established that he automatically brings his dishes to the counter – even after non-childcare meals!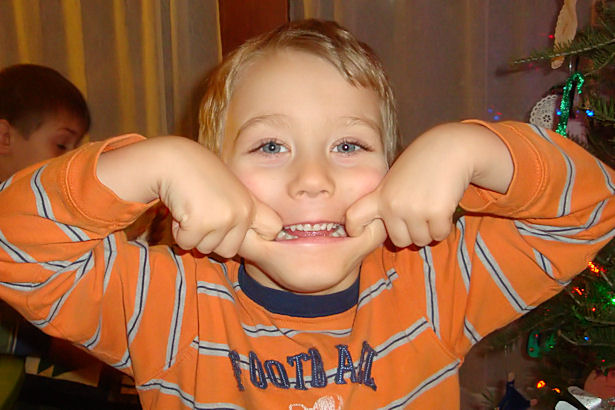 I wonder what habit Irish Girl and I can conspire on next… making his bed?
Putting away his clean clothes?
What do YOU suggest?