One of Jim's dreams while in America was to see the Great Lakes for himself. He asked Teacher about flying to see Lake Superior, but Teacher told him that Lake Michigan was just an hour away. "By bus?" Jim asked. Apparently Thailand has an extensive system of buses that Jim often used for travel. "No, you don't need to take a bus, we'll drive you." Teacher told him.
Since our van wouldn't fit all of us plus Jim we asked the kids who wanted to go.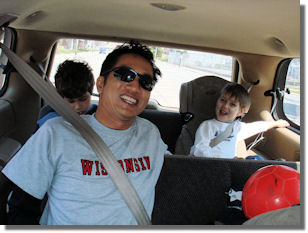 Jo-Bear did, but the girls decided to stay home and watch a Gilmore Girls marathon. So Sunday afternoon we packed the boys and Jim into the van and took off for Manitowoc and Lake Michigan. Teacher had underestimated the distance to Manitowoc so the drive was actually closer to two hours than one, but it was a peaceful drive. Z-man and Little Guy slept the whole way, occasionally snoring gently or muttering in their sleep. Jo-Bear played his Nintendo DS, and didn't complain when I made him turn the volume down so the game wouldn't drive me crazy. Jim looked out the windows, occasionally asking questions about the farms we passed. We did our best to answer his questions and explain dairy farming to him. Jim's parents are farmers in Thailand; growing rice and a local fruit that I've forgotten the name of, and it was interesting to discuss the similarities and differences between their Thai farm and Wisconsin farms.
It didn't seem like long before we entered Manitowoc and started looking for signs to the beach. We passed one little park with a small beach, but it wasn't the one Teacher had found online and wanted to visit. Just up the road from the little beach we turned off the main road into a woods that offered a peek of the lake through the trees. The blacktop road gave way to gravel as we got closer to the beach, then ended abruptly in a turn-around. Teacher parked the car and we all tumbled out.
Next to the road was an arched wooden bridge over a stream of clear, rapidly flowing water. Jo-Bear jogged over the bridge with Little Guy trotted after him holding Teacher's hand. I had out my camera and was already taking photos so I didn't notice right away that Z-Man had balked at the bridge. "He's scared" Jim called to me. "You want me to carry you?" he asked Z-Man. Z-Man nodded and raised his arms to Jim. I started back across the bridge to take Z-Man from him – I didn't want our guest to feel obliged to carry our son, but Jim said "Is OK" with a big smile so I continued across the bridge.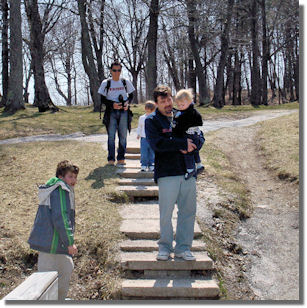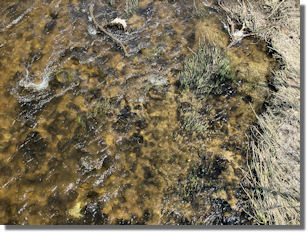 Here's everyone starting across the bridge, and the stream under the bridge. I don't blame Z-Man for being scared.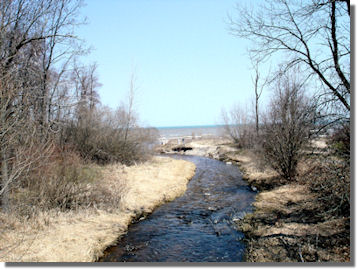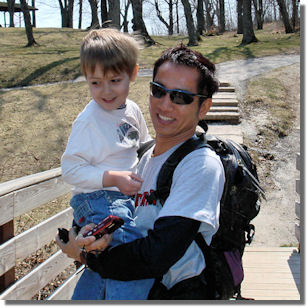 The view from the bridge to the lake – gorgeous! And Jim carrying Z-Man across the scary bridge.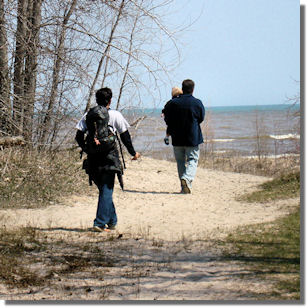 Z-Man was happy to get down and walk on his own on the other side of the bridge, kicking the gravel ahead of him, then scuffing through the sand when the gravel ended. Jo-Bear bent down to take a handful of the beach sand. "Mom, feel this, it's so soft!" he called. "We should take some home for our sandbox." he added. Teacher and I looked at each other and laughed. In Michigan he'd built a sandbox for my daycare and filled it with lake sand from a local quarry. I loved that fine, soft, dust-free sand so much! One of my biggest disappointments in moving to Wisconsin was that I couldn't find lake sand for our new sandbox. I kept teasing my in-laws that they should fill the back of Dad's pick-up with sand, or at least bring a garbage can full of lake sand when they visited – but in the almost 10 years we've been here they never have. Since our visit to Manitowoc I've decided to find a Manitowoc quarry with lake sand, rent a trailer and get sand for our sandbox there. I know it sounds crazy, but it's SO worth it!
The beach was obviously not a swimmer's beach; judging by the large boulders visible through the waves and the number of shells, sticks and stones in the sand. The boys all had a blast throwing stones into the lake – without being yelled at! – and searching for "treasures" in the sand. Teacher found some crab shells and after Jo-Bear saw them he was on a mission to find as many shells as he could. He found quite a few, including one with a dried-out crab inside. Grosssss!!!! Jim was awed by the size of the lake and took tons of photos. Teacher followed Little Guy up and down the beach, scooping him up when he got too close to the water and the waves washed over his feet.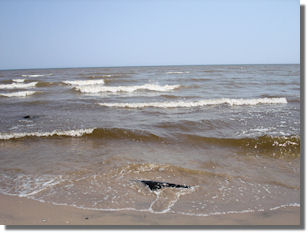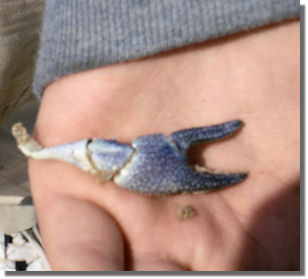 The shoreline, and one of the crab claw treasures Jo-Bear found.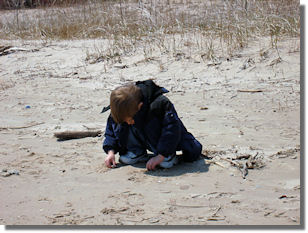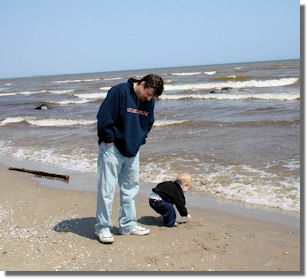 Z-Man is looking for treasure while Teacher keeps an eye on Little Guy. At this point his feet are still dry…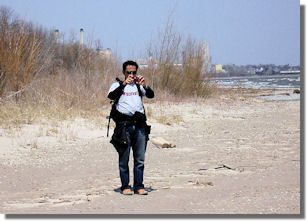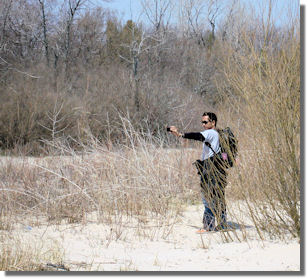 Jim takes photos of himself everywhere he goes. If I ever get to visit a country more exotic than Canada I'm sure I'll do the same thing. It just amazes me to think that we have a friend halfway across the world.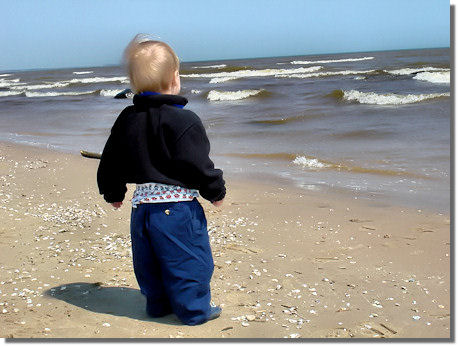 This is one of my favorite photos from the day. Little Guy loved being on the beach, I can't wait to take him back when it's warmer!
It was amazing how relaxing the bright sunshine, scent of fresh lake water, and sound of the waves were. I could feel the tension leave my body as I walked along the beach next to Teacher. Apparently he was feeling the same way; "Relaxing, isn't it?" he asked, putting an arm around me. I rested my head on his shoulder and looked out toward the horizon, watching the water glitter in the sun and filling my senses with the lake. "Oh yeah." I agreed. "If I didn't love our house so much I'd really want a place on the water." We stood there for several minutes, just enjoying.
After about an hour an a half we were ready to leave the beach – at least the adults were ready. Jo-Bear was old enough to hide his disappointment, but Z-Man openly pouted and Little Guy cried and arched his back to get down as Teacher carried him away from the water. This time Z-Man wasn't afraid of the bridge, and after crossing it once he wanted to go back and forth one more time. I walked with him as Teacher got Little Guy in the car seat, then we all piled back into the car for the drive home.
By this time it was 4:00 and we hadn't really had lunch – just muffins around 10:00 – so we were hungry! A quick stop at McDonald's provided the solution, as well as loudly annoying toys for Z-Man and Little Guy to torment us with all the way home. Next time we'll try Burger King – their toys can't be as annoying, right? All in all it was a great afternoon, and I'll never forget the way Jim's face beamed as he stuck his hand into Lake Michigan. "It's cold!" he said first. Then, "I touched the Great Lakes – is always my dream." It doesn't get better than that!
More photos coming later as I get time to edit them!