A couple of weeks ago I wrote about my obsession with Jamberry nails and how it's Nicole's fault. And if you know how my life goes, you won't be surprised that I found more Jamberry Wrap photos I meant to include in that post, but couldn't find in time.
Such is life, right?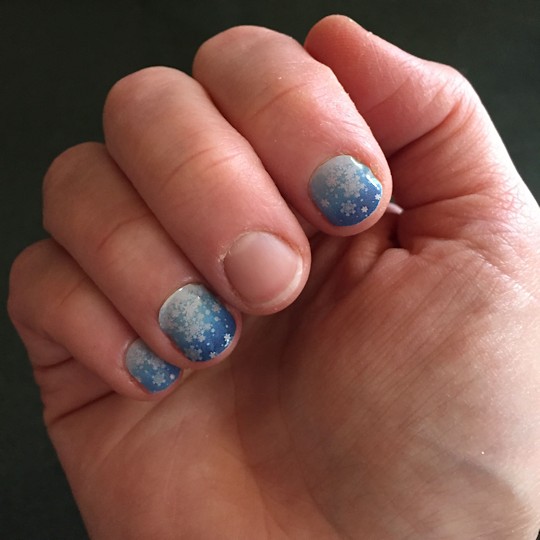 Let it Go, let it Go… Sorry, I couldn't Hold it Back Anymore… Oh goodness, I'm terrible! I'm so sorry, I just couldn't help myself. I'm done now. Promise!
These were my January 2014 wraps. It was my 3rd time applying Jamberry wraps, not counting the sample one I got. Obviously I wasn't very good at it – the edges are all lifting up and one fell off. I learned that you can stick them back on with nail polish. How long they stay on depends on how well nail polish stays on your nails. For me it's about 3 days, which isn't too bad.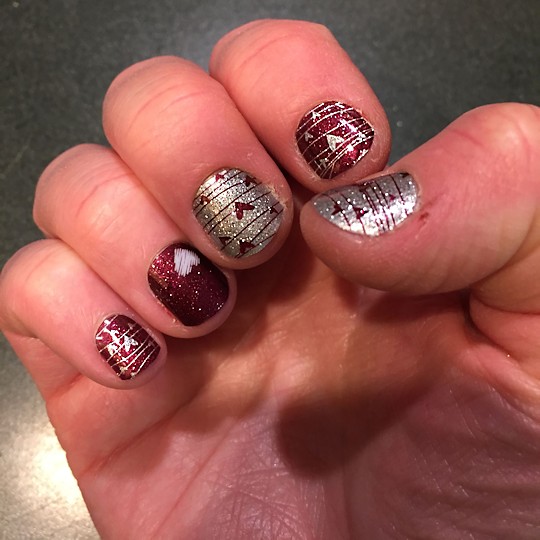 These are my 2014 Valentine's Day Jams. It's the same design as the one I wore this year, except in a darker red instead of this year's bright red. I'm a sucker for glittery wraps It's my ADOS – Attention Deficit… Oh Shiny! and wraps that feature a variety of designs on one sheet.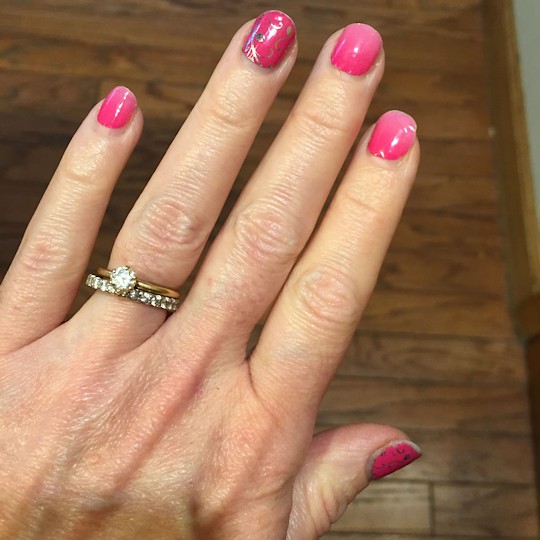 Here's my first attempt at combining 2 different patterns. I love the coordinating designs look but am not very good at combining patterns. I look at other people's combinations and think that they look amazing together but I'd never consider using those designs together.
You can see that these have been on a while. There's a bubble at the bottom of the index finger wrap, and the nails have obviously grown quite a bit. That's one of the things I love about Jamberry Wraps – I can't mess with my nails when I'm wearing wraps so they grow long.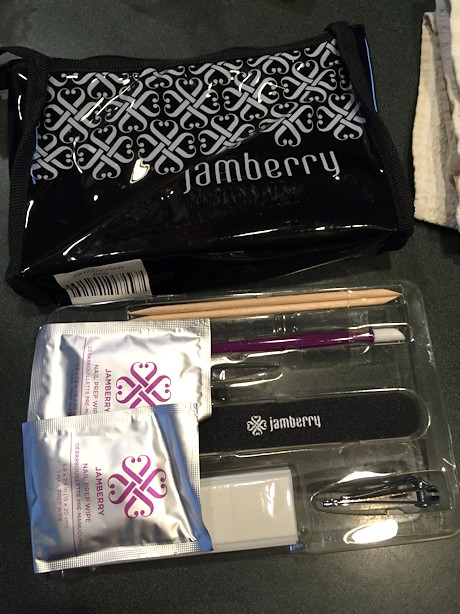 Princess's and I co-hosted a Jamberry party in 2014 when we first got into Jamberry. We were fortunate enough to earn enough points to get an application kit. I wasn't sure we needed it because you can get everything in it separately, but it's been great to have everything on hand in one place. And it was worth it to get the magic purple tool. It's the BEST for pressing the wraps in place – I can't imagine applying Jamberry wraps without it!
Well, that's all the missing Jamberry wrap photos I've found so far. Some day I'll get my life – and my photo files – in order. I hope…