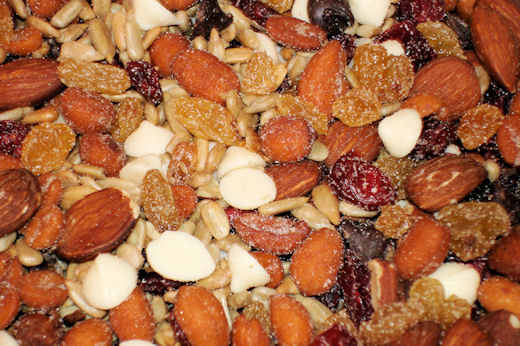 Teacher and I have been trying to make healthier choices when it comes to meals and snacks. We've replaced fruit snacks, which we rarely bought anyway, with dried fruit bits and Wonder-type bread/baked goods with whole grain bread/baked goods. Since we'd been indulging in a bit too much junk food after Thanksgiving, we were both excited when one of his students gave him a Christmas gift of Great Harvest Trail Mix!
We munched it happily by the handful and it quickly became my favorite afternoon snack. A half-cup of trail mix was the perfect amount to nibble while I did paperwork during Nap Time, but as the level in the bag diminished I started to worry – what would I do when it was gone? Oh sure, we could buy more, but with six kids we try to keep our grocery budget as trim as possible and gourmet trail mix isn't really one of the necessities. Then the other day I was reading the packaging Don't laugh, it was very interesting packaging. I peeked at the ingredients and decided that I could make some myself. I know I'm not the best cook, but there's no way even I could mess up trail mix!
First you need these ingredients:
Almonds
Honey Roasted Peanuts
Sunflower Seeds
Golden Raisins
Dried Cranberries
White Chocolate Chips
Semi-Sweet Chocolate Chips
Measure about 1 cup almonds, 1 cup peanuts, 1 cup sunflower seeds, 3/4 cup raisins and cranberries, 1/2 cup each white and semi-sweet chocolate chips. Mix together gently so you don't break up the peanuts and almonds. I learned that one the hard way! These amounts gave me a mix that looked very much like the Natural Ovens mix that was left in our bag.
The fun thing about trail mix is that you can do it your own way. Since there weren't enough chocolate chips in the mix for me I added another 1/2 cup of each. Then there weren't enough cranberries and raisins so I dumped more of those in. Actually, I dumped the rest of the bags in because there wasn't much left in either bag. Then I had to add more peanuts but I couldn't put in more almonds because there weren't any more. Then I had to add the rest of the chocolate chips to keep things even. I didn't add any more sunflower seeds because I don't like them much, I just put them in because the Great Harvest mix had them and Teacher likes them. I thought the results was perfect… except for a lack of M&Ms. Next time they'll go in too;M&Ms are magic you know.
I hope you'll take a couple of minutes to mix up your own trail mix. Leave me a comment and tell me what ingredients you add to your version – I'd love to try your recipe! As long as there aren't too many sunflower seeds…