For the sake of honesty I want to disclose that I received a full-size sample of Paula's Choice Skin Perfecting 2% BHA Liquid as part of a promotion in which I agreed to give my honest opinion of the product. I also want to disclose that I've used and been a huge fan of Paula's Choice for several years. Finally, you should know that I'm not a professional reviewer or professional make up artist. If you're OK with all of this and want to know what I think about Paula's Choice Skin Perfecting 2% BHA Liquid, read on!
I discovered Paula's Choice when I borrowed the book "Don't Go to the Cosmetics Counter Without Me" (not an affiliate link) from the library and was super-impressed by it. The reviews were very thorough, giving detailed reasons for each rating, and many products from companies other than Paula's Choice received high ratings. I felt that it was an honest look at beauty products, not just a way to hype up Paula's Choice products, so I ordered a couple of Paula's Choice products to try and noticed a difference in my skin soon after I started using them. I was most excited that the break outs I'd been constantly battling since adolescence disappeared! Since then I've been a huge Paula's Choice fan, so when the opportunity to get a free full size product in exchange for a review came up I jumped at it.
Since I'm always in a hurry I usually don't take time to exfoliate, so while I was waiting for my sample to arrive decided to see what makes Paula's Choice Skin Perfecting 2% BHA Liquid so special. I learned that skin sheds billions of skin cells each day, but sun damage, genetics, and dry or oily skin can cause it to slow or stop shedding. This is what causes dry, and flaky skin, clogged pores, blemishes, and other skin issues. I also learned that most BHA products aren't aren't very effective because they're not at the right pH level to penetrate pores. Perfecting 2% BHA Liquid from Paula's Choice is formulated at the right ph level to get inside pores, and also includes ingredients that reduce redness irritation and fine lines, improve texture, and stimulate collagen production. All this without added dyes, perfumes or other irritants.
Well, I'm a believer and will exfoliate regularly from now on!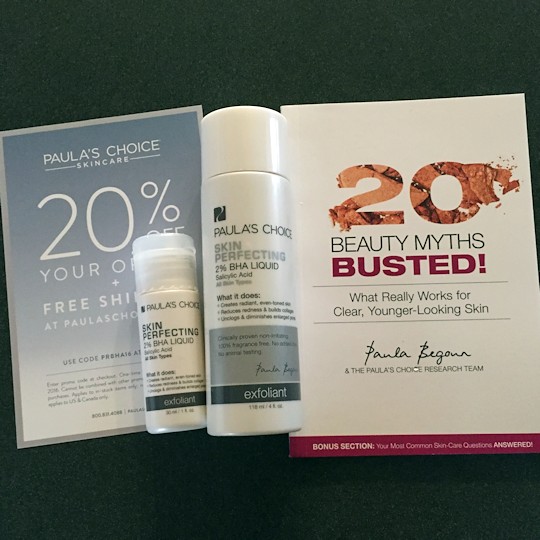 When I opened the box I was surprised to see that in addition to the full size Skin Perfecting 2% BHA Liquid there several smaller samples, a Paula's Choice skin care booklet, and a stack of coupons. I gave a sample and coupon to Princess, Aunt Dee, Auntie Elle, and my friend Cindy, then put the rest of the coupons on top of the child care cubbies for parents to take.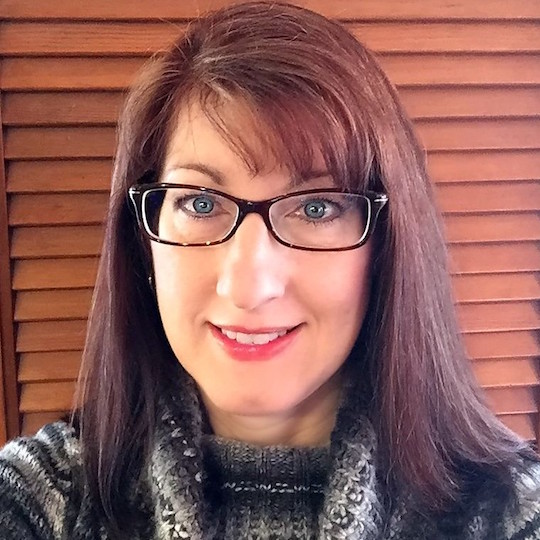 I was so excited about trying the Skin Perfecting 2% BHA Liquid that I started using it that night. After using it for just a week I could see a difference in my skin, even though I've used Paula's Choice products for several years! My skin felt smoother, my pores looked smaller, and I didn't notice those fine lines as much as I had before. I don't think the change was as dramatic as it would've been if I hadn't been using Paula's Choice products all along, but I still thought it was impressive that I could see a change.
I did notice that my skin seemed a little dry when I used it twice a day, but cutting back to using it just in the morning took care of that. However, my skin tends to be dry in the winter and oily in the summer so I'm going to try using it twice a day again over the summer. I guess I've gotten to that age where I need to change my skin care routine with the seasons. Ugh.
I asked my fellow testers what they thought about Paula's Choice Skin Perfecting 2% BHA Liquid, and here's what they said:
Princess and Angel Face who shared my sample didn't see much of a change, but that didn't surprise me because they've both got really good skin already.
Aunt Dee decided not to try it because she's had bad experiences with skin care products in the past. I can't blame her – I've had eczema problems and avoid anything that might make it flare up.
Auntie Elle tried it and liked it. She said it made her face feel cleaner but wasn't drying. She's got really good skin too, so she probably wouldn't need to use it on a regular basis.
Cindy also tried it, but thought it was a little drying for her winter skin. She said she could tell it worked because her skin was smoother, and would use it as a special weekly treatment, following up with a moisturizing mask the next day.
Are you intrigued and thinking about trying Paula's Choice Skin Perfecting 2% BHA Liquid for yourself?
How about trying it at a discount?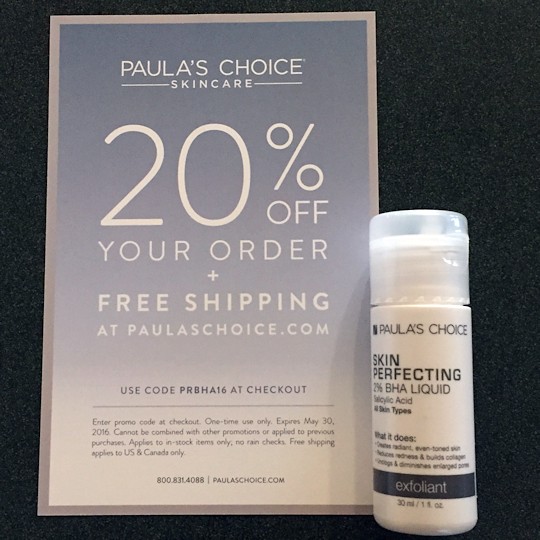 No, I'm not kidding! Paula's Choice is offering 20% off your entire order and free shipping until May 30, 2016!
And while you're there, check out the Beautypedia Reviews. It's like the book that first got me hooked on Paula's Choice, but better because you can do a quick Search for products, is updated more often than a book, and is free. Can't beat free!