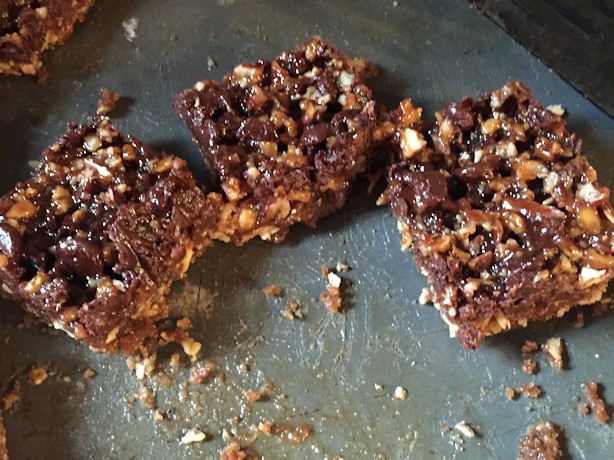 This Carmelitas recipe is one of my go-to dessert recipes because it's quick and easy to make, addictingly delicious, and we usually have most of the ingredients in our pantry. I've even started keeping a jar of caramel ice cream topping on hand so we can whip up a batch whenever we want to.
How fast is it?
Well, let's just say that if Teacher hypothetically ever forgot he was supposed to bring something to school for a potluck and didn't remember until the morning of, I could hypothetically whip up a batch of Carmelitas in under 30 minutes. I'd have to raise the oven temperature a little so they'd bake faster, but it'd work.
Carmelitas Recipe – with Pictures
Carmelitas are such a favorite with our family especially Aunt Elle that we usually make a double batch on our biggest cookie sheet. They aren't very thick so the sides of the cookie sheet are tall enough to keep them from making a mess in the oven.
Like I said, most of the ingredients for this Carmelitas recipe are already in your pantry. I'll bet you have a cup of flour.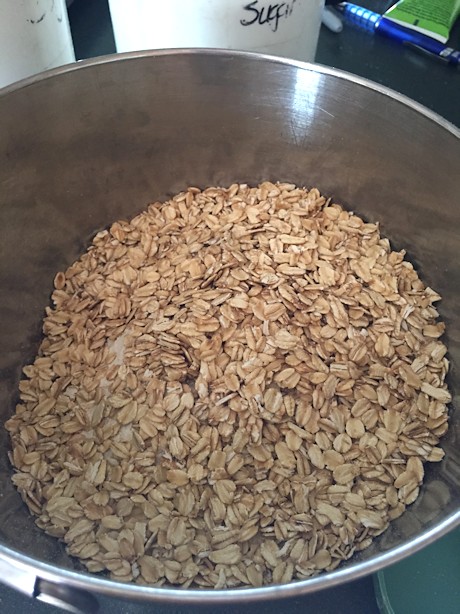 And a cup of oatmeal.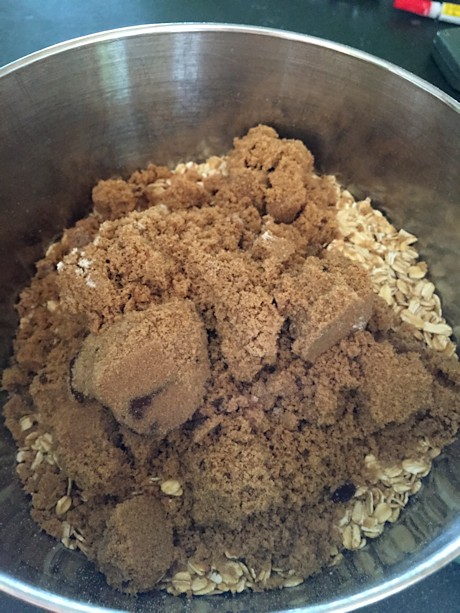 Three-quarters cup brown sugar.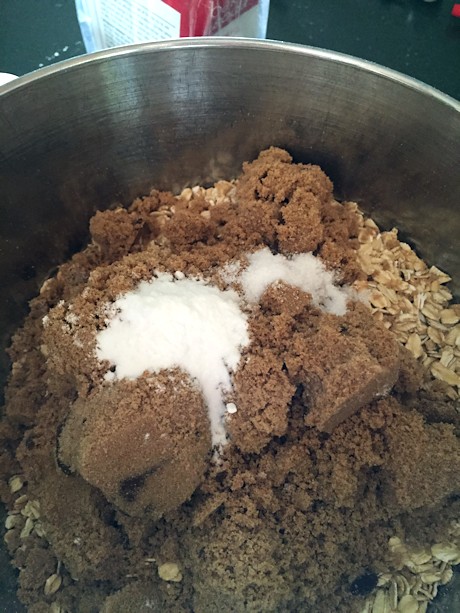 One-half teaspoon baking soda and one-quarter teaspoon salt.
So far so good, right? I knew you had all that stuff in your pantry!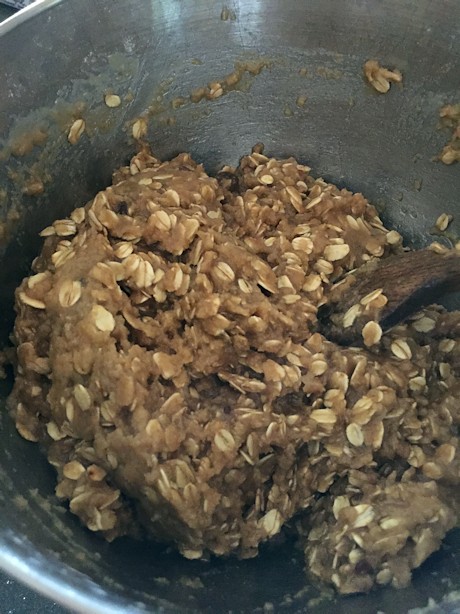 Pour in three-quarters cup melted butter and stir.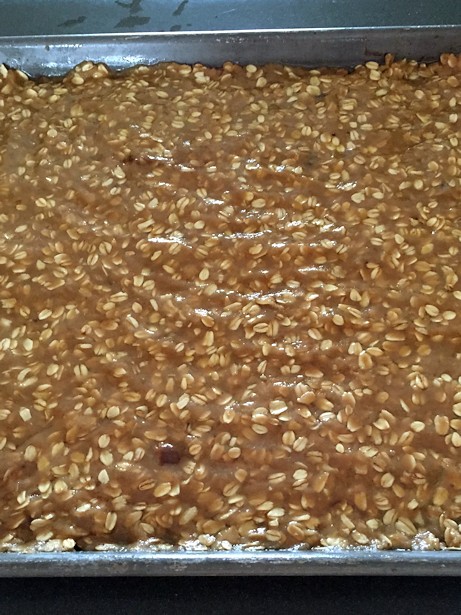 Now comes the hard part… Press the mixture into the bottom of a 9 x 13″ pan without eating all of it.
I can't resist, so I always make a little extra just to eat. Hey, a girl's gotta do what a girl's gotta do!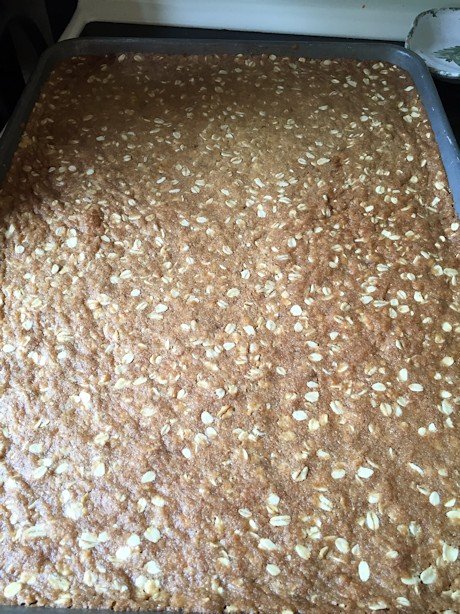 Bake at 350° until set – about 10 minutes. Unless you're in a big hurry, then bake at a higher temperature for less time.
While the crust is baking, measure out a cup of chocolate chips and one-half cup pecans. Open a jar of caramel ice cream topping and carefully stir about one tablespoon of flour into it.
As soon as you take the crust out of the oven sprinkle it with the chocolate chips.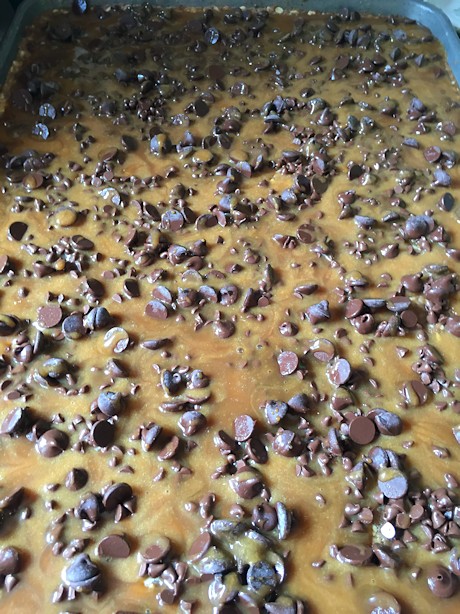 Then drizzle/pour the ice cream topping on top and put back into the oven. It looks yummy already, doesn't it? Just wait until it's done – it'll be even better!!
Sprinkle the pecans on top and bake again until bubbly – about 20 minutes.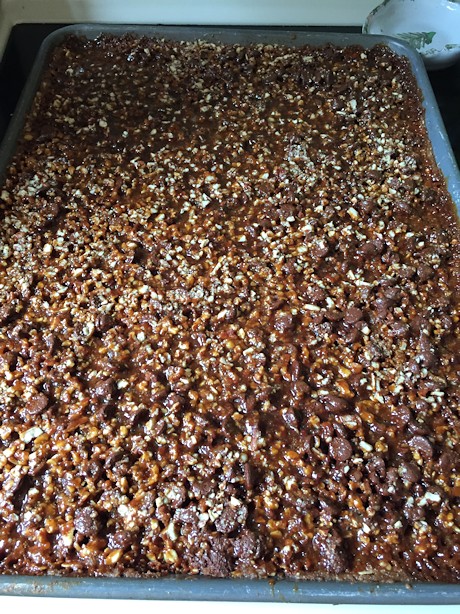 Cool, then cut into bars.
These are so delicious and addicting that they usually disappear as quickly as I can make them.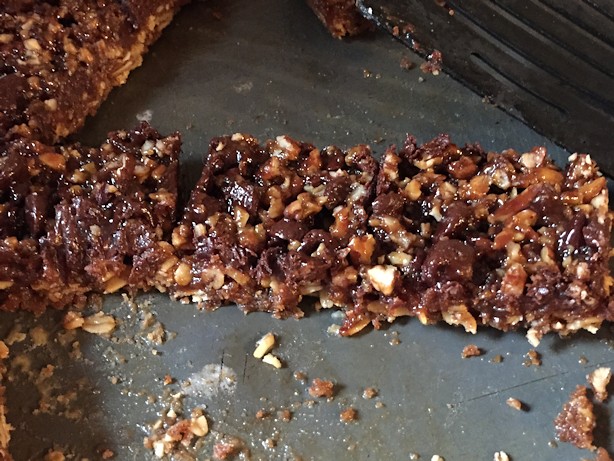 Hey, where'd they all go?
Caramelitas Recipe – the Official Version
1 cup plus 1 tbsp flour, divided
1 cup oatmeal
3/4 cup packed brown sugar
1/2 tsp baking soda
1/4 tsp salt
3/4 cup butter or margarine, melted
1 cup (6 oz) semi-sweet chocolate chips
1 jar (12-1/4oz) caramel ice cream topping
1/2 cup chopped walnuts
In a bowl, combine 1 cup of flour, oatmeal, brown sugar, baking soda, and salt. Stir in butter. Mix well. Press into a greased 9 x 13″ pan. Bake at 350° for 10 minutes or until set. Sprinkle with chocolate chips. Combine caramel topping with the remaining 1 tablespoon flour until blended; drizzle over chips. Sprinkle with nuts. Bake 20-22 minutes longer or until bubbly. Cool completely; cut into bars. Makes 3 dozen.
Caramelitas Recipe – Our Version
Of course we can't leave well enough alone and have to add our own twist to the recipe!
Flour: We often use part or all whole wheat flour don't tell Jo-Bear! because it's healthier so I don't feel so guilty having two or three, or four…
Oatmeal: We like thick-cut oatmeal because it adds a little extra chewiness.
Butter: We never use margarine – it's yucky! Sometimes I use part coconut oil instead of all butter. I also cut down on the amount of butter a little.
Nuts: I don't like walnuts so we always use pecans instead. They're much yummier!
Ice cream topping: I haven't tried butterscotch instead of caramel, but I bet it would be yummy too. Except then you'd have to call them Butterscotchitas instead of Caramelitas!
😉
Enjoy!