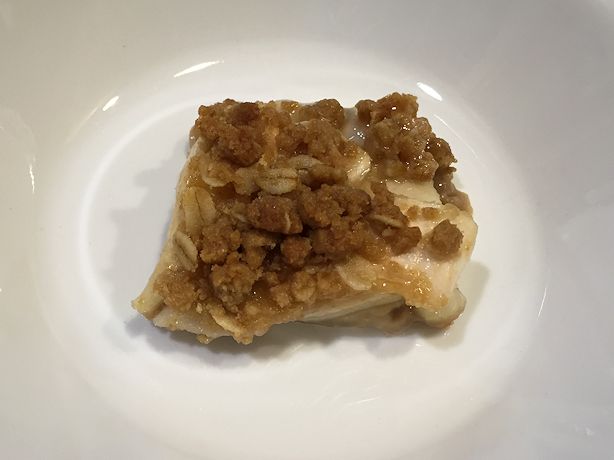 When I was a kid my grandma and grandpa had a huge Cortland apple tree in their back yard. To me nothing tasted better than those apples, except maybe Grandma's Great Apple Dessert.
Like Big Meat Bake Dish, this recipe probably has an official name, but we've always called it Grandma's Great Apple Dessert.
Grandma's Great Apple Dessert – in Pictures
This apple dessert is great served warm, cold, or in-between. Sometimes we like it with ice cream but most of the time we just eat it plan – it's just that good! It's also easy to make; the hardest part is cooking the corn starch.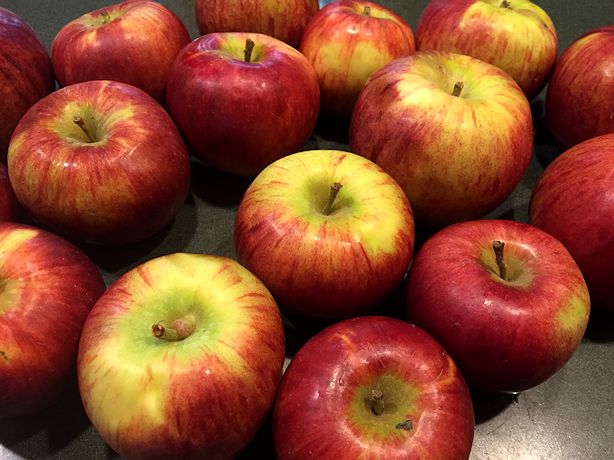 You'll need 6-8 good "cooking" apples for apple dessert. Cortlands are my favorite for everything, but when they're not in season MacIntosh will work just as well. Some people swear by Granny Smiths for cooking, but they're too tart for me.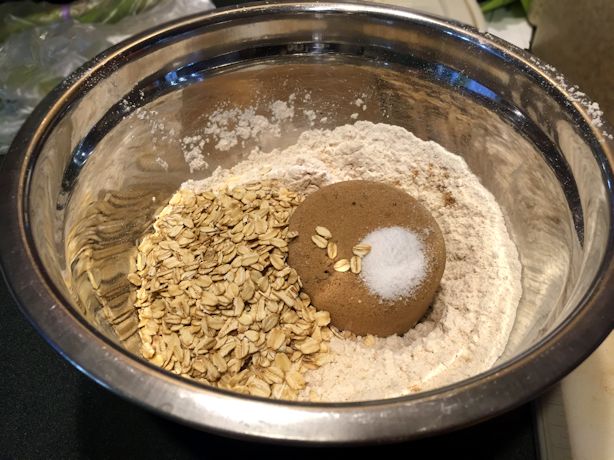 To make the streusel crust, mix 2 cups flour, 1 cup brown sugar, 1/2 cup oatmeal, and a little salt.
We use whole wheat pasty flour – it's healthier and gives the crust a little depth of flavor without tasting too "whole-wheat" – and thick-cut oatmeal because that's what we have on hand.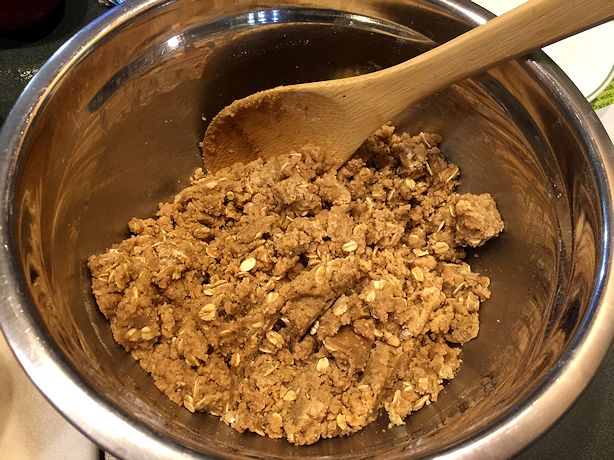 Grandma's recipe says to stir in 3/4 cup melted shortening, but we don't use shortening anymore. Instead, I use coconut oil and College Boy uses butter; either option works well.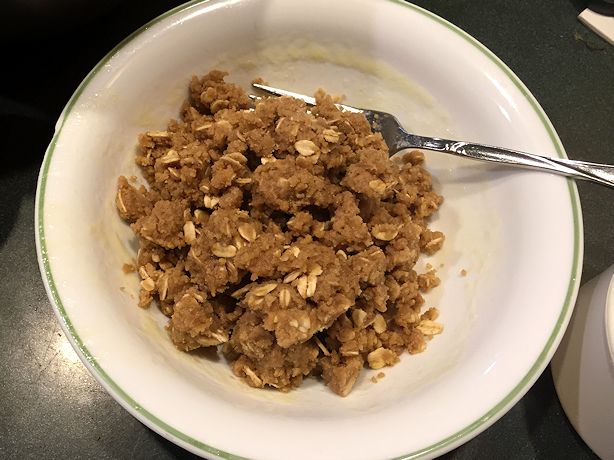 Set aside about 1 1/4 cup for topping.
I put it in the coconut oil melting bowl; no reason to make extra dirty dishes, right? True Confession: I love this streusel so much that sometimes I make extra just to eat. Shhhh, don't tell anyone!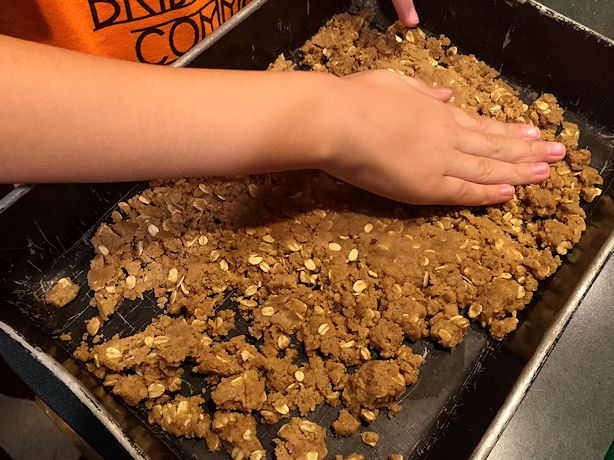 Pat the rest evenly into the bottom of a 9×13″ pan. Z-Man was my official helper, so he did the honors. "It's hard to get it into the corners and make it even!" he said.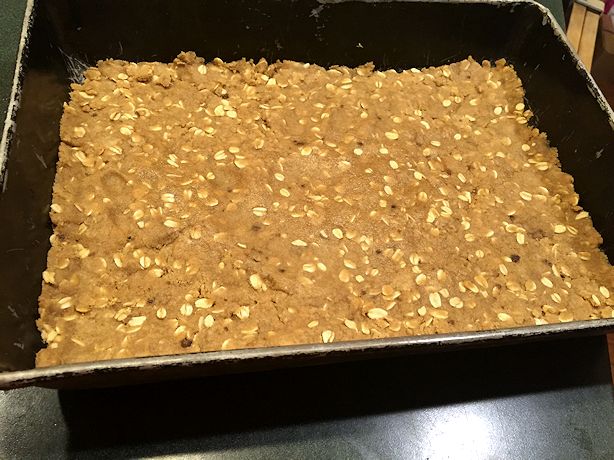 Set the crust aside while you prepare the apples.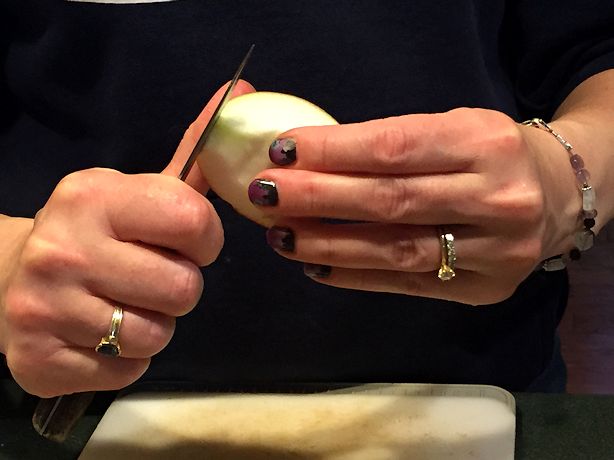 Peel, core, and slice the apples.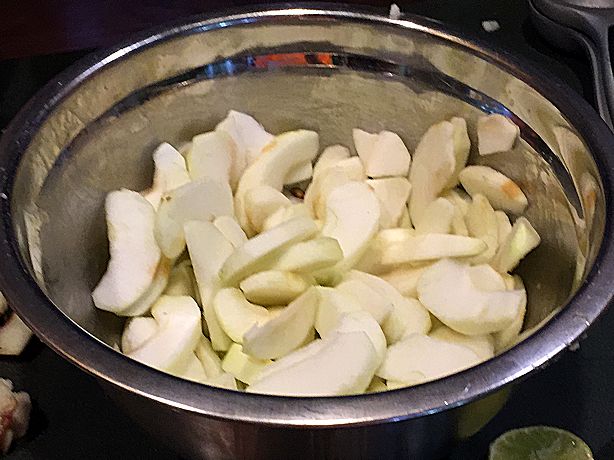 Don't go so quickly that you cut yourself, but don't dilly-dally either, or they'll brown from being exposed to the air. Spread the sliced apples in the pan, over the crust and set aside.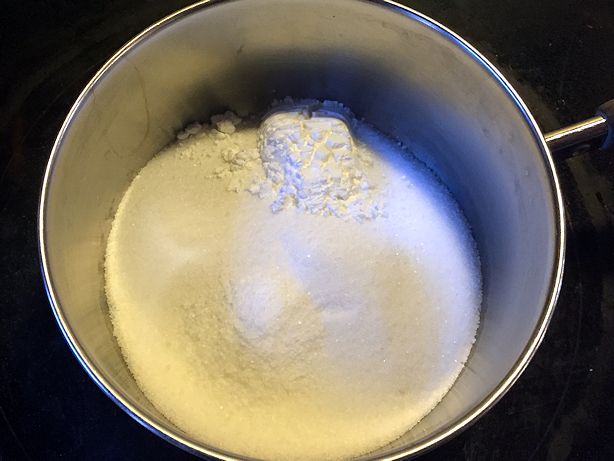 Mix 1 cup of sugar, 3 tablespoons corn starch and a teaspoon of salt. Add 1 cup of water and mix very well.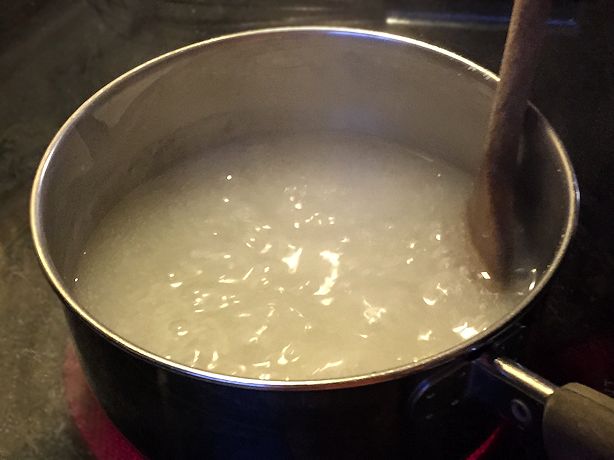 Heat, stirring, until the mixture bubbles, and becomes thicker and kind of transparent rather than white.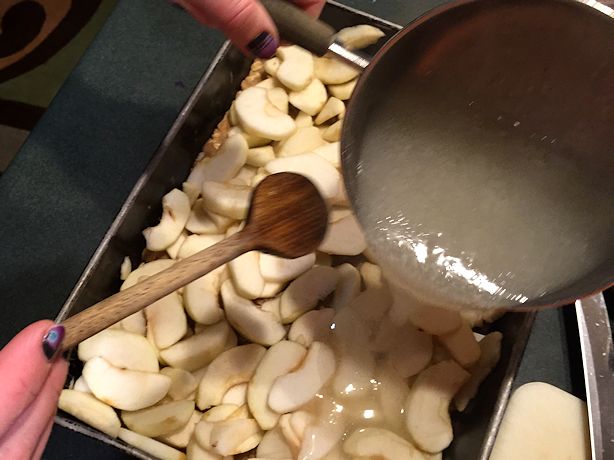 Pour the cornstarch mixture over the apples.
Do your best to pour it evenly, but don't be OCD about it because it'll even out as it bakes.
Sprinkle the reserved streusel mixture on top.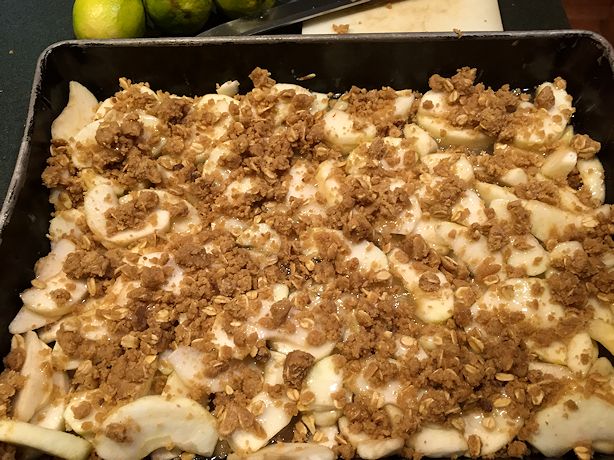 Pop the apple dessert into the oven until the top is lightly browned – about 30 minutes at 350°.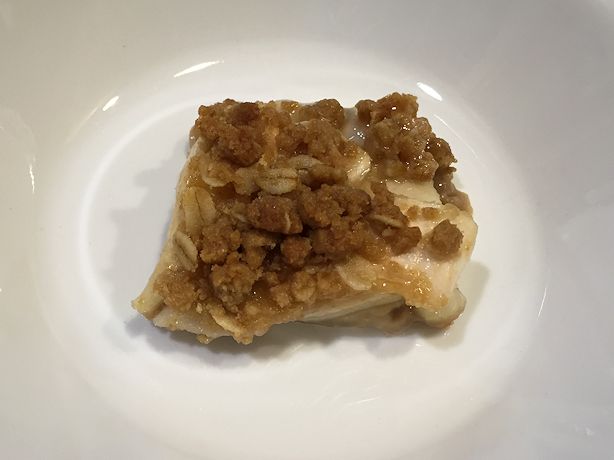 Serve warm, cold, or somewhere in between; it's delicious regardless!
Grandmas' Great Apple Dessert – Official Recipe
2 cups flour
1 cup brown sugar, packed
1/2 cup oatmeal
1/2 tsp salt
3/4 cup shortening
6-8 medium apples
1 cup sugar
3 tbsp cornstarch
1 tsp salt
1 cup water
Combine flour, brown sugar, oatmeal, salt, and shortening in a mixing bowl. Pat evenly in a 9×12″ pan, reserving 1 1/4 cup for topping.
Peel, core, and thinly slice the apples. Spread on crust.
In a small saucepan, combine sugar, cornstarch and water. Whisk in 1 cup water. Cook until thick, stirring constantly. Pour over apples.
Top with saved streusel.
Bake at 350° about 30 minutes or until lightly browned.
Grandmas' Great Apple Dessert – Mom's Recipe
Here's how the recipe came to me from my mom, which I treasure because it's in her handwriting.You can always tell a good recipe by how beat up and dirty the recipe card or cook book page is. Obviously this one is a good one!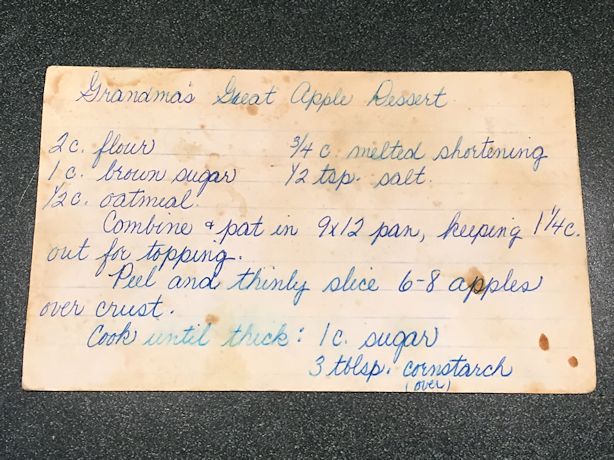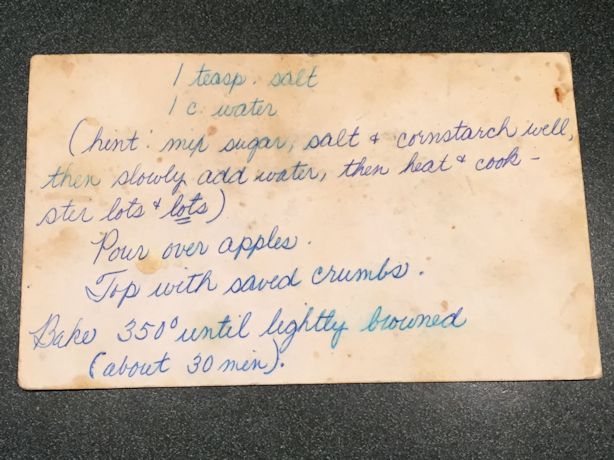 By the way, everyone in my family from Teacher to Little Guy will say that Grandma's Great Apple Dessert is great for breakfast too. Whole what flour… Oatmeal… Apples… it's almost health food!
I hope you enjoy Grandma's Great Apple Dessert – if you do, comment below and let me know. I'd love to hear from you!