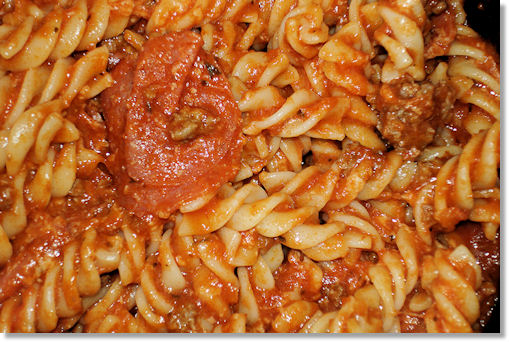 If you know me you'll know that I don't like to cook. The problem is that I'm running a child care and the kiddos like to be fed – three times a day! Over the years I've found some recipes that are quick and easy enough that they don't take much time or attention away from the children.
Pizza Casserole is basically a mixed up pizza with noodles instead of crust. It's one of my favorite recipes because not only is it quick and easy, the kiddos love it and we usually have all the ingredients on hand. Best of all, it's adaptable enough that if you don't have all the ingredients you can make substitutions, and you can add your own favorite pizza toppings to make it just the way you like it.
I'm not big into measuring when I make this so bear with me; I'll guesstimate measurements as well as I can. Here's the ingredients:
1 can Spaghetti sauce, your favorite type
1 package Rotini pasta, or any other shape you have on hand
1 lb Hamburger
1-2 C Mozzerella cheese
Your favorite pizza toppings like:
Sliced pepperoni
Peppers
Tomatoes
Olives
Mushrooms
Sardines I won't eat 'em but if you like them, go for it.
Etc.
Put water on to boil as you brown the hamburger. If you're using veggies you should cook them now too. When the water is boiling add the pasta and cook according to the package directions. When the hamburger is brown, drain the grease and stir in the can of spaghetti sauce.
Add a handful or two of sliced pepperoni, but be sure to peel the slices apart or you'll end up with a huge pepperoni chunk in your casserole. If you want to include any other toppings, now's the time to toss them in. Turn the heat down to simmer to keep this mixture warm until the pasta is done.
When the pasta is done and drained, add about half of it to the meat and sauce mixture. Stir well and take a look at the casserole. If it's too saucy or there doesn't seem to be enough for the number of people you're feeding add more pasta. If there's not enough sauce you can add a little water, tomato juice or tomato sauce. When you done messing with it you can either stir in about 1 cup of cheese and serve, or pour the casserole into a 9″ x 13″ pan and sprinkle the cheese on the top. Bake in a 350 oven until the cheese melts and serve. Since I'm usually rushing to get lunch done I just stir in the cheese and serve right away. The cheese melts and the casserole has usually cooled to the perfect temperature for the kiddos.
Enjoy!