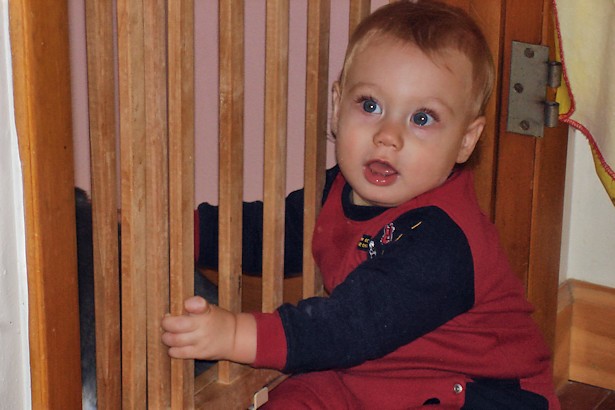 You cannot match the curiosity of young kids. From endless questions ("Why do you do that?", "What's that?") to exploring every nook and cranny of the house, kids are sponges trying to soak up all of the information they can, exploring everything in their path. While this is a necessary learning experience, it can be dangerous if your home isn't updated to mitigate safety hazards. Whether you're expecting or you have grandchildren, here are a few home improvements to keep kids safe in your home:
Secure Furniture
As curious toddlers learn to climb, all of the furniture in your house begins to look like a jungle gym. If furniture is not properly anchored to a wall, it can topple over, crushing your child. The Consumer Product Safety Commission reports that nearly 200 children died between 2000 and 2008 from furniture tipover injuries.
To prevent an accident, secure all top-heavy furniture to a nearby wall with heavy-duty furniture straps from your local home improvement shop. Be sure to use a stud finder and anchor the strap into the wall stud for added security. Top-heavy furniture that should be secured:
Bookshelves
Entertainment centers
Dressers
Desks
Storage consoles
Install a Security System
The latest statistics from the FBI indicate that a U.S. home is burglarized every 14.4 seconds. A home security system has never been so vital to protect your family and all of your most-valued belongings. Think an alarm is out of your budget? Not so. You can install DIY alarm systems and spend as little as $30 a month to protect your home. Most DIY kits can be installed in an hour or two with a few basic tools. According to the Washington Post, studies indicate that a home with an alarm is three times less likely to be burglarized than one without an alarm, so this small investment will be money well spent.
Mount the Television
Like top-heavy furniture, televisions are prone to tipovers if not secured in place. To prevent an accident, mount all televisions in your home using a heavy-duty flat-screen television mount. In addition to being safer for your kids, this will also provide you with extra tabletop space.
If you don't have enough wall space to mount the TV, you can affix it in place with electronics straps, which are similar to furniture straps but designed to easily mount on televisions and other electronic devices.
Get Rid of Toxic House Plants
While house plants add natural beauty to any room, certain plants can be deadly, posing a serious risk in home with curios small children. According to GardenGuides.com, one of the most common house plants, the heart-leaf philodendron is poisonous when ingested. Take an inventory of your house plants and get rid of any of the following varieties which GardenGuides.com notes are toxic to small children: ivy, poinsettia, Jerusalem cherry and heart-leaf philodendron. Replace them with safe, non-toxic plants like African violets, Dracaena or Boston ferns.