I'm constantly amazed at what a small world the internet is!
I've been trying to figure out what font was used for my blog sidebar headers and went to What the Font to work on it. After numerous tries I gave up and decided to join the forum to get more help.
I submitted my "case" and was redirected to a page listing the most recent cases, where I was surprised to see my blog signature! Someone liked the font and wanted to know what it was. What are the chances?!
Of course I posted the answer: The font is Scriptina and you can download it for free. I can't wait to see what or who turns up next time I'm surfing the web!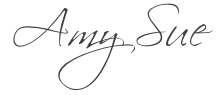 Photo Credit: Earth from Space by Nasa..