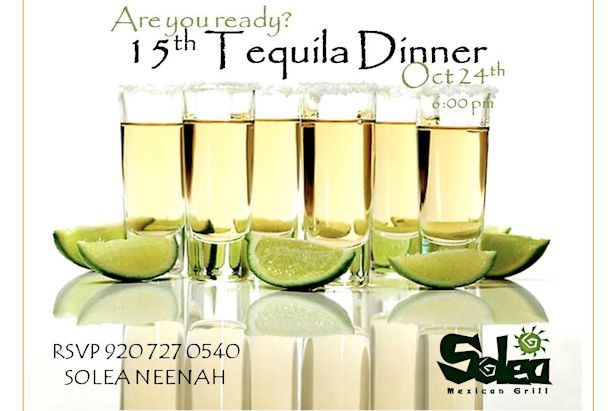 Are we ready for another Solea Tequila Dinner?
Why yes; yes we are!
Caution: the Solea website is LOUD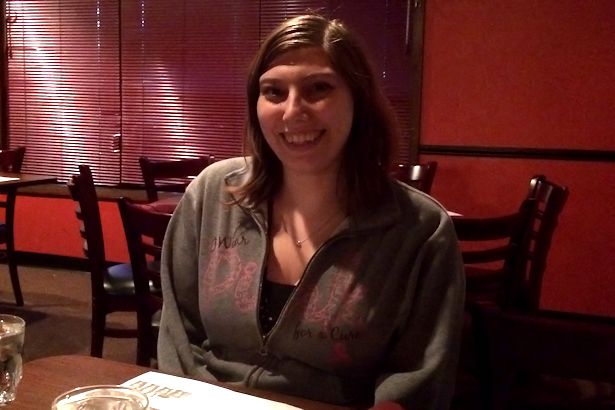 Princess joined Teacher and I for another wonderful dinner with fantastic tequila drinks to celebrate a special night 27 years ago…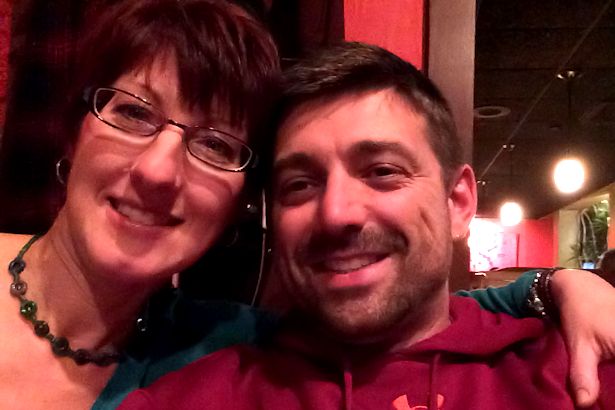 The night Teacher and I met.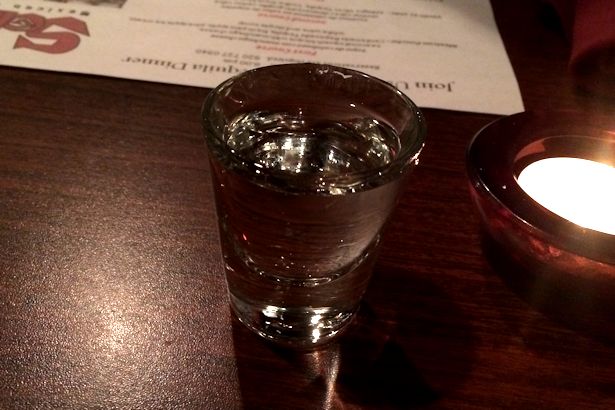 After welcoming everyone to the 15th Tequila Dinner the host invited us to taste some tequila while we were waiting for the first course to be served. As always, in the middle of the area there was a pretty little table with about a dozen bottles of tequila, shot glasses, and lime wedges.
Teacher visited the table and returned with Casa Noble Blanco, which we all agreed was nicely smooth and mellow for a "Silver".
Tequila comes in 3 forms: Silver, Reposada and Anejo. Silvers are aged in stainless steel, Reposadas in oak barrels, and Anejos in oak for over a year. Anejos are often considered "sipping" tequilas.
While we were sipping the Casa Noble they brought the first course, and the yumminess began!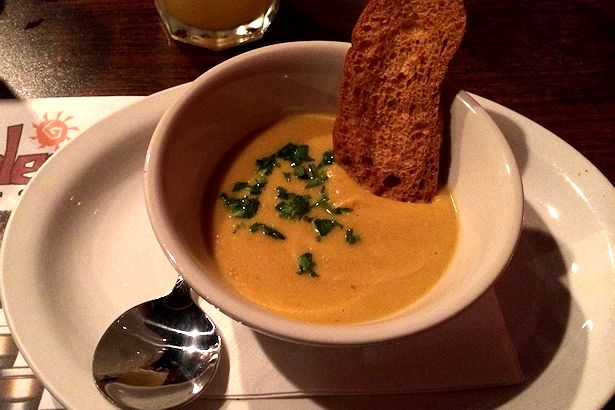 First out of the gate was "Sopa de Calabaza con Manchego Cheese" – Squash bisque with manchego cheese and a crostini. I love, love, love squash, and this bisque was to die for! Rich and creamy, with a slight cauliflowery taste, I'd definitely order this if it were on the regular menu!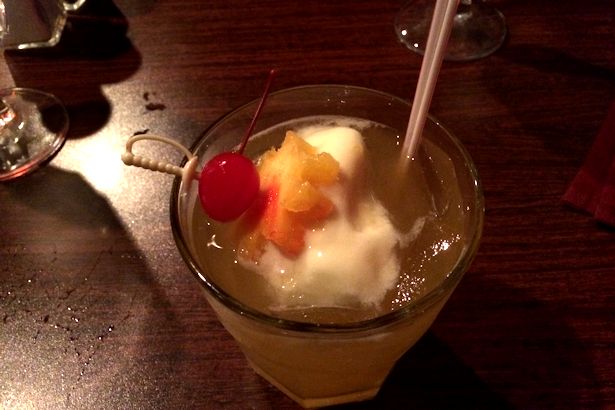 It was quickly followed by "Mexican Ponche" – Centenario Reposado tequila, fresh pineapple, pineapple ice cream, and white wine, sweetened with simple syrup. I liked this one much more than I thought I would! Sometimes fruit-flavored foods have a fakey taste, but this drink was fresh, not syrupy at all. And it went well so with the Squash Bisque.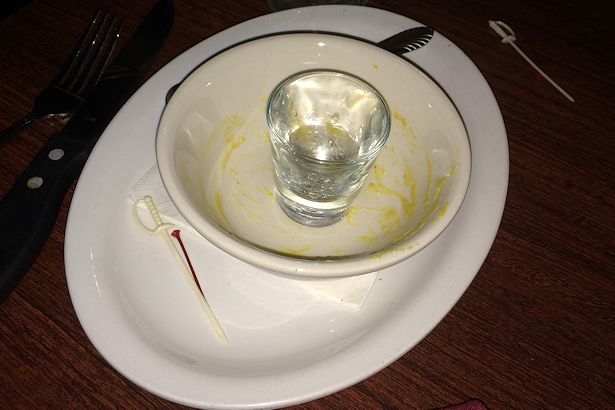 The first casualties… I'm glad I'm not washing the dishes tonight!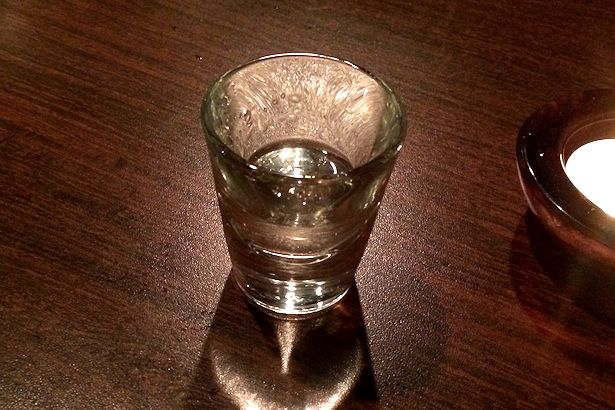 In between courses we tasted another tequila, which happens to be one of my favorites: Milagro Silver. Later in the evening Princess won a free drink by being the first – and only – one to know that "Milagro" meant "Miracle." Hooray for the girl with a Spanish minor! Who says a college education is wasted?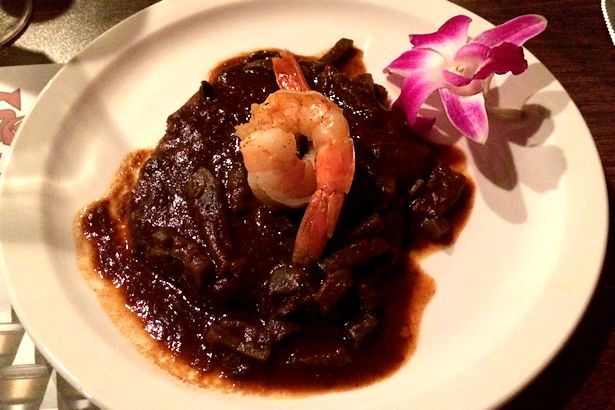 The second course was "Tortitas de Camaron en Salsa de Nopales" – Shrimp cakes simmered in Guijillo cactus salsa. Delish!! This dish was surprising to me – Teacher LOVES Guajillo sauce and makes it often so I'm very familiar with it – but I never would've thought to pair it with shrimp. And I would be wrong – it was SO GOOD!
We thought the shrimp cake would have pieces of shrimp in it like crab cakes have pieces of crab, but the shrimp was ground and mixed into the other ingredients so the whole cake was shrimp-y and had a firm texture. It held up nicely with the rich, flavorful Guijillo sauce.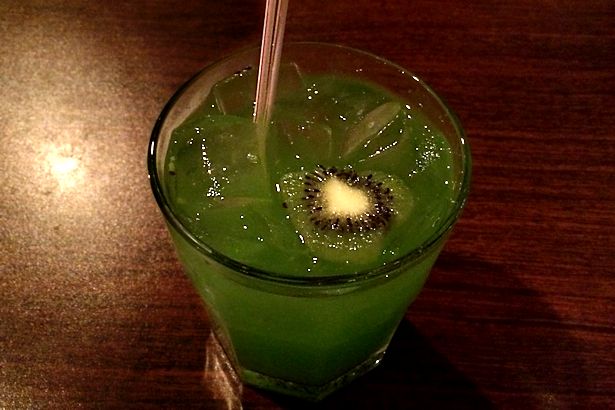 The shrimp cakes were accompanied by a drink called "Verde es Vida" Green is Life – which consisted of Milagro Silver tequila, YUM! vodka, fresh kiwi, fresh lime juice, and mint. Princess doesn't like kiwi and I'm not fond of mint except in Mojitos, so we were both afraid we wouldn't like this one, but we did. Like the pineapple one, it was fresh and sweet, although it reminded of Lime Kool-Aid a little bit – maybe because of the bright green color.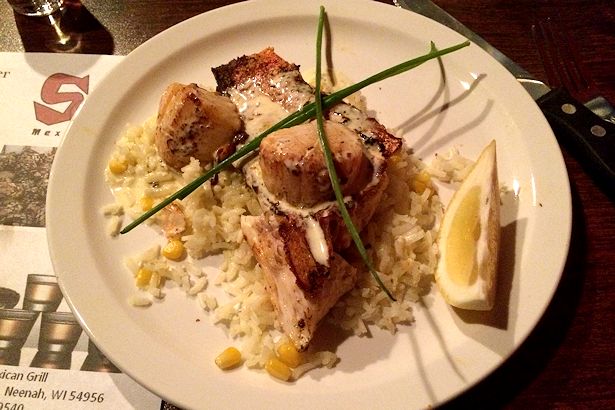 Next was "Huachinango con Callos al Mojito" – Red Snapper filet and scallops with mojito sauce, accompanied by rice with corn. This was my favorite dish of the night! The snapper and scallops were cooked perfectly, the mojito sauce was rich and creamy, yet tangy with lime… I could eat this again and again and again.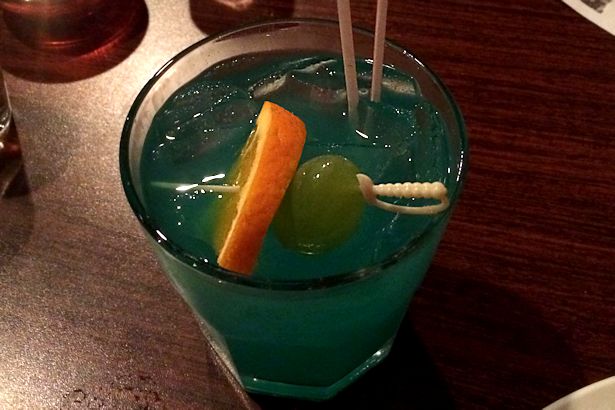 Not so much with with the drink that came with the red snapper, "Azul Tequila" Blue Tequila – it had 1800 Reposado tequila which I love, blue curaçao which I loathe, pineapple juice, and a splash of sweet and sour. I thought it tasted like "Tootie Frootie" but it was Princess's favorite drink of the night.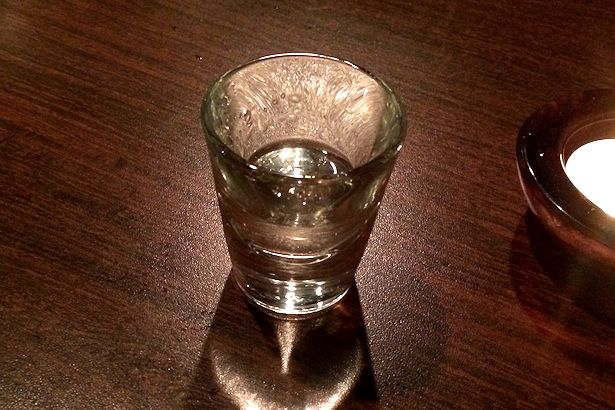 Somewhere in here we tasted El Jimador, which was my favorite of the four tequilas we sampled. I usually prefer my tequila in a mixed drink instead of "on the rocks" but I think I'd enjoy El Jimador on ice… In small amounts.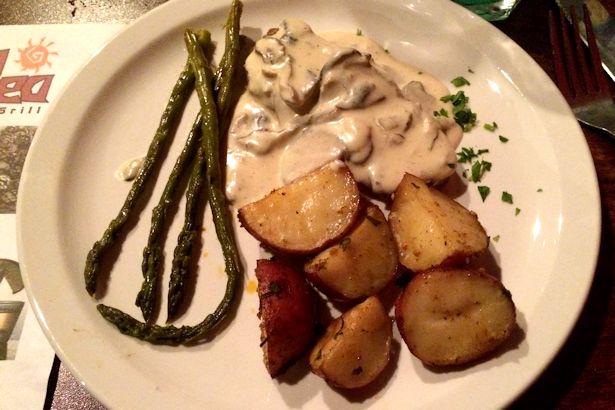 The main course was "Medallones de Ternera en Salsa de Setas" – Veal tenderloin medallions in mushroom sauce with baby red potatoes and asparagus. I usually avoid veal because it's baby cow but I pretended it was regular beef, and the mushroom sauce was so good I could've had it on pretty much anything and not complained.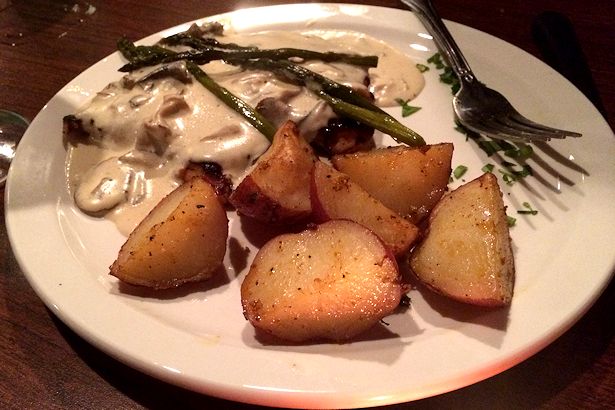 Like last time, the chef prepared chicken for Princess instead of veal, which she greatly appreciated.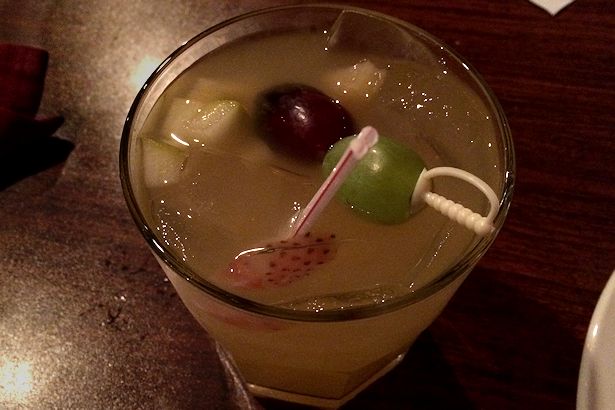 "Sangria Blanca" White Sangria made with Casa Noble Blanco tequila, seltzer water, white wine, and fresh fruit, paired very nicely with the veal. Sangria is not one of my favorite drinks but I really liked this light, sweet, and fresh version. It didn't hurt that there were pieces of fruit at the bottom of the glass which were fun to fish out when the drink was gone.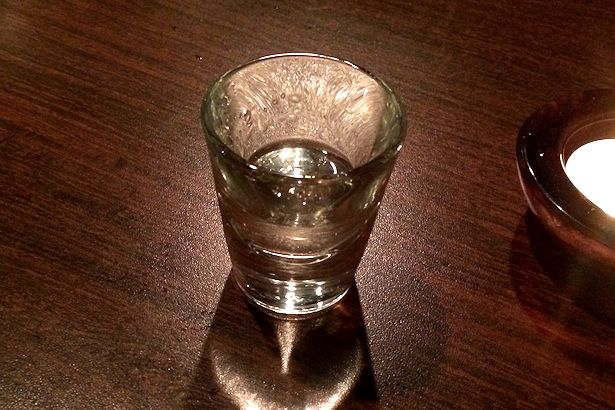 The last tequila we sampled was Gran Centenario Reposado. I didn't think it was as smooth as the El Jimador, but it was Princess's favorite one we tasted all evening.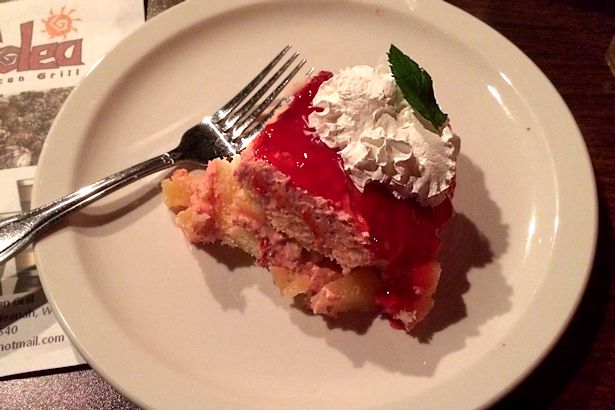 Dessert was "Carlota de Fresa y Pina con Tequila Almendrado" – Strawberry and pineapple drunken cream cake. I knew from the description that I wouldn't care for this dessert but I gave it a fair try. Then took it home for the boys.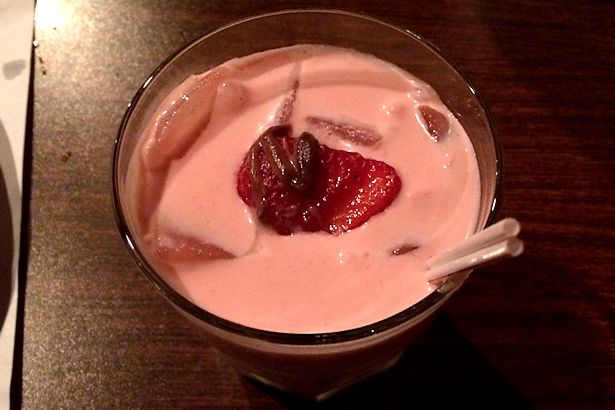 Based on the description I figured I wouldn't like the dessert drink either. "Dulche Maria" Sweet Mary – was made with condensed milk, half & half, fresh strawberries and El Jimador Reposado tequila. I thought it would be like the strawberry drink I didn't like at the Tequila Dinner last June, but it wasn't.
I liked it – hey Mikey!
For those of you who are too young to get my reference: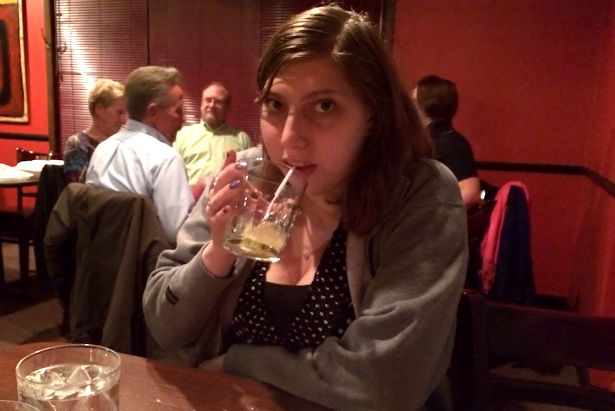 Princess didn't like the strawberry drink at all, which is funny since she liked the one from June. Since I hadn't finished my "Tootie Frootie" drink we traded. Yes, I am taking the requisite "Princess drinking" photo now.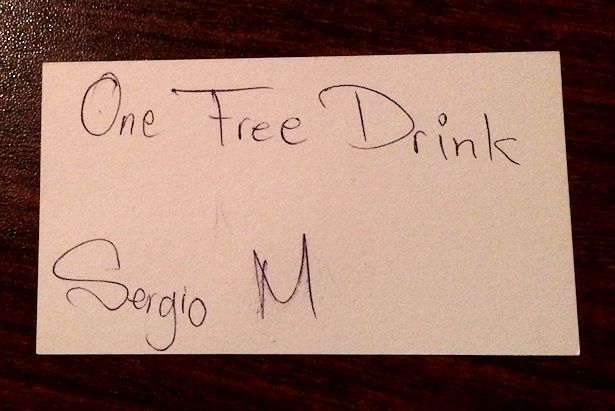 And Princess wasn't the only one to win a free drink – I won one too! I wasn't the first one to yell "Solea!" when the host asked "Where's the best place to enjoy a Tequila Dinner?" but I was the loudest and waved my hand the most. Sometimes a little obnoxiousness does the trick.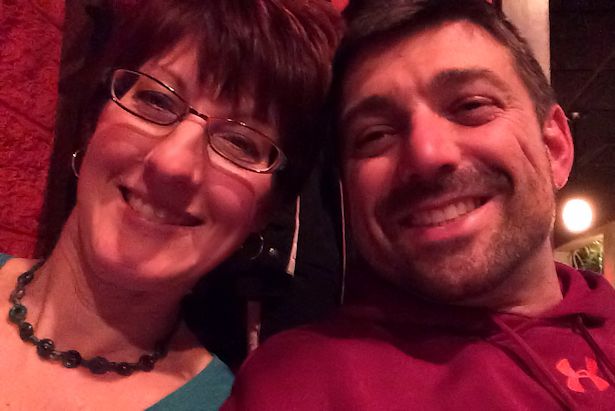 And of course, a good time was had by all.
We can't wait until the next Solea Tequila Dinner!