I took Friday off to prepare for the Anniversary Picnic.
First order of business – getting my hair touched up! I'd gotten it done about 5 weeks ago and the color still looked fantastic, if you didn't count the half inch of white and brown roots peeking out. My stylist usually has Fridays off but offered to come in early that morning just to do my hair. She's the best!!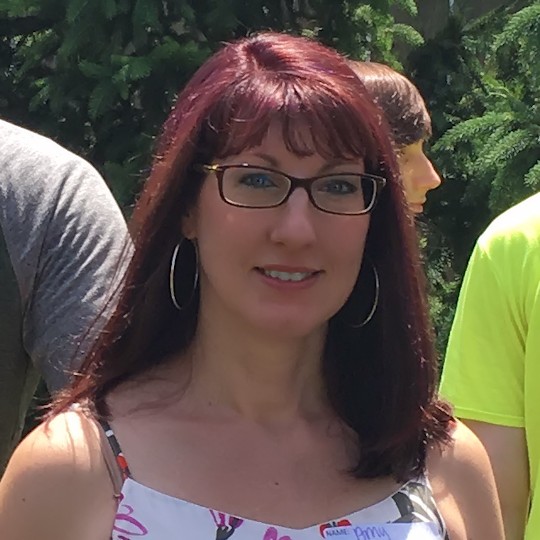 And she always makes my hair look fantastic! Yes, those are purple highlights – I love them soooo much!

When I got home I started making a pan of Cherry Bars while Teacher began working on the German Potato Salad. Originally we were supposed to make three of the four different types of bars Mom & Dad had requested, yes, this family does love desserts but my good friend Nicole offered to make two pans and drop them off after work. She's the best too!! Irish Girl made the fourth pan, so we got off easy. Until we decided to make Carmelitas too, because they're Auntie Elle's favorites and everyone else likes them too. The tent we'd rented was supposed to be put up at 1:00 so I figured I'd have plenty of time to get both types of bars done before then.
Wrong! Around 12:30 the phone rang, "The tent guys are here" Aunt Elle said. I didn't anticipate any problems, but went over to Mom & Dad's to keep an eye on things anyway.
Auntie Elle and family left to work on their party "jobs" so Dad, Teacher, and I watched the tent go up. We were amazed at how quickly it went! I wanted to take pictures, but didn't want to come across as the creepy cougar snapping photos of the college-age guys. As they finished I looked at the cement buckets holding the tent down and asked, "With the storms they're forecasting tonight, do we need to worry about it blowing away? I'd hate to find it in a neighbor's yard tomorrow morning." Jake, the head tent-putter-upper, said "Anything short of a tornado will be fine." That was very reassuring.
Until 8:00 that night when the tornado sirens went off! Luckily the storms missed us and the tent stayed in Mom & Dad's yard.
Now that the tent was up it was time for the next step.

I'd spent numerous hours earlier in the week putting together a plan of where I thought everything should go. First I sent the boys over to measure Mom & Dad's garage, which was an adventure in and of itself because I could only find a 6′ tape measure and nobody was home to open the garage door so they had to measure the outside.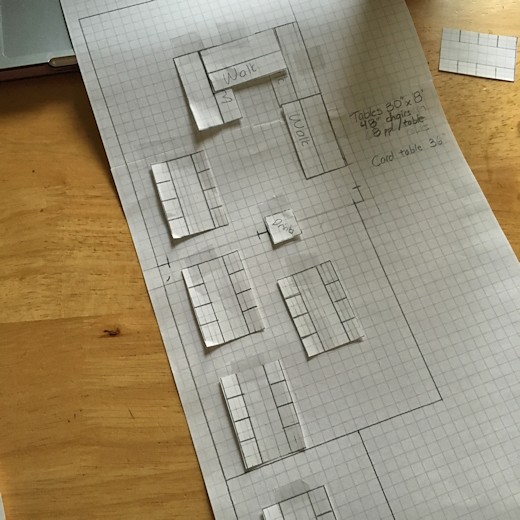 While they were gone I researched how much room was needed around and between the tables and made movable table and chair pieces. Then when the boys came back I drew a diagram of the garage and tents, and tried out several different table arrangements until I found one that seemed to work. OCD much? You know it!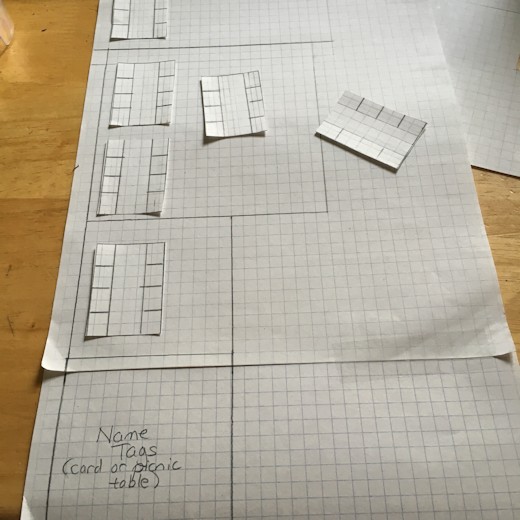 But the real question was whether the plan would work as well in "real life" as it seemed to work on paper.
Cowboy to the rescue!
After work he brought the 10 tables over and helped Teacher and Dad to set them up and arrange them according to the plan.
It worked! With just a couple of minor modifications.
We put tablecloths on the tables that were staying in the garage right away – anything we could get done today would be less to do tomorrow. Then Teacher and Dad started covering the garage walls per Mom's request with the tarps Uncle Jay bought while I stared at the buffet tables.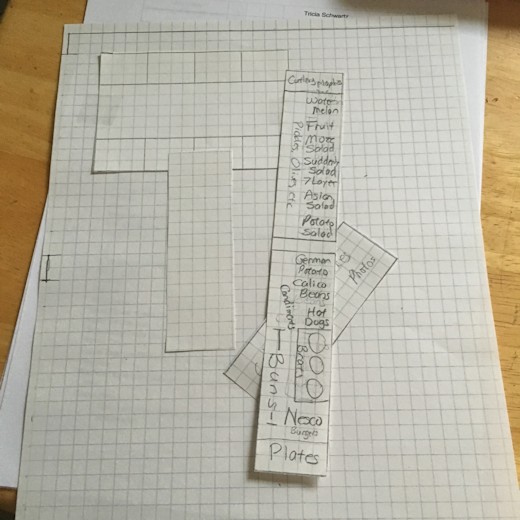 I planned to have the buffet start on the right with plates and hot foods on the first table, cold foods on the second, chips and snacks on the third, and cakes and desserts on the fourth. But since I didn't know the dimensions of the Nescos, crock pots, serving dishes, etc, I didn't know if my plan would work.
Mom had collected a variety of under-bed containers to fill with ice for the cold food so I grabbed all of those, both Nesco lids, and my stack of pre-labelled Post-Its – one food per Post-It. I learned that trick from my Mom, who I probably got my OCD from. Again, with a few minor modifications, my plan seemed to work! But the real test would be tomorrow…
Dad and Teacher finished up about the time I stuck the last Post-It to the table. We moved the tables that were in the driveway into the garage in case the storm was as severe as they were forecasting. And it was – remember the tornado warning?
Then Dad closed the garage and we went in to help Mom with supper. Dad's sister and brother-in-law from North Carolina were expected to arrive any minute and I couldn't wait to see them again. My aunt is the personification of a genteel Southern lady, just like her mom was, and I always felt extra special when my uncle said "Amy Suuuuue" in his rich Southern accent. When I was a kid my family drove down South over spring break to visit my grandparents in Alabama and my aunt and uncle in Florida. You wouldn't believe the shenanigans three kids can come up with when they're stuck in the backseat of a car for 12 hours straight! And when I was in high school the 11 of us – our family of five, their family of four, and the two grandparents – squeezed into a two-bedroom condo on the Gulf of Mexico for a week in the spring. We were tripping over each other the whole time we were there, but I have nothing but good memories from those days.
But enough reminiscing – tomorrow's the Big Day!