Shortly after Mom handed over her little red book aka her "List of Demands" I met Uncle Jay and Uncle Ike at Fazolis to go over her notes, start planning, and enjoy a little pasta. It didn't take long for me to realize that planning this shindig was going to be more challenging than I'd originally thought.
The problem was that my brothers had ideas of their own.
I know that doesn't sound like a problem, but I was the five year old who looked at her grandpa and said "Grandpa, let's compromise – you do it my way."
But I took a deep breath and reminded myself that my brothers are both really smart and have good ideas even if I didn't agree with them, so they deserved to have equal say in the planning. We looked over Mom's notes and added ideas of our own, then divided the list up among ourselves. I had another episode of big-sister-itis when it came to handing over some of the responsibilities control issues, much? but took another deep breath, bit my tongue, and made it through with some amount of grace.
The biggest things on my list were invitations, tents, tables and chairs, and cakes. Invitations were the highest priority so I tackled those first and had them ordered within a week of our Fazolis meeting. Go me!
After ordering the invitations I decided to look into the cost of cups, plates, napkins, forks, spoons, knives, tablecloths, etc. I happened to be looking over Memorial Day weekend when Party City was having a huge sale, and after comparing their prices with Walmart and Amazon I decided to order everything except tablecloths and napkins from them.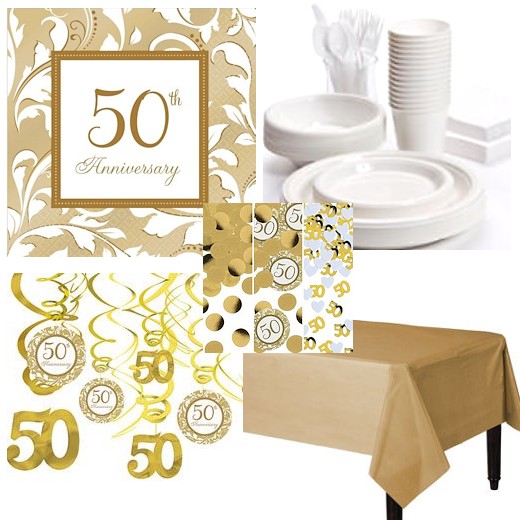 My first thought was to get everything in gold, but then I realized that gold plates, forks, etc would blend in on a gold tablecloth, and food would look better on white plates than gold. I decided to stick with gold tablecloths but get white for everything else. I splurged on the 50th Anniversary napkins, and even though I'd asked Auntie Elle to head up decorations I could't resist the 50th Anniversary swirls and confetti. Irish Girl picked up tablecloths for $1.00 each at Dollar Tree and dinner napkins on sale at Walmart, and we were all set there.
Next up: Tents, Tables and Chairs.
Mom wanted three tents: a 20'x20′ and a 10'x'10' on the driveway to eat under, and a second 10'x'10' in the back yard for the kids to play under. We needed enough tables and chairs to seat about 50 people plus extra tables for the food, and after studying several party rental sites I guesstimated 10 tables and 50 chairs. When I popped online to get a general idea of how much it would cost to rent the tents, tables, and chairs I almost fell out of my chair – the cheapest ones I could find would eat up half our budget!
Yikes!!
First I panicked.
Then I took a deep breath, and dove back in.
After spending several more fruitless nights looking for better prices and making chart after chart with multiple versions of Plans A, B, C, and D I gave up and asked i.e. begged Aunt Dee to take over the task. She's really good at researching products and even better at finding bargains, plus she has more flexibility in her day than I do. It didn't take her long to put together a spreadsheet, and based on her report I decided to go with Oshkosh Tent and Awning. Not only were they cheapest, they offered cement buckets for stabilization instead of spikes and ropes, and they'd put up the tent and take it down for us. Bonus!
While Aunt Dee was working her magic, Mom's sister offered to let us use their 15'x'15' tents, saving us some money. I also remembered that our church has tables and chairs that members can rent. Unfortunately the Anniversary picnic was the same weekend as the church rummage sale so the tables and chairs weren't available.
Figures.
But Princess and Cowboy asked at their church, and were able to reserve 10 8′ tables and 50 chairs for the cost of a "freewill donation." Our budget was saved!
Last: Cake.
There was no doubt in my mind that we'd get the cakes from Simple Simon bakery. When we were kids Mom & Dad would often pick up a couple of coffee cakes – usually one cherry and one cinnamon – on a random Saturday morning for a special treat. And after sampling a bunch of different wedding cakes we decided on Simple Simon for Princess and Cowboy's wedding cakes. With those kinds of family ties Simple Simon was the obvious choice. Besides, their cakes are amazing!
Instead of a single large cake Mom wanted 5 smaller cakes, some round and some square, with two different flavor layers in each: strawberry/white, chocolate/marble, yellow/spice, poppy-seed/yellow, and German Chocolate because it's Dad's favorite. Trust Mom to do something unique! Teacher came with me to the cake meeting, which was a good idea because even though I thought we had everything figured out there were more decisions to be made. We'd planned to order 6″ cakes but after looking at the models Teacher said that we should get 8″ cakes instead. Then as we discussed layer flavors the "cake lady" gently suggested lemon with poppy-seed instead of yellow, and recommended fillings to complement each flavor combination. I hadn't even considered fillings!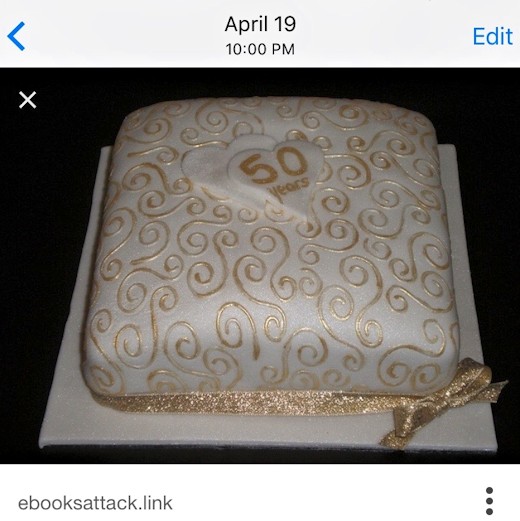 Mom's not a fan of lots of frosting, even Simple Simon's yummy frosting, so she wanted to keep the decoration simple. While searching for ideas this photo caught my eye, and I thought that we could do something similar with the gold and white but with each cake having a different pattern. Mom and Dad both liked the idea, and the "cake lady" said she could do it. Next thing I knew I was OK-ing the order and handing over a deposit, and just like that the cakes were ordered!
Now that my biggest jobs were done there wasn't much for me to do until the week of the picnic!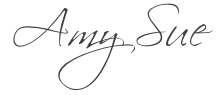 Photo credit: www.partycity.com