Jim started prepping for his meal by washing the produce, seeding the jalapeños, choosing a large frying pan from the cupboard, and hunting up additional spices from our stash. He found a head of garlic and roughly chopped it up; skins included. I found the soy sauce, but remembered that we'd used the last of the oyster sauce and hadn't replaced it yet. Jim said that was OK, he'd get by without it. Teacher was assigned to slice the carrots, cauliflower and broccoli, and halve the grape tomatoes. My usual job is to clean up as Teacher cooks, and while I cleaned up after Jim I was able to remove the garlic skins without being noticed.
Although Jim had told us that he didn't know how to cook he moved confidently around the kitchen and looked like he knew what he was doing. He began by cooking up some Thai noodles (like Ramen noodles with a kick) without the little seasoning packets, threw in a bunch of garlic and stir-fried it with some carrots, tomatoes, soy sauce and fish sauce. When it was done Jim carefully placed it in the middle of a large plate and garnished with cilantro. "Thai style" Jim said, explaining that Thai food generally makes use of colorful vegetables and garnishes as decoration.
Next Jim mixed eggs with garlic, soy sauce, and a little water for what he called a "Thai omelet". He watched the cooking eggs intently so they wouldn't scorch, then flipped them almost effortlessly. Like the noodle dish, the finished omelet was carefully placed on a plate and garnished with cilantro.
For the vegetable dish Jim stir-fried broccoli, carrots, cauliflower, and mushrooms with more garlic, a few carrots and tomatoes, and spinach tossed in at the last minute. Soy sauce and fish sauce enhanced the flavors without adding the hot spiciness I had worried about. By this time the kitchen smelled incredibly good; my mouth was watering, my stomach was growling and I couldn't wait to eat!
Next Jim brought out two packets of traditional Thai seasoning he'd brought from Thailand: Green Curry Paste and Phad Prig Khing Curry Paste. He put about half the package of pork stew meat into the frying pan and began to stir-fry it. Once more I was concerned that there wouldn't be enough food, but Teacher had made lots of rice so I decided not to worry. Jim added sliced asparagus and a few carrots for decoration, sprinkled in fish and soy sauces, then stirred in some Phad Prig Khing paste. "You taste… not too spicy?" he asked me. I tasted… mmmmm, delicious! It had a slight kick but wasn't too spicy at all. In fact it was less spicy than some of Teacher's dishes.
By this time the rice had finished cooking and was set aside with the other dishes to wait as Jim made up Kaeng Kheaw Whan: a Thai soup based on coconut milk and chicken. "Kaeng Kheaw Whan" means "curry, green, sweet."I was nervous as I watched Jim add raw chicken breast slices to the bubbling coconut milk. Up to now he'd just been stir-frying – a process that went very quickly. What if he didn't cook the chicken long enough? How would I keep the kids from eating undercooked chicken without being rude? How could I get the chicken cooked all the way through without insulting our guest? But my fears were for nothing – again. You'd think I'd learn, wouldn't you? Jim simmered the chicken in the coconut milk, added mushrooms and simmered some more, added water and simmered more, stirred in the green curry paste and simmered even more. But the time he transferred the soup to a serving bowl and added the cilantro and jalapeño garnish I was feeling pretty silly about worrying.
As we took our places at the table I was amazed by the bounty spread in front of us. Not only did everything look and smell delicious, there was so much food! Somehow Jim had taken what Teacher and I thought was way too little food and turned it into a feast! We said grace and dug in. Yummmmmm! Everything was perfectly cooked and delicious with little to no heat – except for the Kaeng Kheaw Whan which ended up being too spicy for most of the kids. Little Guy drained his bowl of broth then gave a cry of surprise and rubbed his mouth vigorously. But that sure didn't stop him from eating it! When I discovered that the chicken and mushrooms weren't as spicy as the coconut milk broth I didn't give Little Guy any broth for his seconds… and thirds.
When we were all full I took stock of the leftovers. There was a scant quarter-cup of the pork/asparagus dish and lots of rice left; all of the other plates were totally empty. I never would have believed it, but it had been the perfect amount of food for all of us. Jim seemed very happy that we liked the meal so much, and proud of himself for cooking it. As we cleaned off the table he confided that he'd been very nervous since he hadn't cooked for other people ever before. I told him that he'd done such a good job he should start!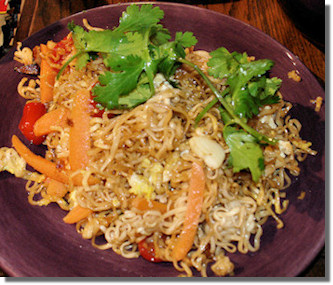 Cooked noodles with garlic – doesn't all that garlic look yummy? And the finished noodle dish. It was definitely one of the kids' favorites!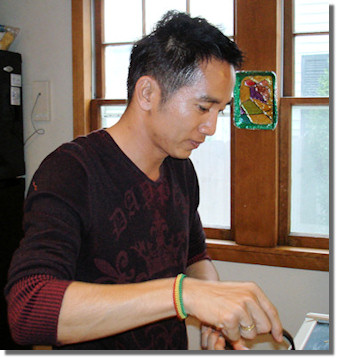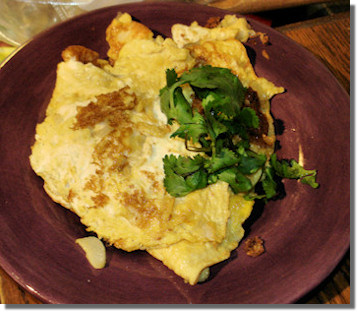 Here's Jim cooking the omelet, and the finished omelet – Thai style. The omelet was one of the boys' favorite dishes – they all love "eggies."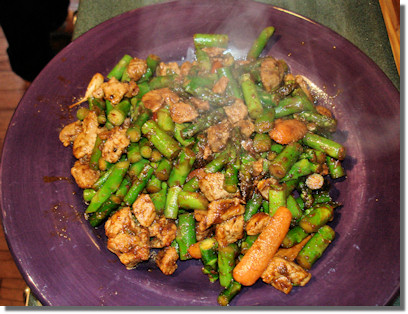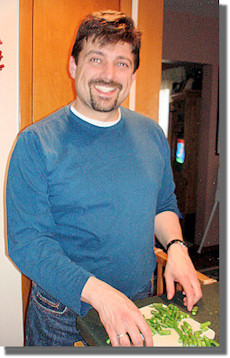 This is the pork and asparagus dish, and Teacher cutting the asparagus. All the kids except College Boy like asparagus, except some will only eat the stems and some will only eat the tops. They trade until everyone is happy – crazy kids!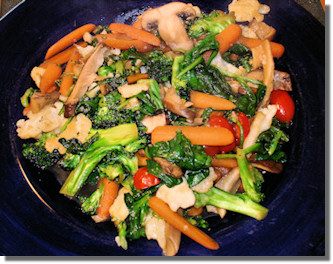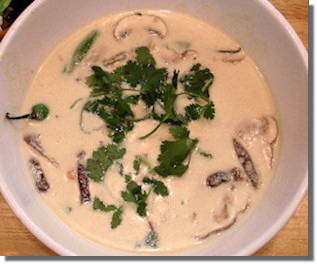 Jim's veggie dish and the Thai soup. The soup was a little spicy, but sweet and rich from the coconut milk. Delicious!