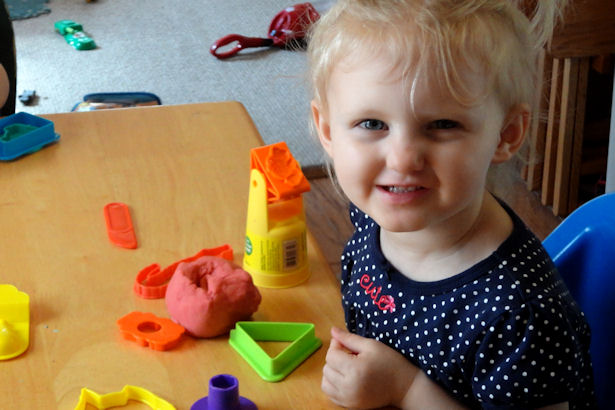 Have you ever noticed that children become more engrossed and spend longer periods of time with messy activities than clean ones?
Messy play is vitally important to children's development because it involves all of their senses, but you don't have to turn your backyard into a mud pit to provide messy play for your children – just make some play dough!
Homemade play dough is a fantastic messy activity for children. When a child plays with play dough she can see it, feel it, smell it, hear it, and – because it's homemade – even taste it!
Play dough provides many opportunities for learning:
It lets children express their feelings in an acceptable way. Feeling mad? Smack the play dough instead of your friends.
It provides a rich environment for language development. Children talk as they play – to themselves, each other, and to you.
It encourages small motor development and eye-hand coordination as they manipulate it.
It allows exploration of science and math concepts as children explore the properties of matter.
It fosters creativity and imagination, and allows children to express themselves artistically.
Learning can be expanded easily by adding materials like popsicle sticks, cookie cutters, wooden hammers, combs, rolling pins, Mr. Potato Head face pieces, cars and trucks, animals, small figures, and anything else you can think of!
Be sure to set clear guidelines before bringing out the play dough, or you may find yourself and your child elbow-deep in mush. Plastic placemats or shallow baking pans can be used to define play space. Demonstrate the proper way to use tools carefully so play dough pieces don't become projectiles. Have your child help clean up when playtime is over; even young children can put tools into a container for washing and ball up play dough pieces before placing them into an air-tight container for next time.
Don't wait for your child to dig up your flower bed before providing messy play – whip up a batch of play dough and let your child dig in!
Scented Play Dough
This play dough is easy to make, stays soft for a long time when stored in an air-tight container, and because it's made with food ingredients you don't have to worry if your little one decides to taste it!
1 package unsweetened Kool-Aid or .3oz package unsweetened Jello
2 1/2 cups flour
1/2 cup salt
1 tablespoon alum (optional)
1 3/4 cups water
3 tablespoons vegetable oil
Food color, if desired
Mix dry ingredients, including Kool-aid or Jello, together in a heavy pot.
In a separate container whisk the liquid ingredients together.
Pour liquid ingredients into dry ingredients and whisk together.
Cook over medium-high heat until a ball forms.
Let cool slightly then turn out onto a heat-safe surface and knead until smooth.
Store in an air-tight container.