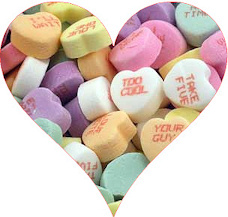 Teacher and I didn't have anything special planned for Valentine's Day, but it turned out to be a special day anyway.
The day started out wonderfully – for me at least. There was no Saturday Band so Teacher and I planned to sleep in… unfortunately the little boys had a different plan and got up early. But Teacher was a real sweetheart and got up with them so I could sleep more – what a guy! Eventually I dragged myself out of bed and soon Teacher, Little Guy and I were ready to run some errands.
First we stopped at the Pasty Koop for breakfast pasties. That's pah-stee like nasty, not pay-stee like hasty. If you say pay-stee you'll be talking about those tassle things strippers wear on their boobies; I doubt they'd make a good breakfast. The Pasty Koop makes egg/bacon/potato and egg/sausage/potato/green pepper breakfast pasties. Although I don't usually like green peppers I like the sausage ones best cuz they're spicy!
We started nibbling on the hot pasties as we drove to the Bargain Garden a couple of blocks away. The Bargain Garden is the resale shop where we take our "stuff." All the profits from the B.G. go to benefit our kids' high school, FVL. Can't beat that! While Teacher took the bags in I sat next to Little Guy and fed him bacon pasty. "Yum!" he said, opening his mouth wide for bites.
After a quick stop at my favorite coffee place, Jo to Go, we flew through Babies R Us and Joann's, and ended up in Penzey's Spices. Little Guy was an absolute jewel, holding Teacher's or my hand in the first two stores and walking next us nicely as can be. But by the time we got to Penzey's he'd used up all his patience and started running around the displays calling "Roun' an' roun'! Roun' an' roun'! Roun' an' roun'!" He's really big into circles right now – he points to anything circular and moves his finger in a circle crying "Circle! Roun' an' roun'! Roun' an' roun'!" We distracted him from running roun' and roun' with paper and crayons available on a little spice-crate table. While Teacher shopped Little Guy colored "roun' and roun'" all over his paper, naming each color as he picked it from the basket.
On the way home from Penzey's we grabbed McDonalds for the kids' lunch. Little Guy knows those Golden Arches and was very excited when he saw them. He pointed and said "Yummy! Fresh Fry! Choc'ate M-milk!" We dropped off lunch and Little Guy, leaving Princess and Angel Face in charge so we could grab a Valentine's Day lunch at our favorite Mexican restaurant: Solea. Caution, turn down your sound before you follow the link to Solea!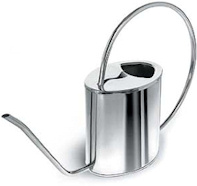 On the way to Solea Teacher took a detour to another of our favorite places: The Wreath Factory. I'm addicted to wreaths and have one in almost every room of the house, including the downstairs bathroom. You should try a Eucalyptus wreath in your bathroom – it smells much better than the usual bathroom smells. Our Wreath Factory is located in two old-fashioned downtown storefronts that are in separate buildings so you have to walk through a little courtyard between the buildings to get from one to the other. There's a decorative brick path through the courtyard and twinkle lights in all the trees which gives it a magical feel. We took our time browsing – you have to because there are so many treasures that you can look at the same wall three times and see something new every time. Teacher offered to get me a Valentine's gift if I saw something I wanted… and I did! There it was, peeking out from between two silk plants on the bottom shelf of a dry sink: a shiny silver watering can. I've wanted an indoor watering can for years but never found one I liked until now. I grinned from ear to ear and did a little happy dance as Teacher purchased that watering can. Yeah, I know I'm a dork, but I don't care – I finally have a watering can!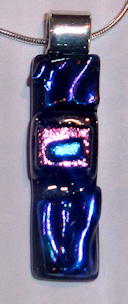 As we were checking out the Wreath Factory guy told us about a fused glass studio just a few doors down: Wild Apple Studio and Gallery. He said that the glass artist makes amazing things with recycled glass, and that the current exhibitor, Melvin McGee, does paintings in a Dr. Seuss-like style. We were intrigued by both so we had to stop in for a peek. The paintings were gorgeous; brightly colored, whimsical, and very fun, but it was the glass cases filled with colorful jewelry that caught my eye. "What do you see?" Teacher asked. I pointed out a couple of necklaces and he said "Go ahead and pick one." Yippee!! It was difficult to choose between the green with purple and the iridescent blue, but my love of all things shiny and sparkly asserted itself and I chose the blue. Two Valentine's Day presents – I am so spoiled! Actually I'm very lucky to be married to such a wonderful man.
By this time we were both hungry so we took off for Solea. One of the things I love most about Solea is that it's tiny – I've seen gas stations that are bigger than this restaurant – and the people are so friendly. As soon as we stepped inside the bartender said "Welcome, my friends!" and one of the servers asked "Two, my friends?" I love that they call us "my friends" as in "Are you ready to order, my friends? How is everything, my friends? Ready for dessert, my friends?" Even though I know they say that to everyone I still get warm fuzzies inside. As we were seated another server brought warm chips, salsa, bean dip, and menus. "Something to drink, my friends?" We had to order margaritas (on the rocks) – they have the BEST margaritas I've ever had. Except for Teacher's; he makes killer margaritas! Once I watched the bartender to try and get a peek at what "mix" they use, but they have their margaritas premixed in a huge blue crock on the bar so I was out of luck. We didn't have to study the menus long to make up our minds: enchilada trio for me (chicken with mole sauce, beef with tomatillo sauce, and ground beef with red sauce) and chicken enchiladas with chipotle sauce for Teacher. Yummmmm!!! After all the chips and salsa we'd munched we could only eat about half of our enchiladas, refried beans and Spanish rice. Sadly, we had no room at all for dessert.
By the time were were finished eating it was around 3:00 and I was feeling pangs of guilt for leaving the girls in charge all day so we headed home. The little boys were quickly tucked into bed for late naps, laundry was started, and we got back into our regular Saturday afternoon routine.
The Valentine's day that started out with "nothing special" planned ended up to be very special after all, and the best thing was that Teacher and I were able to spend some time alone together – something we don't get to do very often. What a fantastic Valentine's Day!