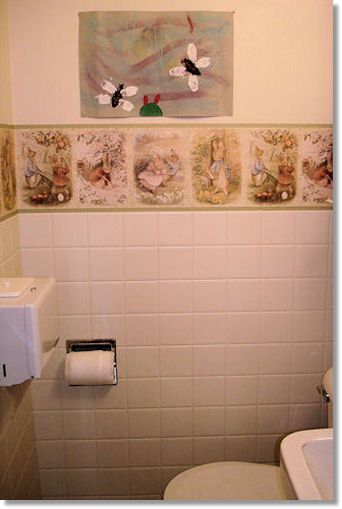 This is our main floor bathroom. Actually it's a closet disguised as a bathroom. I've seen airplane bathrooms bigger than our 3″ x 3 1/2″ cubbyhole! But the small size does have its advantages – you can clean all the walls, the floor and wash your hands in the sink all without getting off the toilet. Trust me, I oughta know. Like the art? Jo-Bear painted it in First Grade and it's been hanging in the bathroom ever since. I love hanging my kids' art all around the house.
When we bought the house the bathroom was painted glossy white with U-G-L-Y plastic tiles on the walls and institutional linoleum tile on the floor. After painting the walls and plastic tile a nice cream color we installed stick-down tiles on the floor. We used stick-downs because they were quick and easy, and looked better than what had been there. What we didn't realize was how kids regularly peeing on the floor and washing their hands a thousand times a day would affect the tiles. My spilling 5 gallons of vinegar water while washing the floor probably didn't help either. After almost 10 years of being flooded with any number of liquids the tiles started getting un-stuck and all manner of nasty liquids found their way underneath. Then the bathroom started smelling all manner of nasty – no matter how often I cleaned it or what I cleaned it with.
Teacher and I had been talking about redoing the bathroom for a while but never had both time and money at the same time. You know how it is: when you have the time you don't have the money and when you have the money you don't have the time. Finally this summer everything came together and we set aside Fourth of July weekend to work on the bathroom.
The weekend before Fourth of July Teacher and I took a trip to Home Depot to check out flooring. We wanted something easy to clean that would hold up to high traffic and look nice… tile was the ticket! After spending an eternity comparing tile color, texture and material we finally found the perfect ones and purchased samples to bring home. We were on our way to a new bathroom!
To be continued…