The daycare was closed July 3 & 4 so we planned to tear apart the bathroom Wednesday night. Teacher started peeling tiles off the walls as the last daycare child and mom were walking out to their car. My Dad came over right after they left, carrying a bottle of Diet Pepsi. You can always tell when my Dad is planning to work because he'll be wearing a tattered t-shirt, paint-spattered jeans, and carrying a bottle of Diet Pepsi. When I was a kid he drank iced tea when he worked and I was his official iced tea maker. I knew the exact amount of water, instant tea and ice cubes to make it the way he liked. He must have switched to soda after I moved out because no-one else could make iced tea as well as I did. Or maybe he just got sick of iced tea. Personally I think it's cuz I made it best. But I digress…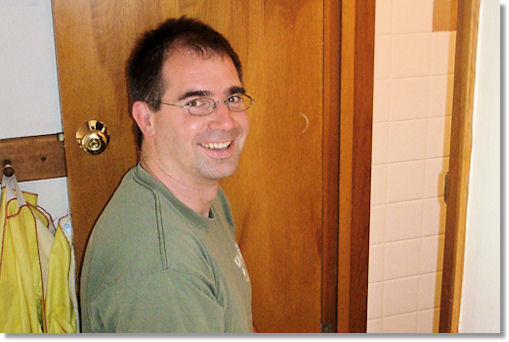 Uncle Jay showed up to help too. He looks awfully excited about ripping apart the bathroom, doesn't he? He's still single ladies – handsome, good job, cute house, very funny, loves kids, buys flowers for no reason, he'd make a great boyfriend!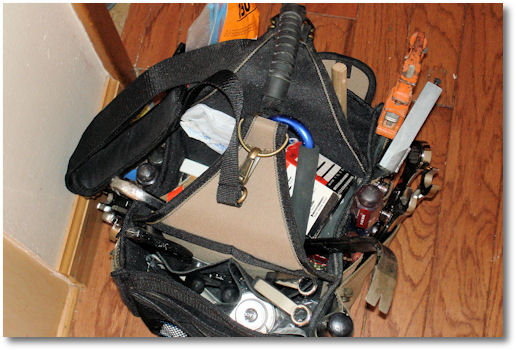 Uncle Jay doesn't bring soda when he comes to work, he brings his tools. He's got some serious tools – you tell his favorite store is Sears. I don't even know what half of those things are, but they sure look like trouble!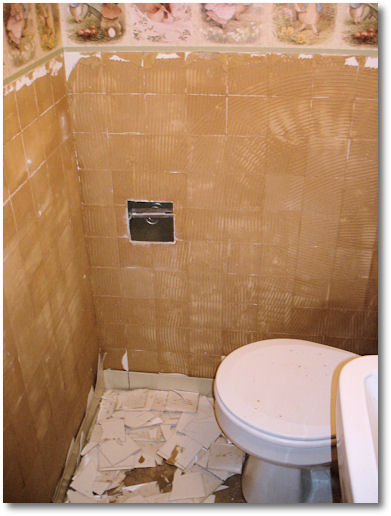 Lookie – nekkid walls! It wasn't long before the tiles were history, woo hoo! Yeah, I'm a little excited about this project. Can you tell? Z-Man and I cleaned up the mess while the men ran to the hardware store. He was so proud to be working like the big guys!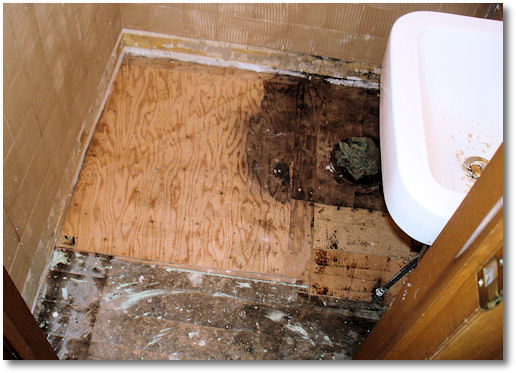 Oh yuck – that is just really gross. Moving on quickly…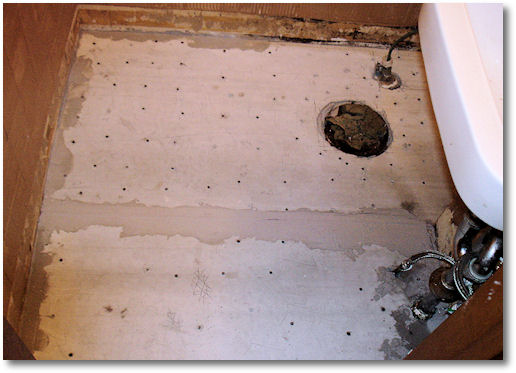 Ahhh, much better! The sewer hole is still pretty ewwwey, but the new subfloor looks nice and clean. Almost clean enough to eat off! …Well, maybe not THAT clean.
After finishing the new subfloor they removed the sink and completed the Destruction Phase. On to Reconstruction!