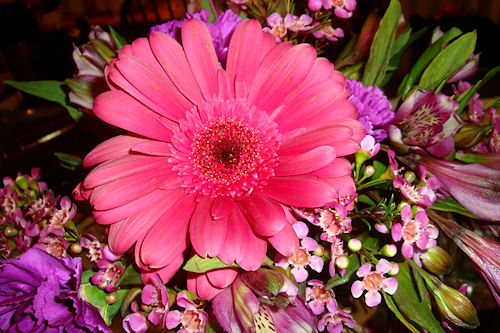 One of the ways we planned to save money was to make our own flowers for the wedding. Irish Girl used to babysit for a florist and would help out during prom season so she volunteered to head up the flower-making. All Princess and I had to do was choose and order the flowers.
That's easier said than done.
Although I absolutely love flowers, I'm totally out of my depth when it comes to choosing ones that will hole up, arranging them, or deciding how many we'd need for the wedding.
Princess searched online for purple and white flowers while I looked for examples of boutonnieres and corsages. Before the wedding I didn't know how to spell "boutonnieres" but I sure do now! Princess was very open to suggestions and only had two requests: she didn't want a lot of roses because they were "too trite" and she wanted lilies in her bouquet. I'm lucky she's so easy-going!
We visited the florist several times to look at flowers "in person" and I had numerous phone conversations with Lisa the manager, who was very patient with me. We were caught in a vicious circle: she couldn't advise how many to order because she didn't know what we had in mind. To be honest, I didn't know exactly what we had in mind either – I planned on figuring it out once the flowers were in front of us. In order to have the flowers in front of us I had to place an order, and I didn't know how many to order… and so it went.
To make things more difficult, some flowers, like carnations, had only one bloom per stem while others, like lilies, could have two to four blooms per stem. Some flowers were sold by the stem while others were sold by the bunch, and they couldn't tell me how much was in a bunch, it was just "a bunch."
Do you think we'll need one or two bunches of wax flowers for four bouquets and 23 corsages?" I asked.
"I don't know, it depends on how big your bouquets and and how much you use in each corsage."
"I don't know how big they'll be yet – it'll depend on how many flowers we have…
The poor woman. I hope she didn't bang her head against the wall when she got off the phone.
Finally I took a shot in the dark and hoped we would have enough of everything. I figured we could make the tossing and altar bouquets last because they didn't have to match anything, and College Boy could run to the florist for white flowers if necessary.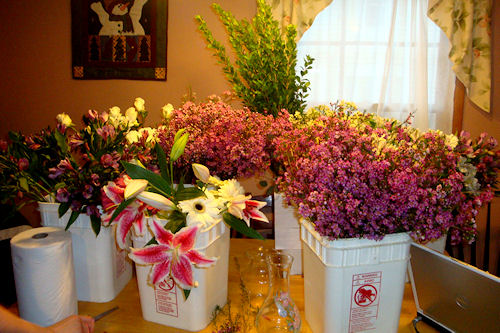 When College Boy brought the flowers home I breathed a sigh of relief – we'd definitely have enough! Since none of the Asiatic lilies had opened Lisa threw in some Stargazer lilies just in case. I guess I didn't drive her totally nuts.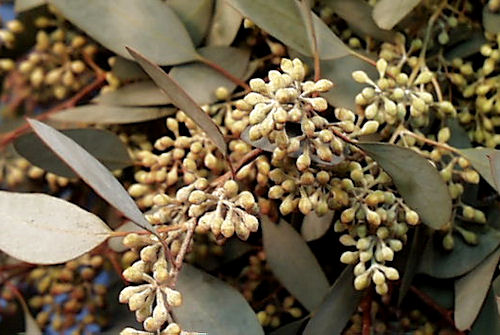 Princess had wanted seeded eucalyptus in all the flowers, but my mom is allergic to eucalyptus so Princess decided to use it just for the wedding party.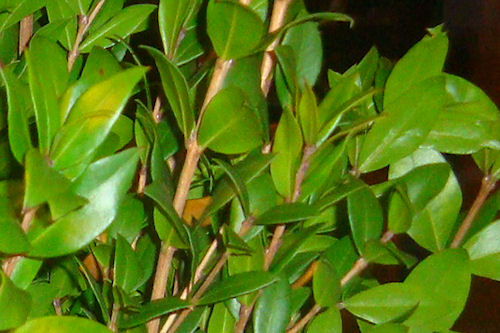 We had no idea what greenery to get for the rest of the flowers so when Lisa suggested myrtle I went with it, even though I didn't know what myrtle looked like. I'm not sure if that's trust or stupidity, but it worked out OK.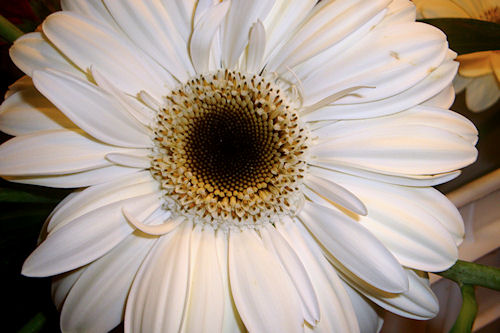 Princess found white gerber daisies with black centers online and fell in love with them. That's my girl – gerber daisies are some of my all-time favorite flowers. One of the girls at the florist didn't think they could get a pure white gerber but Lisa pulled through again. We got purple ones for the bridesmaid's bouquets.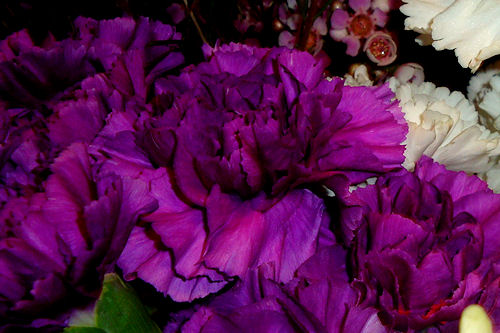 The wedding party had purple carnations in their bouquets or boutonnieres. I was worried that the purple carnations would be more pink than purple, but these were perfect.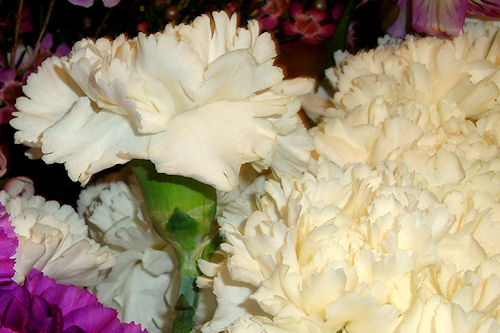 We planned for Princess's bouquet to include white carnations, and use them for the non-wedding-party corsages and boutonnieres. I ordered a few extra in case some broke, and figured if none did we could use them in the tossing and altar bouquets.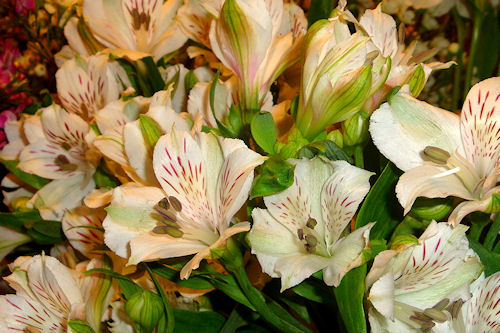 One of Princess all-time favorite flowers is alstromeria Another word I wasn't able to spell a month ago! so we got white alstromeria for Cowboy's boutonniere and her bouquet. We'd originally wanted to use purple alstromeria in all the corsages and boutonnieres but Lisa said it wouldn't hold up so we used wax flower instead.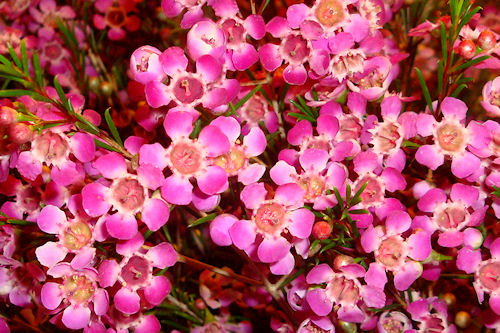 I ordered two bunches of wax flower to make sure we wouldn't run out. At first Lisa didn't think she could get purple so I said fuschia would be OK, hoping that putting it in blue water would turn it purple – kind of like the celery in food coloring experiment we all did in grade school. Fortunately Lisa located some, and seeing how bright the purple is I'm glad we didn't end up with fuschia!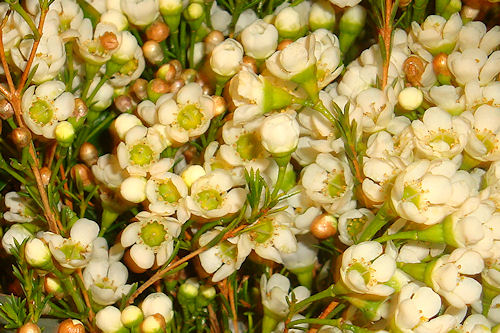 We planned to use white wax flower in Princess and Cowboy's flowers, but ended up using it in other places too. Wax flower is very pretty, and easy to work with, but it smells like Murphy's Oil Soap when the greenery is stripped off.
When we were in St. Louis we lived in a post-WWII apartment with tons of character, including weathered hardwood floors. Unfortunately along with the character the apartment had cockroaches, so each Saturday I mopped the floors with Murphy's Oil Soap. Since then every time I smell Murphy's my brain makes the connection with cockroaches. I'm not crazy about the smell of Murphy's Oil Soap anymore.
But I digress…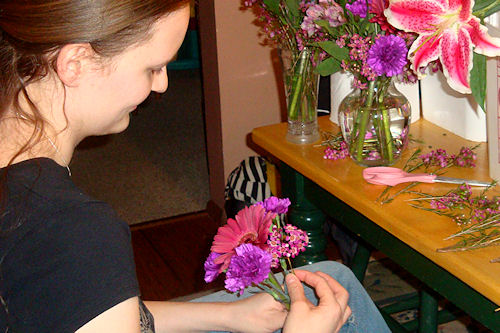 I thought we would start on flowers right away on Wednesday, but Irish Girl wanted to wait until Thursday afternoon so they'd stay fresher. I was worried that we'd run out of time since the wedding was Friday night, but she seemed confident so followed her advice. After putting the boys down for a nap Thursday afternoon I started on corsage bows while she started on the bridesmaid's bouquets.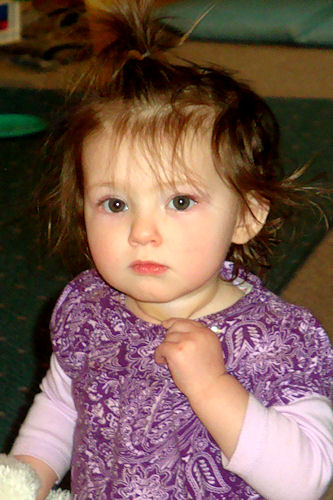 Peanut wanted to help but she and Princess were going to Cowboy's house to get ready for the ceremony. Dont' worry, Cowboy and the rest of the guys weren't there – they were at his grandpa's house. Maybe next time, sweetie!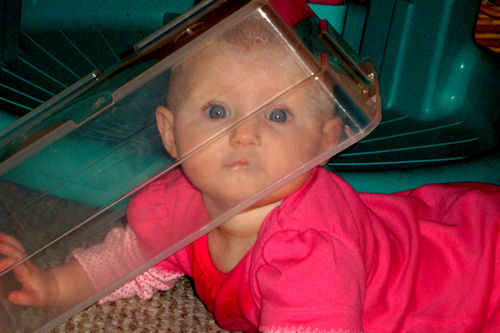 College Boy was on "Love Bug Duty" which she made it easy for him by amusing herself with a plastic container. She loved talking to herself as she peeked out the side and kicked her little legs.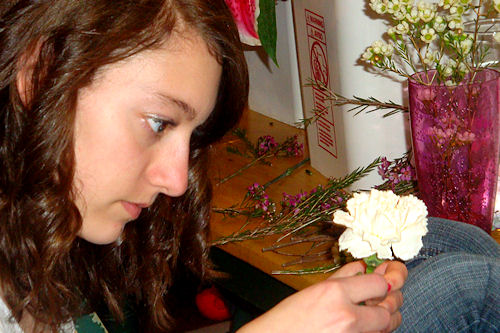 Angel Face caught on to the whole wiring and taping thing right away and got to work on carnations. We made things easier by using the same flowers for all the non-wedding-party corsages and boutonnieres: white carnation, purple wax flowers, and myrtle.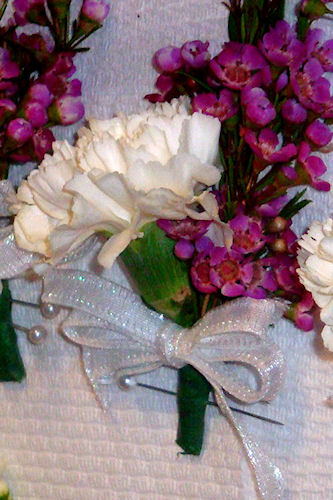 To distinguish between corsage and boutonniere we cut the wax flowers longer and used more of them then added a white iridescent bow to the corsages.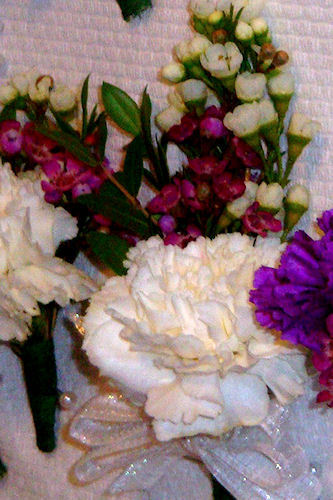 We added white wax flower to the parents' flowers to make them just a little more special. I don't know if anyone noticed, but at least we knew.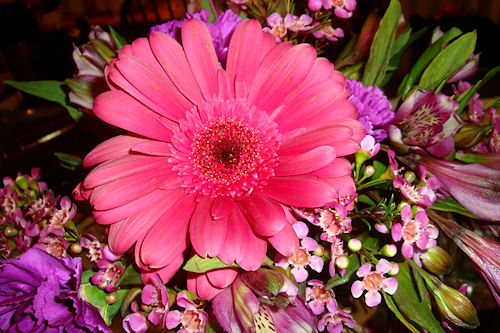 Just like each of the bridesmaid's dresses are different, each of their bouquets are a little different. I love how "natural" they look, and how all purples are different yet complementary.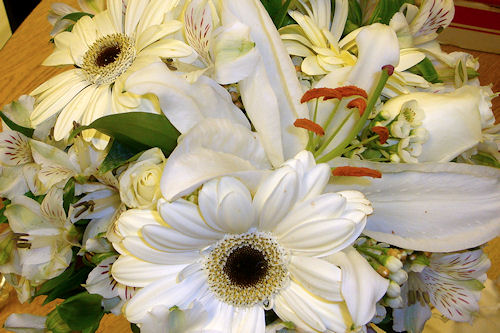 Irish Girl made Princess's bouquet late Friday morning so it would be very fresh. I think it's as beautiful as anything you'd get from a florist. Irish Girl did a fantastic job!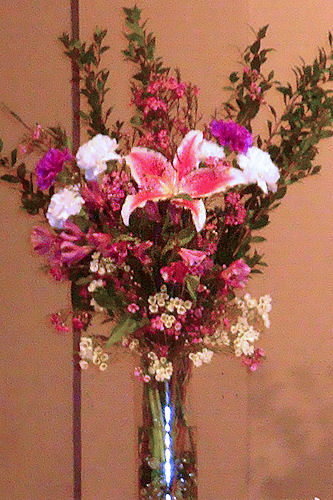 At the rehearsal the night before we decided that the altar needed two bouquets so Irish Girl divided the leftover flowers into groups: one for each altar bouquet and one for everything else. As she snipped each stem to the right length the rest of us removed all the greens from the bottom part of each stem. Little by little the bouquets took shape, and I was amazed by how beautiful they were – again just as lovely as if they'd come from a florist.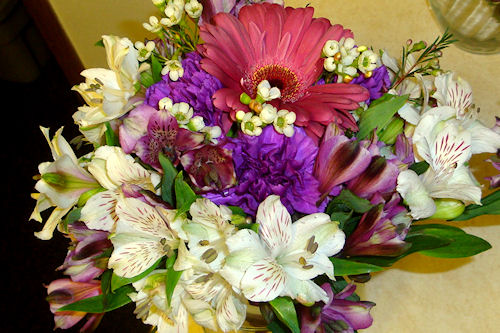 As Irish Girl finished the bouquets I put together a tossing bouquet with the last of the flowers. Originally we'd planned to use silk flowers so the bouquet wouldn't fall apart when it was tossed and caught, but the more Teacher and I looked at silk flowers the more I didn't like the idea. I think it turned out nicely despite my lack of experience.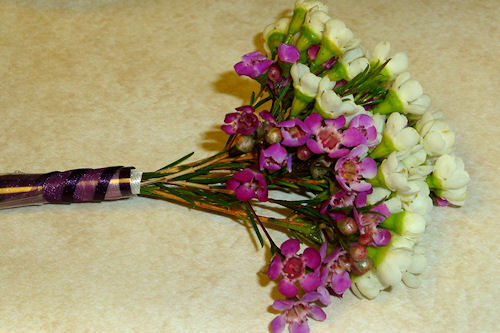 Finally I put together a little "tussie mussie" for flower girl Peanut to hold as she was carried up the aisle. We were done with flowers!
And not a moment too soon – it's time to get dressed for the wedding!