You know those family recipes that you aren't sure where they came from or what their real name is? This is one of those kinds of recipes.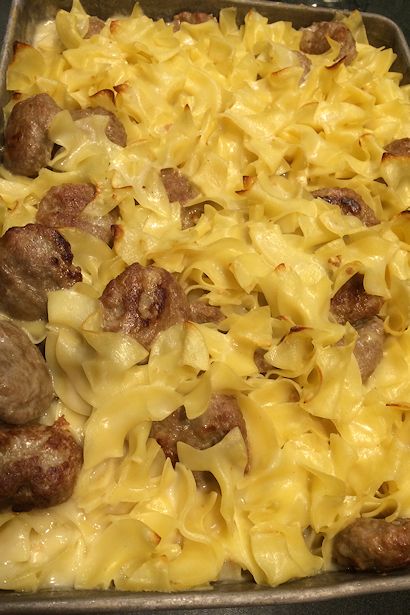 I grew up on Big Meat Bake Dish. It was such a staple in my family when I was growing up that I can't remember the first time my mom made it. I wouldn't be surprised to find out that it was one of the first foods I ate after graduating from baby food.
Everyone in my family loves Big Meat Bake Dish, but no-one loves it as much as Uncle Jay does; Big Meat Bake Dish has been his #1 all-time favorite for as long as I can remember. Maybe HE was the one weaned from strained peas to Big Meat Baked Dish! I think it used to have another name but it was renamed Big Meat Bake Dish in my family because little Jay would ask Mom to make "That bake dish with the big meats in it."
And this is how family recipes come to be.
Big Meat Bake Dish – in Pictures
Like most of the recipes I make, Big Meat Bake Dish is quick and easy. At our house, Teacher makes the complicated stuff and I make "kid food" – stuff that's so easy a kid could make it. Since most of the ingredients are usually stocked in the average pantry it's a great back-up meal for the nights that you forgot a major ingredient for your recipe, or don't feel like making what's on the menu.
Big Meat Bake Dish Ingredients
You just need a handful of basic ingredients to make Big Meat Bake Dish. We always make a double recipe so you'll probably need to cut down from what you see here if your family eats less than mine, or plan to have lots of leftovers.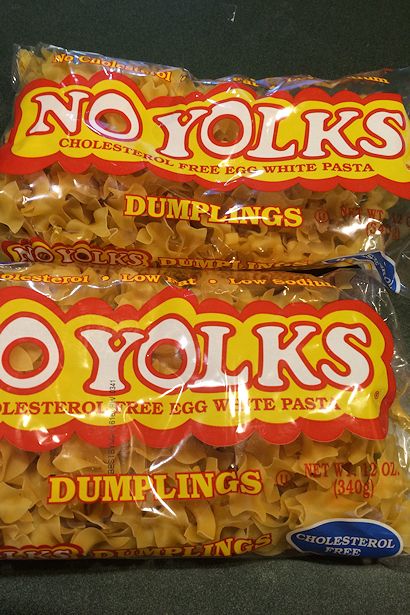 We usually buy whole wheat or organic pasta, but our grocery store doesn't have organic or whole wheat egg noodles. Boo!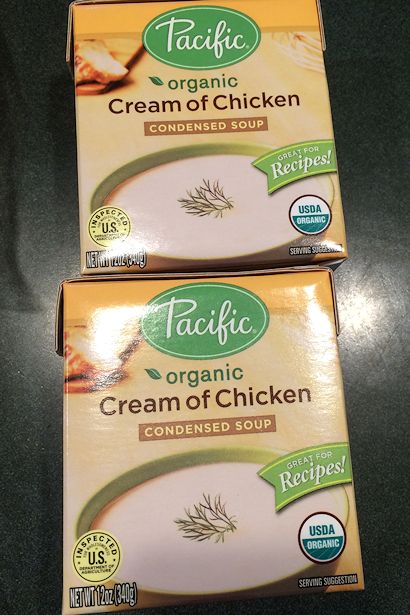 We were so excited when our grocery store finally started carrying organic condensed soups! Now if they'd just come up with an organic skim milk version…
If you're not into organic, spend the few extra cents to spring for Campbells instead of a generic. The Bake Dish will taste so much better and have a nicer consistency. Yes, this is the voice of experience talking.
My mom always used Medium Cheddar, but we can only get Mild and Sharp in organic so we combine the two. It averages out to Medium, right?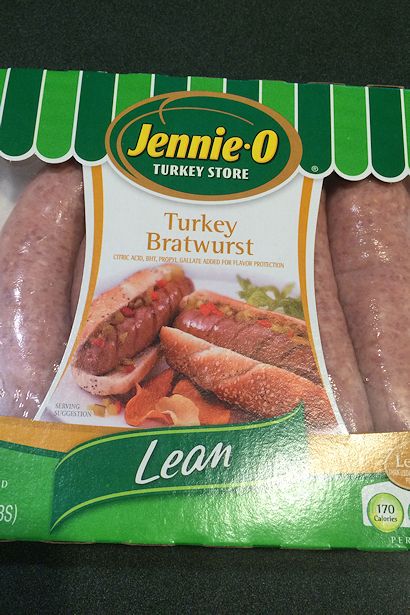 Mom used pork brats, but we do turkey because Angel Face doesn't eat pork and Little Guy likes turkey better than pork. I actually do too, because turkey is less greasy, but don't tell anyone or they'll take away my Wisconsin card!
Uncle Jay sometimes buys precooked brat patties to save time, and says they're almost as good as when you make them yourself. Keep a package in your freezer and it'll take even less time to get Big Meat Bake Dish on the table.
Big Meat Bake Dish Directions
Fill a big pot with water and put it on the stove over high heat to boil. I didn't take a photo because I know you can do it without a picture.
When the water boils add the noodles and cook according to the package directions.
While you're waiting for the water to boil…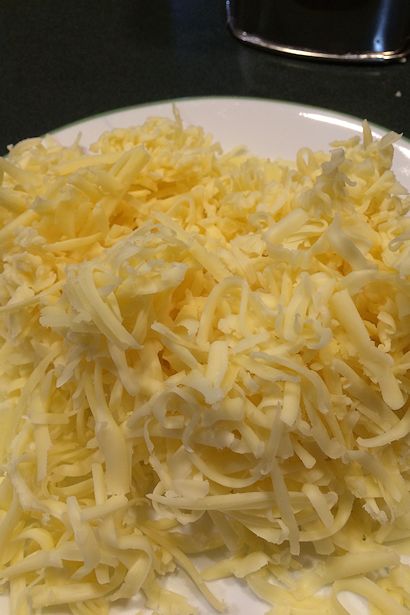 Shred the cheese. I think the original recipe called for 1 cup of cheese, but that's never enough for us me. We used both blocks for our double recipe.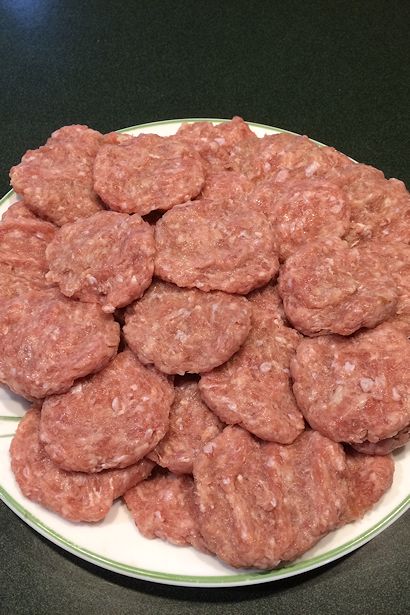 Remove the brat skins and form the meat into small patties.
To do this I grasp the middle of a brat with the index finger and thumb of both hands, twist to "cut" the meat, then slowly squeeze the meat out the holes in each end of the skin. It usually works better to hold on to one half and squeeze the meat out of the other end, then wrap the empty skin around a finger so it doesn't slip out of your hands and squeeze the meat out of the other end.
I divide each section of meat in half and squish it between my palms to form a patty. This way I get 4 patties per brat.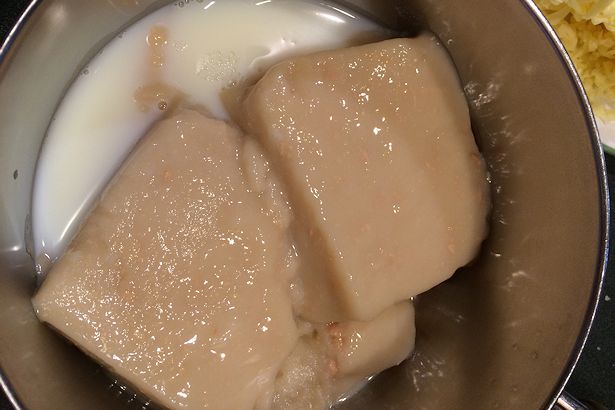 Whisk together the Cream of Chicken soup and about 1/2 cup of milk. I use skim milk to reduce the fat a little, but don't tell my kids or they won't eat it! Heat on medium until simmering, stirring frequently so it doesn't burn on the bottom. Yes, I know it looks nasty now, but it'll taste yummy – I promise!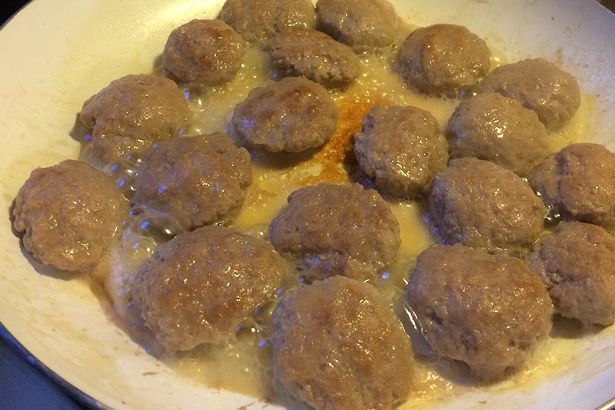 While the soup and milk mixture is heating and the noodles are cooking, fry the brat patties in a large frying pan. Be sure to cook them thoroughly. And don't forget to stir the soup mixture!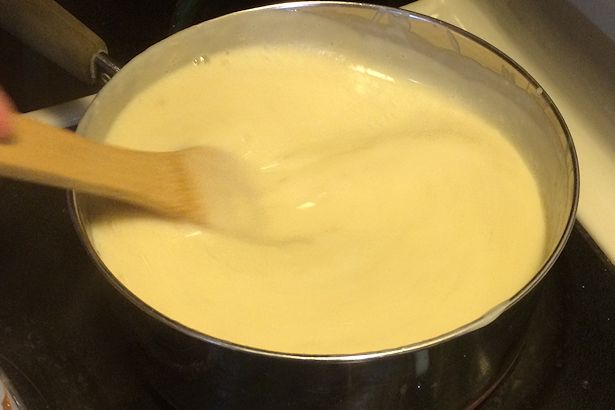 When the soup mixture is simmering, reduce the heat and gradually stir in the shredded cheese a little at a time. Remove from heat when the cheese is fully melted and the sauce is smooth.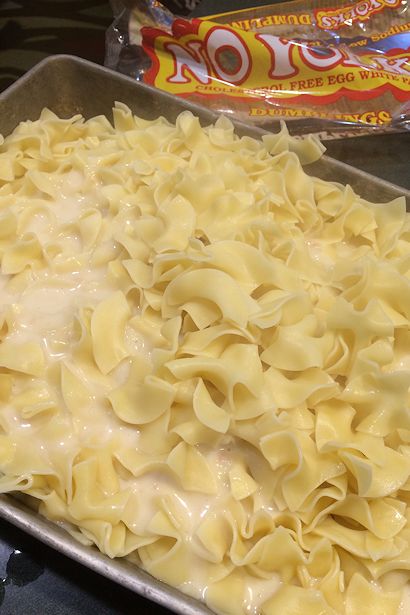 Place the brat patties in the bottom of a baking pan, add the noodles, then pour the sauce over the top. Stir to combine.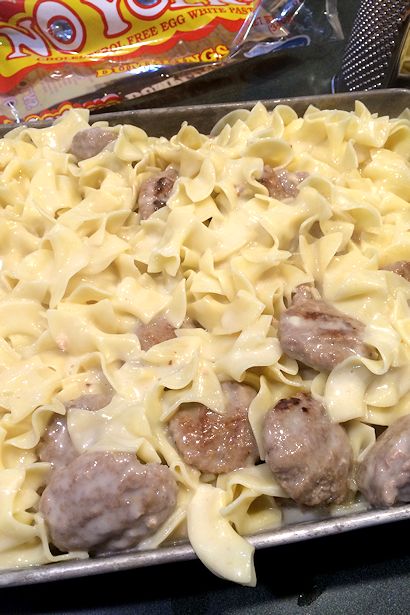 Place the Big Meat Bake Dish in a 350° oven and bake for about 30 minutes, or until the sauce has thickened and the top layer of noodles begin to brown.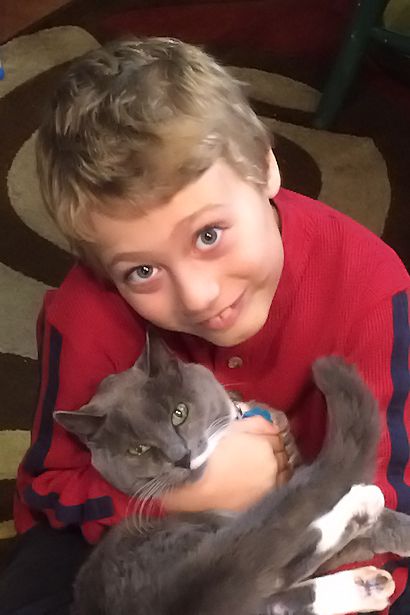 Little Guy decided to cuddle Kippy while the Big Meat Bake Dish was baking. Kippy didn't mind – he purred so loudly I could hear him across the room.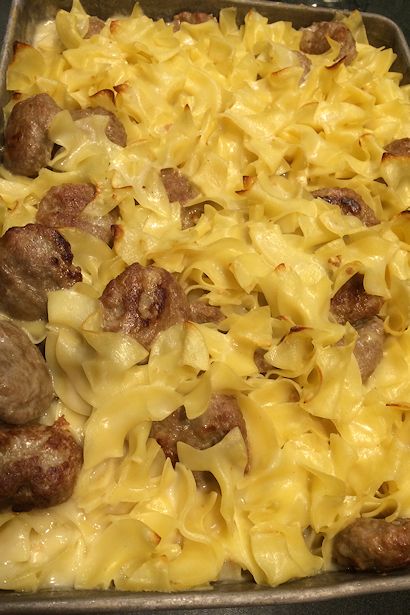 After 30 minutes, remove from the oven and enjoy!
Sometimes we like to sprinkle a little extra cheese on the top of the Big Meat Bake Dish before baking it. When you live in Wisconsin there's no such thing as too much cheese!
Big Meat Bake Dish – Official Recipe
WAIT!
Before you get to the official recipe, I have a disclaimer to make: I learned to cook from my mom, who rarely measures anything and seldom follows a recipe exactly. Instead, she cooks by intuition; adding more of this or that depending on the way it looks or tastes. Any "recipe" from her is more a guideline than an actual by-the-book recipe, so feel free to adapt the Big Meat Bake Dish recipe to your own tastes – she would definitely approve.
Here is the recipe exactly as I got it from my mom…
1 lb brats, removed from skins, flattened and browned.
1/2 pkg noodles, cooked and drained.
Combine meat and noodles in greased casserole.
In saucepan, heat and stir: 1 can cream of chicken soup, 1/2 cup cheese (I use more), some milk (1/4 – 1/2 cup).
Heat and stir until cheese melts and sauce is smooth.
Pour over meat and noodles. Mix gently. Bake at 350° about 45 minutes.
I hope you'll try Big Meat Bake Dish with your family some night. And if you do, be sure to comment below and let me know what you think of it! I'll bet you can even come up with some really yummy variations too…
Happy eating!