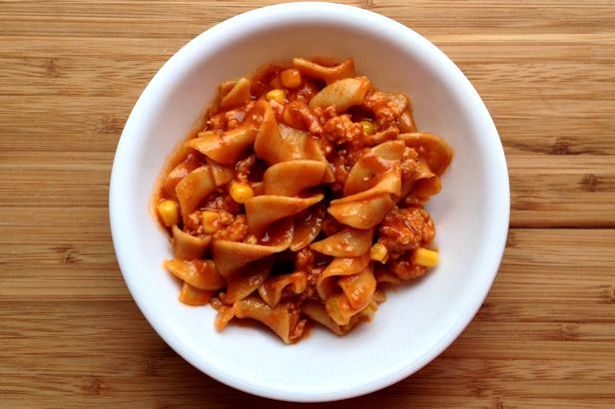 If you've ever tried to feed a kid you know it's no easy task! Kids' tastes can change from day to day and moment to moment. One day they can't stand to have a bowl of peas on the dinner table, and the next day they're eating peas like their little lives depend on it.
What's a mom to do?
Campbells to the rescue!
Yes, Campbells the soup company.
For more than 144 years Campbell Soup Company has been making meals both delicious and fun.
Yes, FUN!
Did you know that every can of Campbell's Chicken Noodle soup has 32 feet of noodles just waiting to be slurped? I sure didn't. Did you know that Campbell's Tomato soup is perfect for kids and adults who like to dunk and/or get creative with toppings? That, I knew.
Campbells – with the help of The Wisest Kid in the Whole World™ – has kicked it up a notch to offer delicious recipes your kids won't be able to refuse. Mini Chicken Pot Pies… Easy Chicken and Cheese Enchiladas… Pepperoni White Pizza Skillet… Yum!
Visit the Wisest Kid in the Whole World™ at WisestKid.com for fun, quick meal ideas your kids will love. You can also see all of the soup varieties featuring your kids' favorite characters like Super Mario and Phineas & Ferb, and discover fun new topping and sandwich ideas for your Tomato soup.
Speaking of Tomato soup…
Tomato soup has always been my favorite. Usually I like it best with grilled cheese to dunk in it, but my Mom used to make a Tomato Soup Casserole that my brothers and I loved.
My mom made a lot of casseroles when my brothers and I were kids because casseroles were quick and easy to whip up after a long day of teaching, she could easily stretch them if one of us kids brought a friend home for dinner, and they filled up my brother's "hollow legs" better than other foods.
Like most of my mom's recipes, this one gives general guidelines for ingredients but you can adjust amounts to your own taste; you can make it more meaty or more noodle-y, more spicy or not spicy at all. The original recipe gives the option of adding peas instead of corn, but I've never had it that way so peas would just taste wrong to me. You do what you want though – I won't judge!
Campbells Tomato Soup Casserole
Ingredients:
1 lb ground beef I used ground turkey
1 can Campbells Tomato soup
1 small can tomato sauce
Water
3/4 – 1 package egg noodles I used whole wheat noodles
1/2 – 3/4 Cup frozen corn
Pinch of dried, minced onion
Salt and pepper to taste
Chili powder, optional
Directions:
In an electric frying pan or large frying pan on the stove, brown the ground beef or turkey. Drain if needed.
Add the Tomato soup, tomato sauce, dried minced onion, salt pepper, chili powder if used, and enough water to make it "quite soupy." Bring to a boil.
Add the noodles and reduce heat to a simmer
Simmer until the noodles are tender, about 25-30 minutes, adding water if needed. Stir often, scraping the bottom of the pan.
Add corn and heat thoroughly.
While you're waiting for the noodles to cook, why not try out the Wisest Kid widget?

We all love sharing things about our kids – from pictures to funny things they do – and the Wisest Kid widget is a fun way to share the "wise" things your kids say. It's super easy – try it now, then visit
WisestKid.com
to discover the "wise" things other kids are saying.