I thought I'd awaken groggy and bleary-eyed at 3am Friday morning, but an overabundance of adrenaline and worry that I'd forgotten to pack had me bouncing staggering out of bed more awake than I'd anticipated.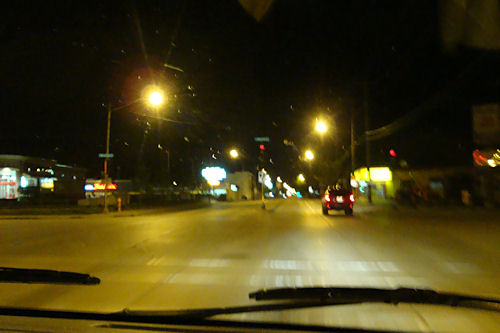 At 3:45 am the streets in my town are dark and quiet. My camera isn't a "morning person" either and didn't want to focus; you should see the shots I deleted.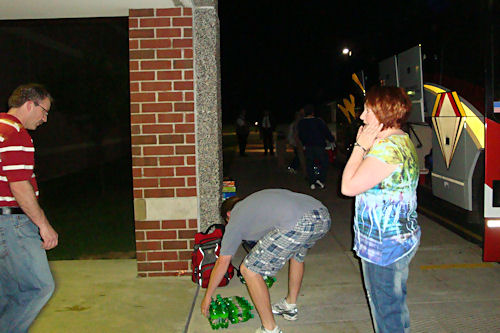 The first order of business is claiming a seat on the bus. We used to have assigned seats but last year they let the kids pick their own seats and it worked out OK. Not surprisingly the boys ended up in the far back, the girls in the middle, and the adults in the front.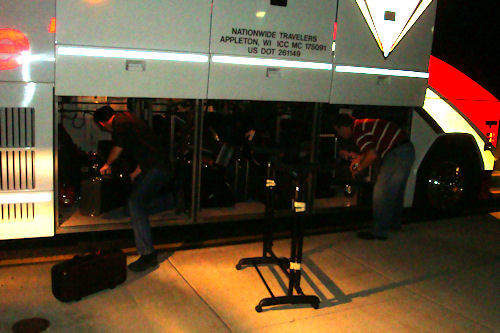 After claiming a seat it was time to wait in the commons for everyone to arrive. While we were waiting the official Bus Loaders packed the luggage under one bus and instruments and snackies! under the other bus.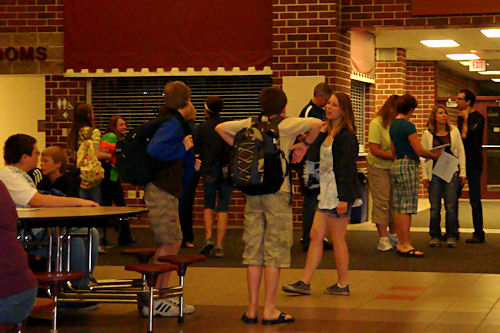 This year everyone arrived on time so we didn't need to make any phone calls. The kids were both sleepy and excited about the trip. The adults were mainly sleepy.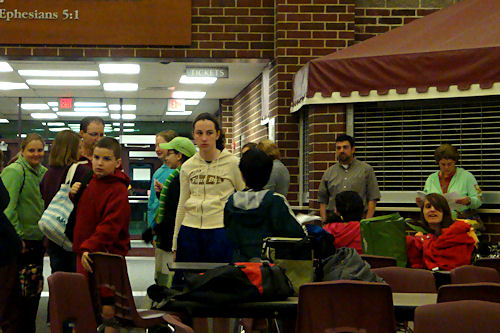 There's my honey across the Commons! XOXOHe's one of the Bus Loaders again this year, so if he's inside it means the buses are all packed and ready to go.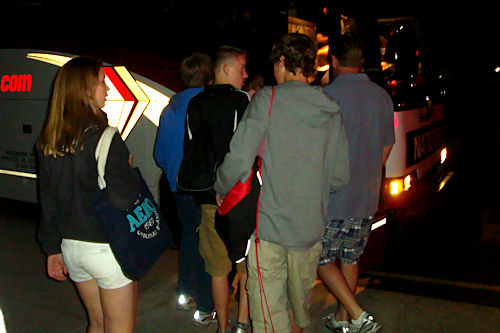 After a brief devotion and last-minute announcements it's time to go. Oops! I just realized I forgot my pillow. Bummer!
It's OK, I'm a big girl; I'll survive.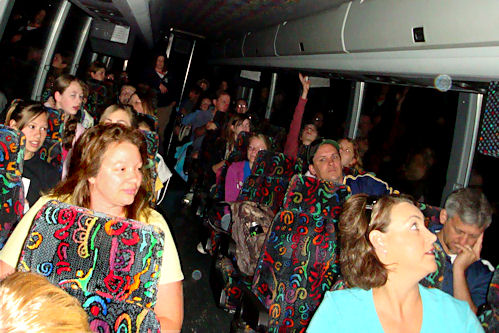 This was on of those "hold the camera over your head and take a photo in the dark" pictures that we all loved taking at camp and sleepovers. Is everyone ready to go?
"Good morning everyone, I hope you're ready for a great trip this weekend! As we get started I'd like to remind you that we are guests on this coach and need to act as such. Please be sure to keep your area cleaned up; I will send back the garbage can every so often to help with that. I am the "Bus Nazi" and will NOT be cleaning up hour messes – neither will the driver or the chaperones. When we get to a destination you will be allowed to leave the bus when your area is clean; chaperones, please keep an eye on your your squad's area. Thank you."
The bus driver loved me for that.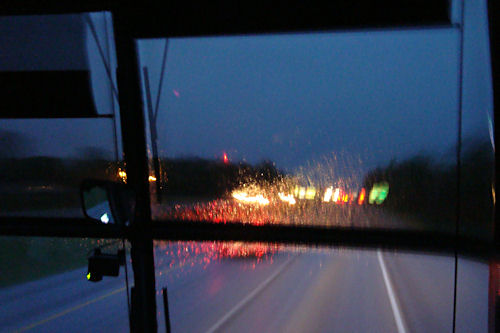 At 5:00 am we've been on the road for about half an hour. It's still dark our, and beginning to rain. I sure hope it's not raining in Chicago; the first year I went on the trip it rained and was totally miserable all day Friday.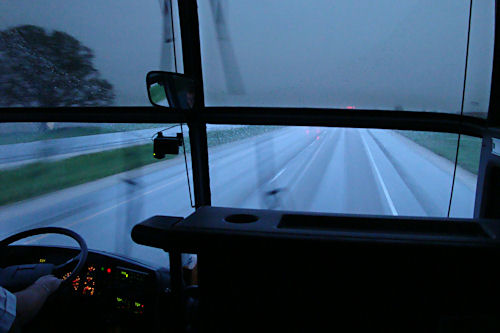 By 5:45 am it's beginning to get lighter, but the rain hasn't let up a bit. Rain, rain go away!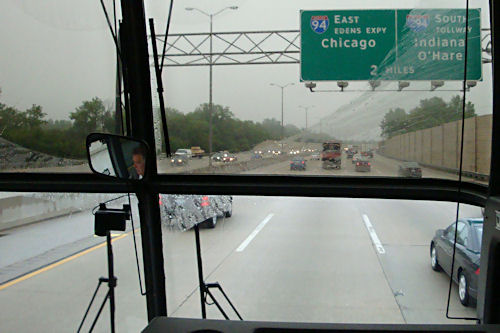 Look – it says Chicago! At 7:30 am it's definitely getting lighter out, but the skies are nothing but grey. Good thing I brought my umbrella.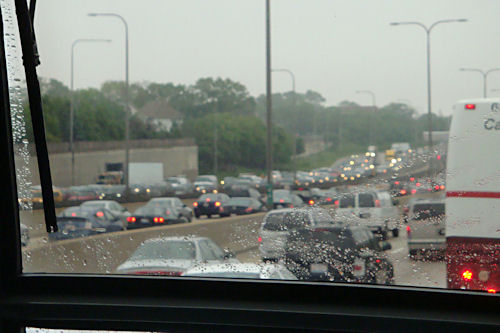 Can you tell we're getting into the city? Morning rush hour traffic; gotta love it. I'm just glad I'm not driving a giant bus through it.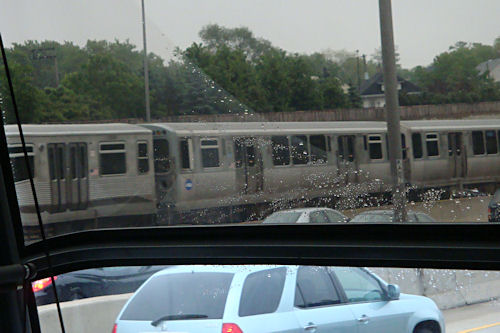 "There's the El!" The kids were excited to pass the El on the way into the city. I think one of the most valuable benefits to this trip is exposing the kids to new experiences. Many of them haven't been out of state, or even further than 30 miles from their homes before. This will definitely be a new experience for them.
It's incredibly foggy today. If you look closely you can barely see the Chicago skyline in the distance right above our other bus. We're in Bus Two which is fine with me because all we need to do is follow. Bus One has the hard job of navigating and finding places to park.
I recognize this corner! This is where we turn off to VanerCook College. Time to make sure everyone is awake and ready to go.
Since Teacher was on the aisle he made the announcement that we were almost at VanderCook and once we arrived the kids would stay on the buses while the adults unloaded instruments. I'm highly allergic to microphones and only use them when it's vitally necessary.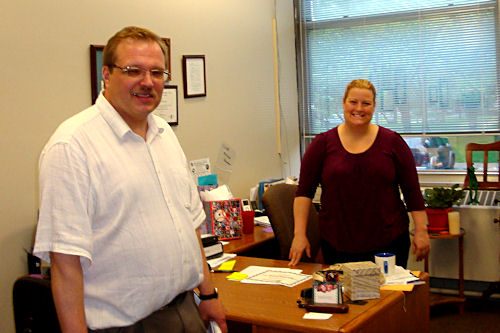 This is Chuck and Stacy Larson, our clinician. The three of us met briefly in Stacy's office while the kids and chaperones were getting everything ready for our clinic. It was her birthday on Friday – Happy Birthday Stacy!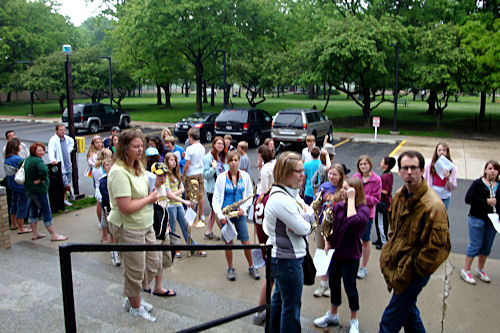 It looks like the kids are all ready… is the room ready? Thank heavens it stopped raining – rain is not good for instruments, and the entry to the music building is too small for all of these kids. We've crammed them all in there before, but it wasn't pretty.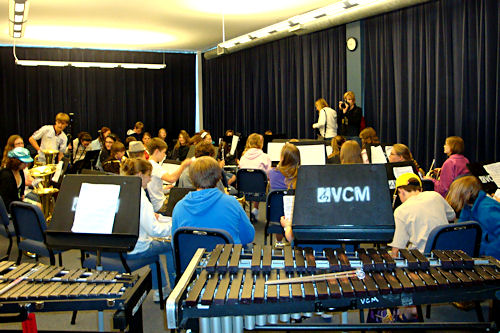 All right guys, time get settled – it's showtime!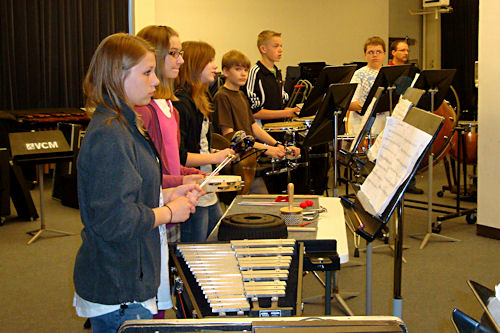 The percussion section easily my favorite is ready to go.
T, on the far right, has been in my band for two years now and is one of my favorites. (Shhh, don't tell; teachers aren't supposed to have favorites!) I love all of my band kids, but some touch my heart more than others. Third from the right is A, another of "my" kids. The other percussionists were in my band last year or the year before.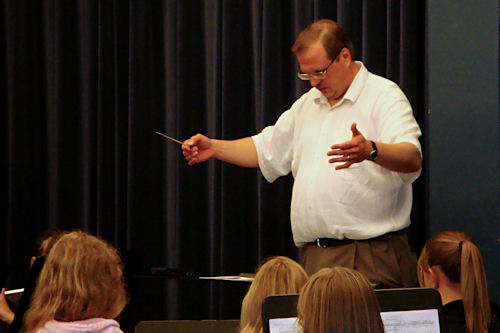 "Snake Charmer" is the piece Chuck is directing. It's a great piece, but sounds more gypsy-ish to me. It's definitely more difficult – and more interesting – than the piece I'm directing.
Stacy does a fantastic job with the kids; she really knows how to reach them. I always take tons of notes during these clinics. Since I'm not originally a band person there's lots of tips, tricks and little nuances that come naturally to a band person but I don't know.
Every year I learn something new I plan to incorporate into my teaching next year. This year I learned that a French Horn player's hand should be against the wall further from their body, not the one close to their body. Now I have something else to watch for next year!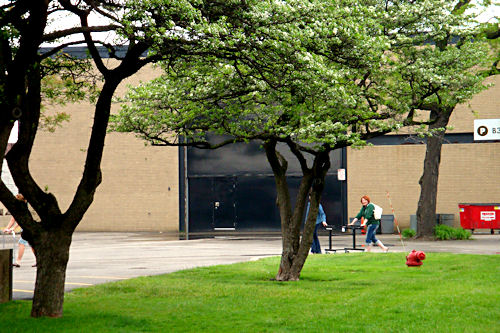 Once the clinic is done it's time to pack all the instruments back onto the buses. There's usually another school buses are in front of the music building so our buses have to park around the corner.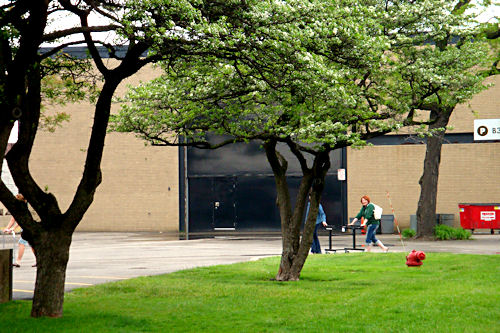 Percussion is always the hardest to pack. Each band member packs their own instrument into its case, but percussion has many more instruments per percussionist. Luckily we've got great parents who all lend a hand so it goes much quicker than if the kids did it alone.
The buses are packed, the kids have boarded, and it's time for lunch at Chinatown. Let's get going – I'm hungry!
To be continued in Chinatown…