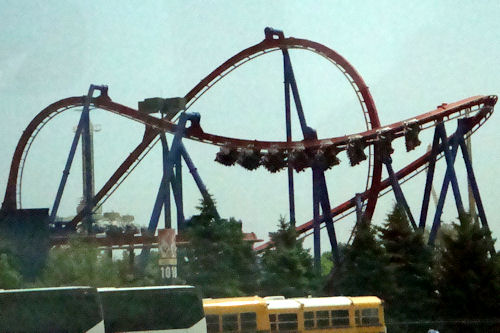 Great America, here we come!
Superman is the roller coaster closest to the entrance so of course, our squad wanted to ride it first.
I rode it last year and that was enough. Hurtling through the air on my belly watching the ground below me speeding past was too much for my fear of heights.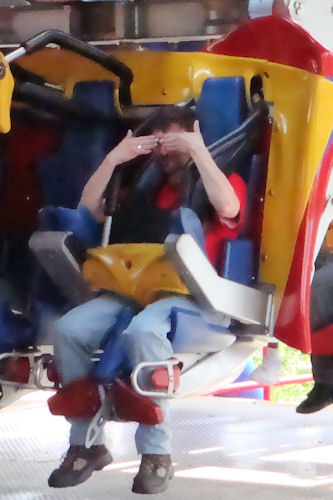 Teacher was game though; he'll ride anything. Goodbye Sweetie – come back to me alive and in one piece!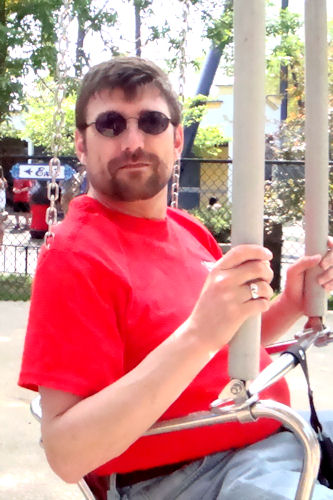 After Superman they wanted to ride the swings. There's my handsome man again. I never get tired of taking his photo.
When we got off the swings I stowed the camera so I could concentrate on riding rides and having fun.
Around 4:30 the buses were opened so we could get coats if we wanted, and for snacks provided by the Music Parents. It was nice to take a break and sit down in the shade of the bus for a while.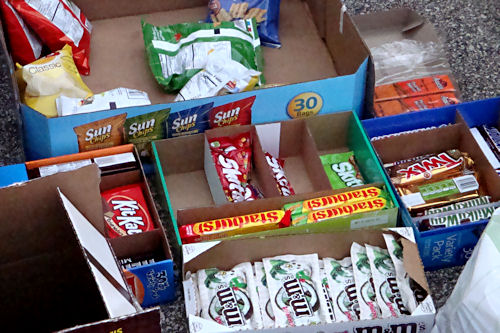 I wish the snacks were healthier, but that didn't stop me from eating some Sun Chips and a Snickers bar. Oh yeah, and two of the amazing chocolate chip cookies from the hotel. Chocolate chip cookies are my all-time favorites that I can never resist. Good thing we're doing so much walking today!
BTW, unless you're a fan of artificial coconut flavor, skip the coconut M & Ms; they're nasty!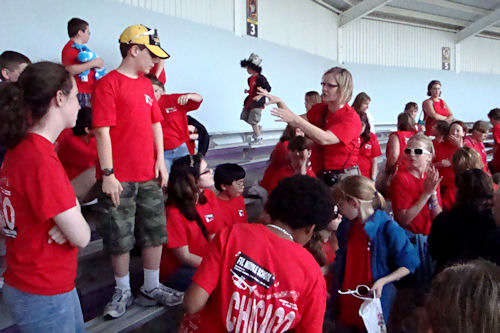 By the time we were done with our snack we had just enough time to trek across the park to meet in the auditorium for the 5:30 Awards Ceremony.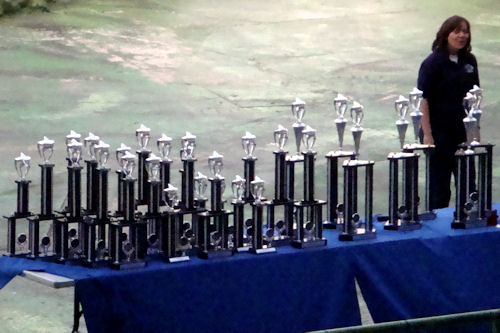 Look at all of those trophies…I wonder which one is ours?
Music in the Parks is both rated and competitive. Each group is receives a rating of "Good" "Excellent" or "Superior" depending on how many points their performance earns. The thing I'm not crazy about is that each group is also awarded First, Second, Third, Fourth or Fifth place, depending on how many other groups are in your category and how well you perform compared to them. So if there's no-one else in your category and you really sucked you could still get First Place, but with a rating of "Good." On the flip side, if you played amazingly but another band or two really rocked and got a few more points than you did you could receive Third Place with a rating of Superior. In my book that is SO not fair.
Throughout my childhood my mom's favorite saying was "Life isn't fair; only interesting." I always hated when she said that because she was always right.
But it's still not fair.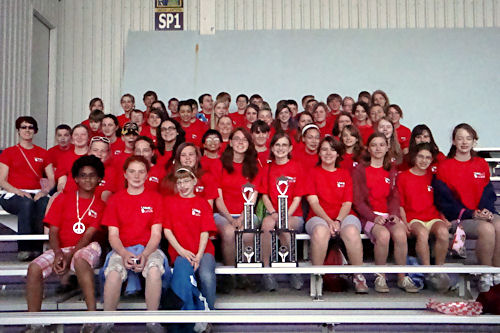 And the results are …
The band received Second Place with a rating of "Excellent!" We missed "Superior" by just ONE point, bummer, but we earned five points more than we had last year (when we received First Place – see, it's not fair) which means we performed better overall. The First place band blew us out of the water; they were 9 points ahead of us and only missed a perfect score of 100 by four points.
The strings received Third place, also with a rating of "Excellent," which was fantastic considering the strings program is only two years old and this was their first time competing in Music in the Parks.
I am SO proud of my kids I could burst!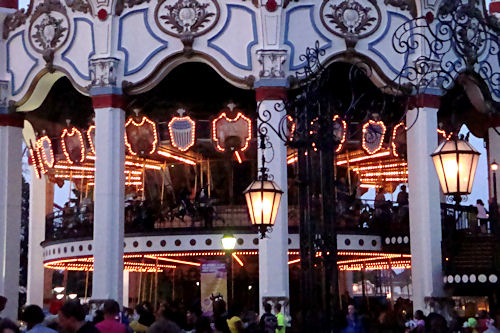 The rest of the day flew by and it wasn't long before daylight began giving way to night. I love how magical all the rides look when they're all lit up; especially the carousel.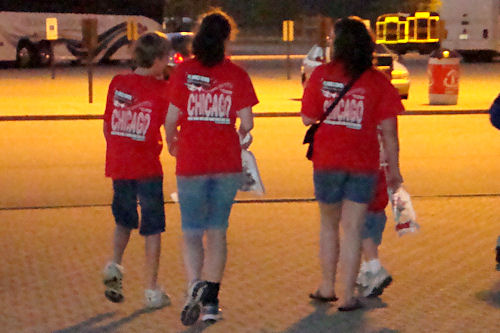 Finally it was time to head back to the buses for our trip home. Everyone was exhilarated and exhausted – mostly exhausted, me included.
It's been an amazing two days but I'm SO ready to go home to my own bed.
At the same time I can't wait for next year's trip!