Spoiler alert!
If you're the parent of a child enrolled in my child care program you may want to skip this for now and come back after you open your Father's Day gift. Just a thought'…
Everyone else feel free to keep reading for a quick and easy Father's Day craft idea.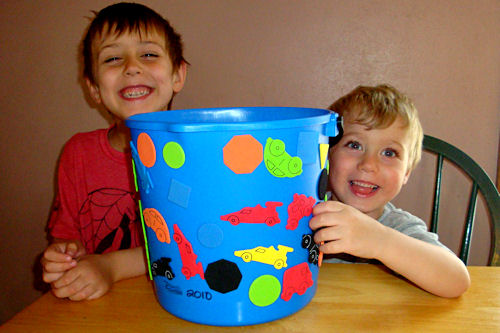 It's almost Father's Day and if you're a procrastinator like me you haven't thought much about it yet. Every year I struggle to find a "good" and easy Father's Day craft to do with the daycare. I want something the dads can really use that is inexpensive and not too hard. This year I found a quick and easy project at Family Fun. It's so easy that you and your child can do in about ten minutes – promise!
As a bonus I have directions for an equally easy Father's Day card at the end of the post. The idea came from The Mailbox, my all-time favorite early childhood magazine!
Easy Father's Day Craft Supplies
You don't need many supplies for this craft project, just: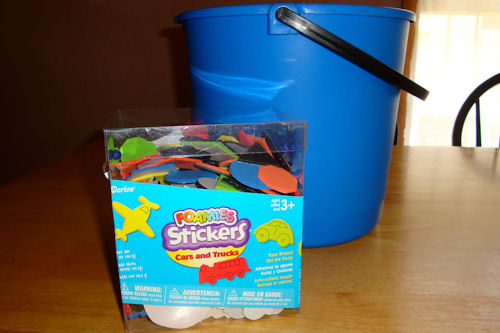 Stick-on craft foam in "transportation" shapes and a plastic bucket. I wanted one just big enough to carry car wash supplies but couldn't find one that size so I got a big one instead.
Seriously, that's all you need.
You're beginning to see how easy this Father's Day craft is, aren't you?
Easy Father's Day Craft Directions
You can probably figure out what to do, but to be official I'll write them out anyway.
1. Prepare:
Our foam shapes included planes and trains with the automobiles so I had Z-Man sort the shapes to take out the ones I didn't want to offer. By the way, sorting is a fantastic activity to develop pre-math skills.
2. Stick:
Show your child how stick the shapes to the sides of the bucket.
Allow your child to choose whichever pieces he or she wants to use, and to place them on the bucket wherever he or she desires.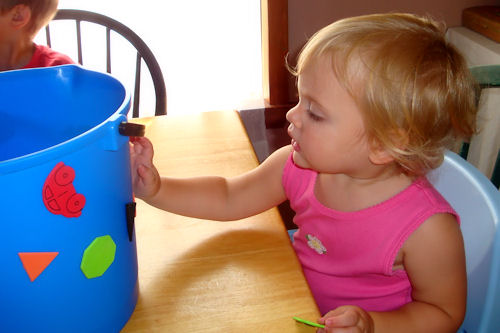 G caught on right away and had a great time carefully choosing her pieces and sticking them on the bucket.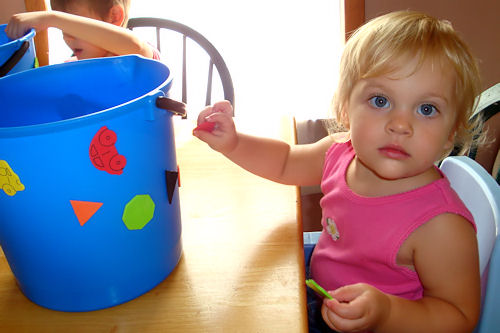 G is so darn cute I had to take another photo of her. Lucky for me she's basically a "good" kid cuz she's so adorable I could spoil her way too easily!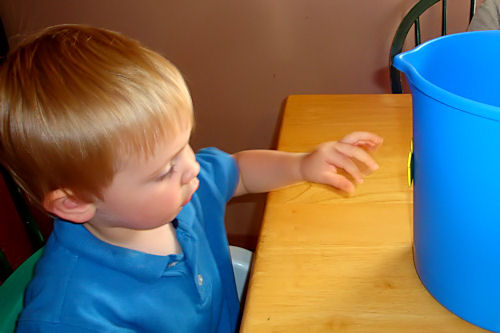 C came from a babysitter who didn't do activities with him so he's a bit more hesitant when it's time to do art, but he eventually got it.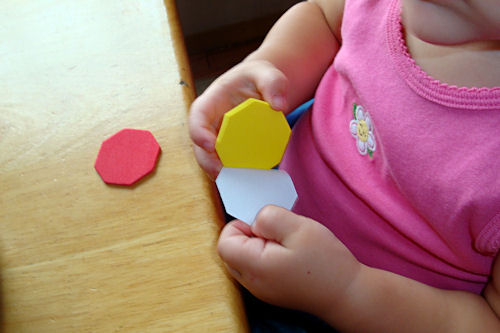 At first you might have to peel the backing off for younger children, but after showing your child what to do, encourage him or her to peel the backing off independently. This is fantastic for small motor development!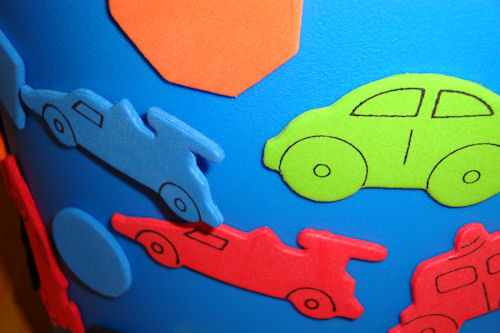 You may need to go back and press the shapes more firmly to the bucket if your child isn't able to press them on tightly.
Done!
That's all there is to it!
Now wasn't that an incredibly easy Father's Day craft?!
Easy Father's Day Craft Tips
Every time I do a craft for the first time I learn something to make it work better the next time. Some tips I have from this time are:
Find a bucket with smooth sides. Ours were textured and I'm worried the shapes won't stay on.
Start shopping for small buckets earlier than the night before so you can get the size you want. Another of my worries is that if the foam gets wet it'll stop sticking.
Try other medium to decorate the bucket. I'm thinking permanent marker would work well and won't come off.
Easy Father's Day Card
Now for the easy-peasy Father's Day card. It's a little messy, but if you plan ahead it won't be too bad.
To prepare, pour some paint into a shallow container I use the top to a plastic Chinese take-out container and grab some baby wipes, damp paper towels, or a damp washcloth. You can use an old T-shirt or old dress shirt worn backward to help protect your child's clothes.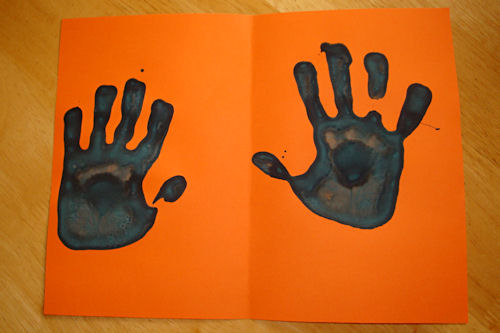 Have your child place one hand into the paint. Direct him or her to place her hand on the paper, creating a hand print. Repeat with the other hand.
Use the baby wipes, paper towels or washcloth to do an advanced cleaning before sending your child to wash his/her hands. It'll cut down on paint drips across the floor, the sink, the faucet handles, etc.
Let the paint dry.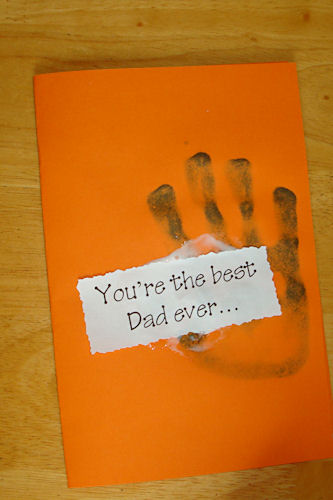 On the front of the card write "You're the best Dad ever…"
Or if your handwriting is as abysmal as mine, choose a cute font to print it out on your computer, then cut it out with fun scissors. have your child glue the saying to the front of the card.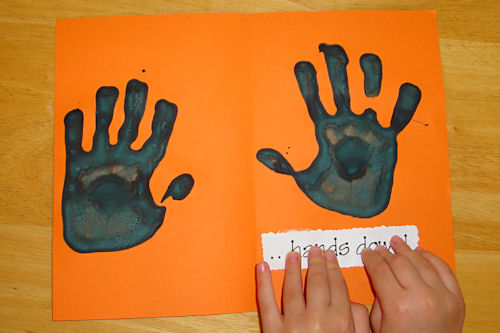 On the inside of the card write "…hands down" – or use the computer method again.
You can let your child decorate the borders of the card with drawings, stickers, whatever. And be sure to have him or her sign the card!
We'll be finishing our cards once the glue is dry. Dry faster, glue!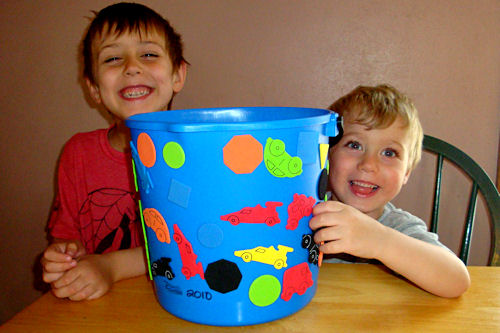 Enjoy making this easy Father's Day craft and card with your child – and be sure to send me photos when you're done.