They say that "Good things come to those who wait," and that's certainly the case for Uncle Jay and Aunt Dee. They had to wait a long time to find each other, but they're so happy together I think the wait was worth it.
Now that they're officially Man and Wife it's time to celebrate – let's dance!!
Uncle Ike aka the Best Man kicked off the evening with a brotherly toast that was a little funny, a little sentimental, completely sincere, and expressed the joy we all feel in seeing our Uncle Jay so happy.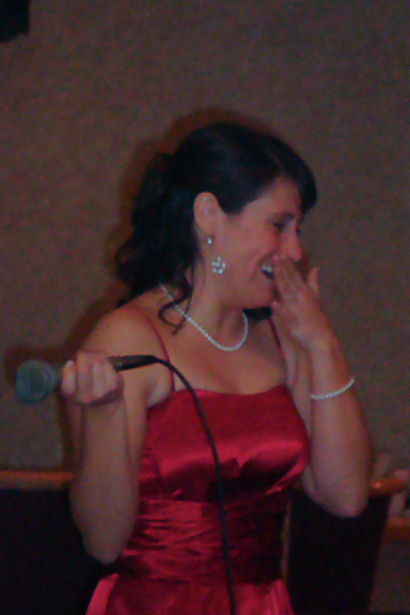 Next Dee's sister aka the Maid of Honor gave her toast, complete with a few tears of joy over how obviously happy Dee was, and how thrilled her family and friends are that she and Jay found each other.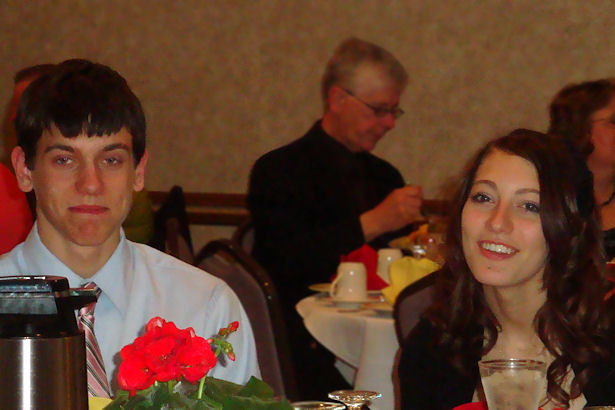 Still trying to keep a low profile, I put away my camera after sneaking a photo of Angel Face and her date. I haven't come up with a good pseudonym for him yet but am considering "Tall, Dark, and Handsome" – TDH for short. What do you think?
After dinner I took pity on a "bored to death" Jo-Bear and let him use my camera. Here are some of his photos: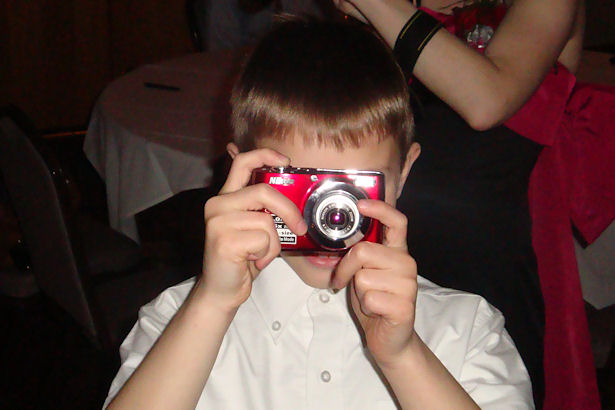 Cousin N was taking pictures too.
After taking off her veil, Dee needed a little hair help from Dee.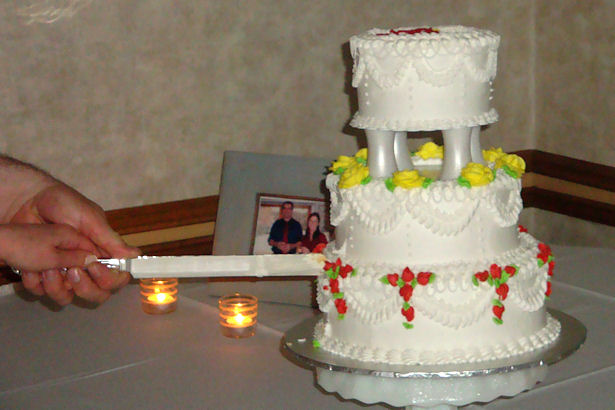 Cutting the cake. They got their wedding cake from Simple Simon too!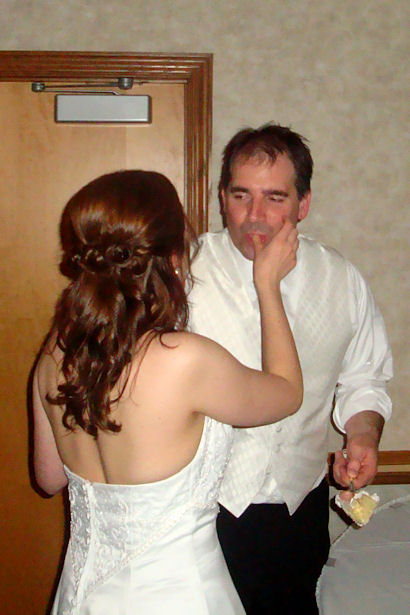 They played nice and didn't smear cake on each other.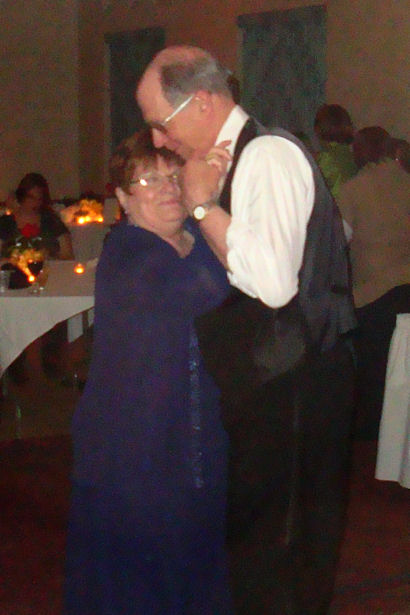 Mom and Dad dancing.
For as long as I can remember my parents have loved to dance together; one of my fondest childhood memories is my parents dancing together in the kitchen without music.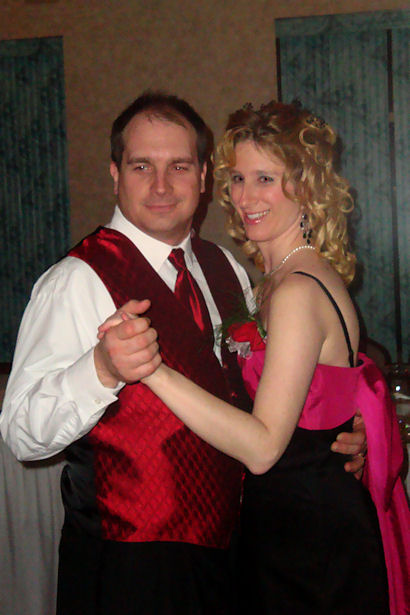 Jo-Bear got a nice photo of Ike and Elle dancing together too.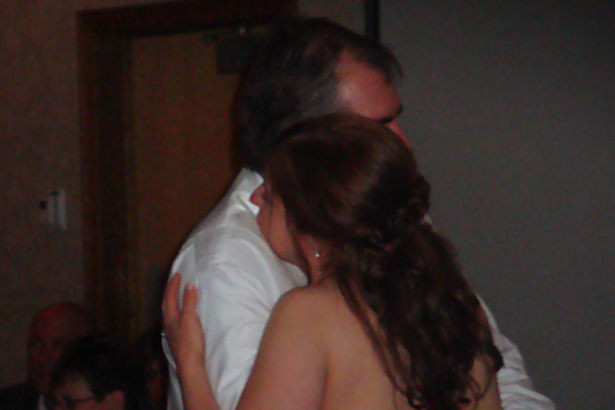 Jay and Dee dancing… they look like they'll never let go, don't they?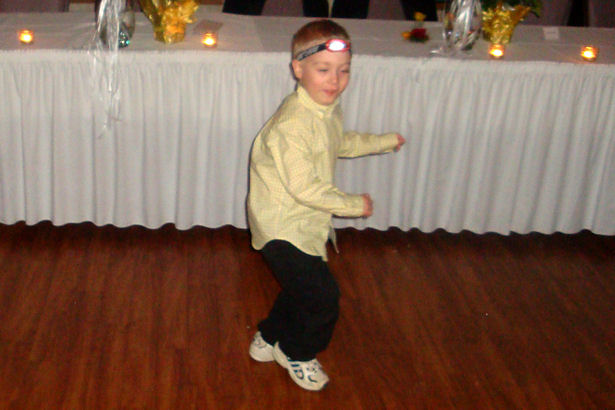 Z-Man was too shy and wouldn't even do the Chicken Dance with us, but Little Guy "danced" aka jumped, jiggled, and acted goofy all night.
By the way – did you notice Little Guy's headlamp? He and Z-Man each got one as a gift from Uncle Jay for being in his wedding. They were perfect for the reception – I could always see where the boys were!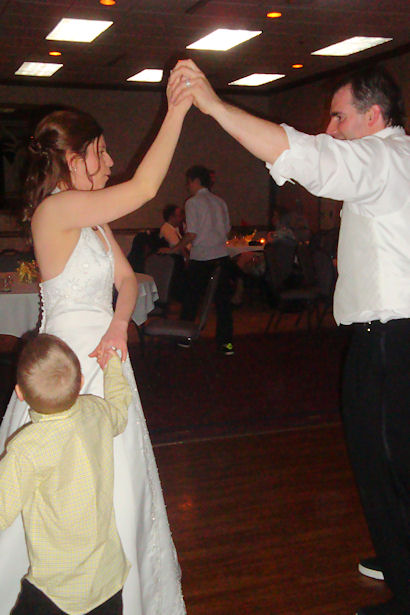 Little Guy danced with Jay and Dee for the longest time. They're so great with all of our kids – I just know they're going to be great parents some day!
Teacher and I danced too, but we look dumb in the photos Jo-Bear took so I'm not posting them, and you can't make me.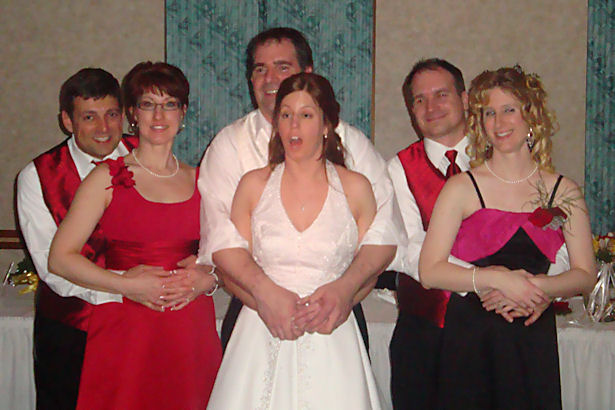 I have no idea what Dee is looking at, but I'll be it was one of my kids. I think Jo got a great photo of me, my brothers, and our better halves.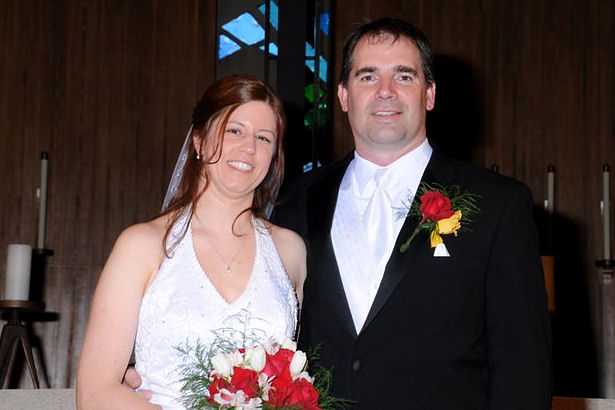 Congratulations Uncle Jay and Aunt Dee! We're so very happy for you and wish you many, many happy years together.