Last week I posted how excared and nercited I was about the upcoming WECA Annual Conference in Madison. Silly me, to waste good worrying about nothing; our workshop went great and the rest of the conference was fun too!
Here are 12 random photos from the conference for your amusement and enjoyment: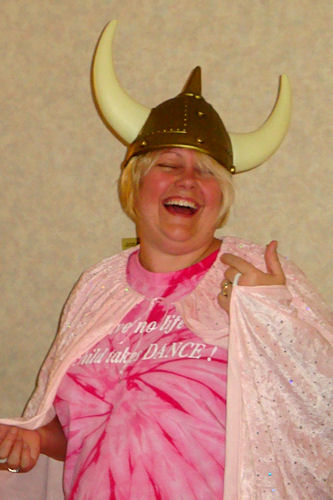 One of the best things about the conference is that we spend most of the weekend laughing. The outfit will be explained later…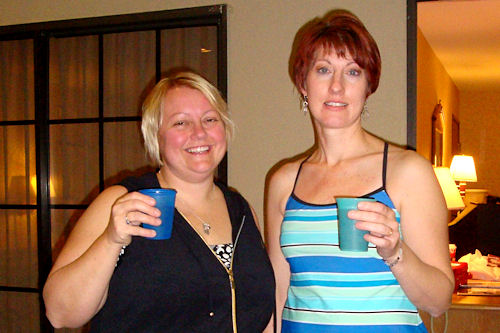 The hotel only had paper cups so we mixed our drinks in the cups we'd brought for our workshop. Snap the photo already; I'm cold and want to get in the hot tub!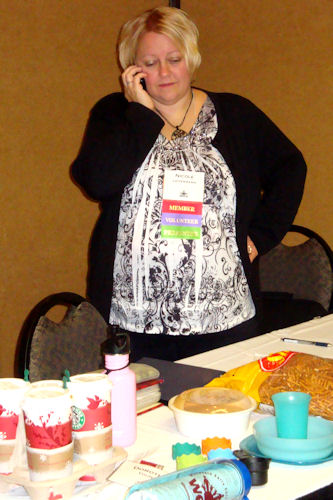 Friday morning Nicole called home before our workshop to make sure her kids were all ready for school. Her six year old wanted to wear a sundress without a sweater, but Nicole straightened her out.
Yes, those are Starbucks cups on the table – thanks Dorothy! When Dorothy is around I know I'll always have a coffee buddy; she's more addicted to coffee than I am!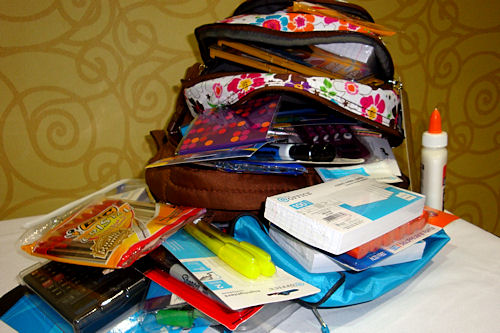 Until this year WECA has held a silent auction of donated items, and Valley AEYC puts together a donation. This year WECA decided to hold a raffle instead, and our donation was this back pack stuffed with school supplies. I'm kind of bummed that they had a raffle instead of the silent auction; I would've liked to know how much someone thought the back pack full of stuff was worth.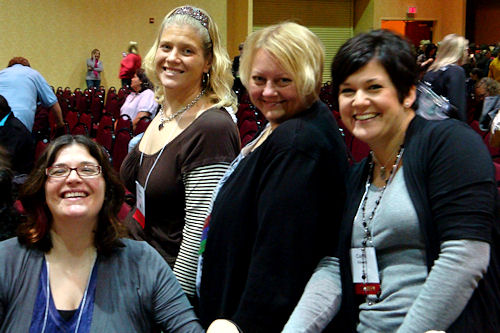 After Friday's keynote address I quick snapped a photo of some Valley AEYC members. From left to right are: our current vice president; our previous vice president; our current treasurer; and a future board member. Although she doesn't know it yet, bwa-ha-ha!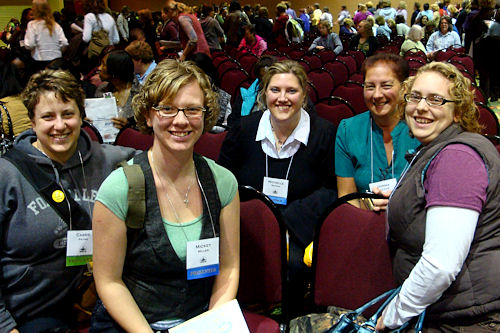 Here are my two favorite puppeteers extraordinaire. One is the daughter of my high school Communications teacher and the other's name I misspelled way too many times – sorry, Mickey! Our past president, a member who works with the previous three, and the third member of the inseparable Cassie/Mickey/Becca triumvirate.
Friday's luncheon was disappointing: wilted salad, hard roll, not-so-bad smashed potatoes, and tough and tasteless pork. The only item worth the price we paid was this chocolate cake; it was To Die For! The cake layers were moist, dense and rich, while the ganache filling was rich in a fudgy but not heavy way, creamy and just melted on your tongue. It was the most incredibly wonderful chocolate cake I've had in my entire life!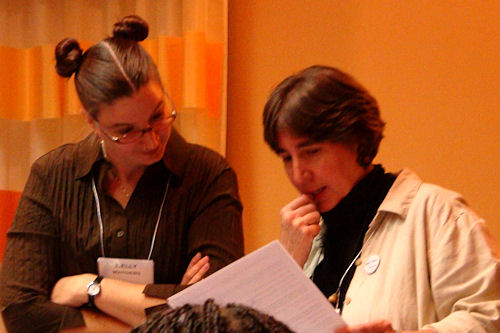 After lunch I attended a workshop by two of my favorite presenters: Billie and Kelly. Their workshops are always thought-provoking, informative, and full of giggles!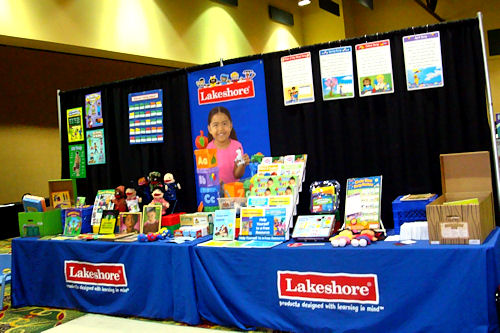 One of the things I always look forward to is the vendors. The Exhibitor's Hall is always packed with booths full of wonderful things to look at, try, and buy. Many of the vendors have chocolates sprinkles on their tables, and give away "freebies" or sample with their info packs.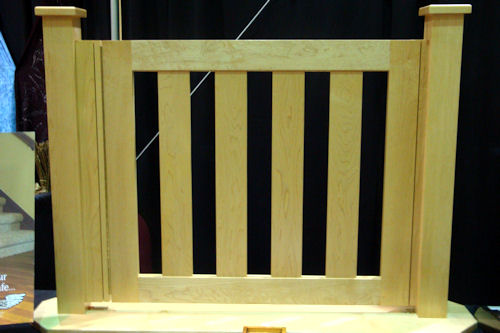 The maker of these gorgeous safety gates, Gatekeepers, caught my attention. I grabbed a brochure and took photos in case one of our wooden gates needs to be replaced some day.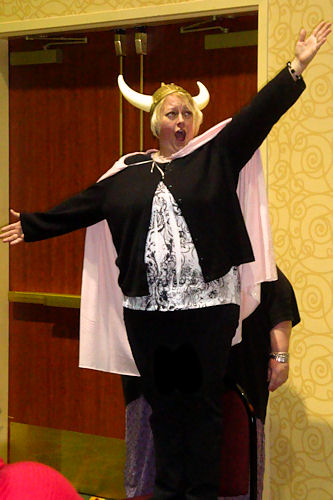 Nicole and Julia who presented at the Valley AEYC mini-conference put together an operatic opening to the raffle drawings. Nicole lip synced on a chair while Julia stood behind her, singing. It was hilarious, and a great ending to the afternoon.
Next year the WECA Conference will be here in town and Valley AEYC will help plan it. I can't wait!