Nicole did it again – it's all her fault!
A couple of months ago Nicole's little sister had a baby boy, and Nicole ordered a mother's necklace with the baby's name and birthstone for her.
I was quietly jealous; I've wanted a mother's necklace for a long time, but my children's birthstones are a problem:



As much as I love my children and was thrilled when each of them was born, their birthstones don't look so hot together.
It doesn't help that I'm not a red/white/blue sort of girl; I'm more purple/blue/green sort of girl. I guess I should've planned out the kids' birth months better.
Anyway, when the necklace arrived Nicole showed it to me and I instantly turned Grinch-green with envy. It was simple, and beautiful, and perfect: a small silver disc with the baby's name hand stamped along the bottom and a blue crystal hanging above.
I want one too! Pouting.
But there's that little red/white/blue problem. And wouldn't six separate discs mush together into one unreadable lump?
What's a poor mama with necklace envy to do?
Go shopping, of course!
I browsed Fireweed Impressions' Etsy store where Nicole got her sister's necklace and found a possible solution: a layered necklace with a large disc on the bottom, a medium disc in the middle, a small flat heart on top, and a pearl bead hanging above. Perfect!
I convo'd Fireweed Impressions and asked if they could fit all of my children's names on a necklace like the layered heart one. Several convos later we'd come up with the perfect design. I'm not telling what it is though – you'll have to keep reading to see it!
When I'm excited about something I have as little patience as a kid waiting for Santa. Luckily I didn't have to wait long – even though it was a custom order coming from Canada it arrived in just over a week!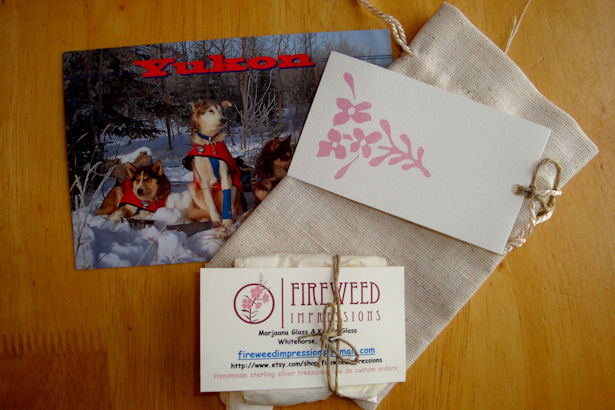 Like most of my Etsy purchases, my new necklace was prettily packaged. Opening a package is always fun, but opening a package from an Etsy seller is extra-special. Don't believe me? Check out my package from Silver Daisy Designs!
And here it is:
Drumroll…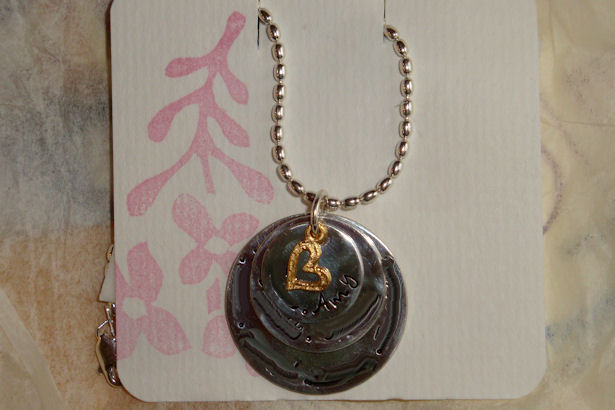 Ta-da! My new mother's necklace!
Names have been blurred to protect the innocent my poor mom-stop-embarassing-us-already family.
I absolutely LOVE it and have worn it almost every day since it arrived. Not only does it have all my children's names, Teacher's and mine are on the top disc, and there's no red/white/blue in sight. Perfect!
Life is good.
Family is better!