When it comes to home improvement projects I don't have much patience and usually want things done NOW. That's when Teacher gently reminds me that "life is a marathon; not a sprint" and that the only way to get somewhere is by taking one step at a time.
A few weeks ago we took one more step towards finishing the basement family room by finishing up the floor.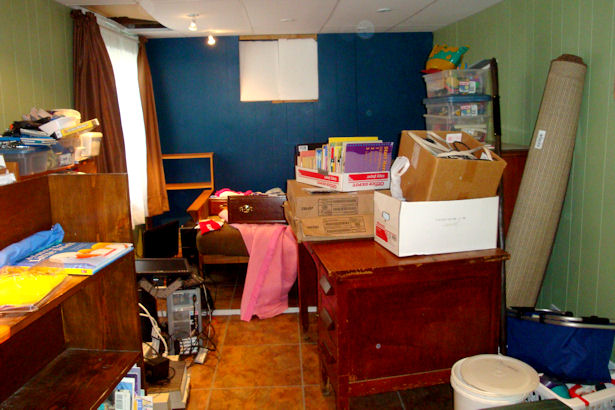 Just like last time, we started by moving all the junk from one side of the basement to the other. Since we hadn't put everything back yet there wasn't as much to move.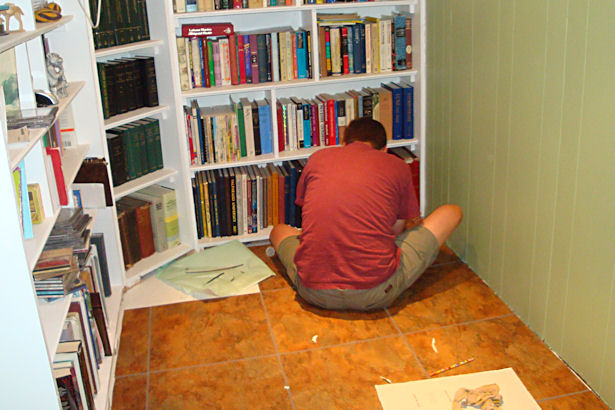 The space was so small it went really quickly – by the time I thought to grab my camera Teacher was almost done!
It's hard to believe that when we bought the house this nook was a small kitchenette! There was a niche for a tiny stove right where Teacher is sitting, a sink in the corner, a place for a small refrigerator on the far left, and cupboards floor to ceiling in the rest of the space. When we decided to redo the basement one of the first things we did was tear out the kitchenette. Once the walls and subfloor were done Uncle Jon spent countless hours building the bookshelves for us.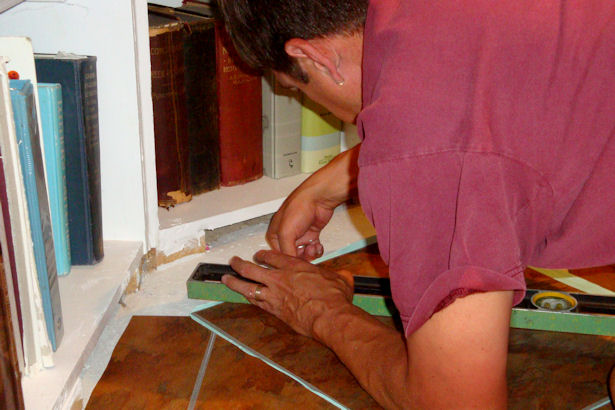 Measure twice, cut once, right Hon? I love watching my sexy handyman. Mmmmmm!
The floor is done – doesn't it look great?! Granted, it's a small step, but life is a marathon and each step counts.
Next step: painting the rest of the bookshelves to match the built-ins, and doing the trim.
Step by step we'll get there – I know we will!